Honda S2000 Turbo Kit Guide
We review the most popular Honda S2000 turbo kits available on the market today. This is the ultimate S2000 turbo kit guide.
---
In a hurry? Here is our S2000 Turbo Kit summary
| Budget Choice | Drifted Choice | Premium Choice |
| --- | --- | --- |
| | | |
| CXRacing S2000 Turbo kit | Full Blown Stage 2 S2000 Turbo kit | ScienceofSpeed (SOS) TS-MAX S2000 Turbo kit |
| 🔥🔥🔥🔥 | 🔥🔥🔥🔥🔥 | 🔥🔥🔥🔥 |
| Buy Now | Buy Now | Buy Now |
At the 1995 Tokyo Motor Show, Honda showed off their modern concept of what could be their next legendary roadster to the masses.
Just 4 years later, to celebrate their 50th anniversary, they would then turn dreams into a reality as the stunning S2000 was launched onto the market.
Following on from the tradition of Honda's earlier roadsters, the S500, S600 and S800, the S2000 was also named after its (now hugely increased) engine capacity.
Whilst 2L might not sound overly impressive compared to some of the modern-day heavyweights out there, the F Series engine is regarded still one of the most incredible engines to this day.
Turbo too extreme? Looking for some easy bolt on power? Our S2000 Intake guide was written just for you.
With 240hp and 9,000rpm being squeezed out of this lightweight roadster, the 120 horses that it pushed out per liter was declared as the highest specific output of any naturally aspirated production engine in the world.
Not only was it ridiculously powerful for its size, it also features a bulletproof bottom end which is more than capable of handling Forced Induction.
Prices are cheaper than ever for S2K's in the current market, despite them maintaining their value well. This has led to more people than ever opting for turbocharging their F20 and F22's to take them from a sensible, refined daily to a beast on the streets.
Weighing in at just 1,250kg, owners have achieved over 700hp from the kits we're showcasing below. Having all of the power in the world on tap is undoubtedly going to put a huge grin on your face, but be prepared to spin your way through the gears!
Forced induction
There's no doubt that turbocharging is the best way to squeeze out huge power figures to throw down impressive times on the strip.
It's worth considering that there are sometimes issues which come with turbocharging these cars. Heat is one of the main issues on daily drivers or intense track action, which can often be resolved with getting a lower mounted kit or additional cooling.
If you live in a hot state, we'd recommend doing specific research on which kit is best for your needs.
If you would prefer a more linear power curve whilst still delivering impressive figures which are perfect in the twisties or daily driving, make sure you also check out our S2000 supercharger options.
Check out our comprehensive turbocharger vs supercharger guide to see what is the right solution for your project.
Enjoy these hilarious reactions as Cole Rogers takes his unsuspecting buddies out for a spin in his 600hp S2000 Turbo!
---
Now, let's take a look at our S2000 turbo kits
To read more about any of these products just click on the turbo kit name or photo. To make this guide as fair as possible, we have chosen the cheapest kit from each supplier.
Please note that these are likely to require additional engine management, fuel systems and tuning but we have no doubt it'll be worth the effort once you're lighting up the rear tyres!
Our comment: Based on the opinion of many owners out there, Full Blown is often regarded as the most refined turbo kit on the market. This setup is extremely high quality and certainly finishes off the S2000 bay nicely. Several people are running around 420-440whp safely with the turbo being fully spooled by 4,700rpm.
When compared to the likes of the GReddy kit, this spools a little slower, but once it kicks in it's a whole different animal.
This is a straightforward bolt-on kit and Full Blown offer a convenient upgrade packages should you want even more power to begin with, or later on. Full Blown are known for their fantastic customer service so we highly recommend contacting them if you have any questions or queries.
Manufacturer description: "There are many turbo options for S2k's out there but we knew that having to relocate everything becomes costly and time consuming. This is the reason we designed our Stage 2 Direct bolt in turbo kit."
"Our kit does not require you to relocate your fues box, battery, or oil filter."
"The Kit comes standard with your choice of precision turbo 5858, 6266, (other options available for additional cost), ball bearing option is also available."
---
Our comment: Another perfect-fitting bolt-on kit is available from ScienceofSpeed with no relocation needed. This comes with the typical quality and craftmanship that we've come to expect from SOS. This is a great choice for those of you who are daily driving your S2K or looking for high reliability.
That being said, this isn't the best kit out there if you're looking to impress with horsepower figures, with most people achieving an upper bracket of around 400hp. However, it spools quickly and has a convenient low-down turbo location so this could well be a great all-rounder for the street or trying to keep temperatures down at the track.
Manufacturer description: "ScienceofSpeed introduces the TS-MAX Twin Scroll Turbocharger System – unequivocally, the most thoroughly developed highest quality turbocharger system available for the Honda S2000. Developed, tested, and proven on the race track the TS-MAX turbocharger system combines high performance and durability in one package."
"It is important to realize that the TS-MAX Twin Scroll Turbocharger system is unlike anything else on the market. This is the only system that combines a twin scroll turbocharger with out the need for oil scavenge pumps, with out the need to remote-mount the oil filter, relocate or replace the factory battery, relocate or modify air conditioning hard lines, the factory fuse box, or cut or modify any factory metal body or frame work. High performance is important, but so is ease of installation, maintenance, and durability!"
---
Our comment: Here we have the most expensive offering so far, but PTUNING have a huge fan base that'll happily argue that this kit is worth every penny. This newly-released kit is a great fit with some very minor modifications required which will happily see you lay down figures of over 420hp with almost no lag.
Featuring a low-mounted turbo setup, this is a great option for keeping temperatures down for those who intend on pushing their car.
Some owners reported finding the custom mount for the kit provided far too much noise and vibration throughout the car for daily driving. We've heard that they've now released a softer mount, but some owners have taken to modifying polybushes themselves to improve it. We certainly don't think this should put you off considering an otherwise great kit, though. Should you have any issues, PTUNING offer fantastic customer service.
Manufacturer description: "The PTUNING Turbo System for the Honda S2000 was designed to be the most efficient, reliable and track-proven bolt-on turbo kit on the market."
---
Our comment: CXRacing seems to have been met with a mixed reaction from the S2000 tuning scene, immediately being branded as 'Chinese' quality without much real research to back it up. This tuning company has an extremely good reputation throughout the turbocharging industry for creating fantastic options at incredible prices. We've seen many owners run huge mileage with absolutely no reliability issues.
We feel that this kit is insanely good value for money and definitely worth doing more research on. You can also consider going for the no turbo or wastegate option on their site to gain a spare $245 and instead source your own parts to fit to the kit. We definitely do not recommend ruling this kit out as a low budget option which is capable of 400-450hp!
Manufacturer description: "All Parts Are Developed from Ground Up in Our R&D Center in USA, Designed and Built for Improved Performance Gains, with Excellent Fitment and Easy Installation."
---
Our comment: Full Race entered the market as one of the earliest kits available for the S2K. Whilst there's no doubt that the kit is good quality, a lot of owners have reported having fitment issues with quite a lot of work and potentially additional basic parts involved to get it perfect. There are certainly more convenient kits on the market if you are looking for a simple bolt-on fitment.
Full Race are known for their great customer service, so if you are considering this option then we have no doubt that they'll be happy to help you out.
Manufacturer description: "Full-Race's legendary Twinscroll External-WG turbo kit is now available for the F20C and F22C Honda S2000 VTEC engines. Designed to deliver maximum efficiency for the earliest spool possible and quick throttle/boost response, this twin scroll turbo kit works equally well for a road race/time attack build as it does on the street and drag strip."
---
GReddy S2000 Turbo kit
Manufacturer: GReddy
Fitment: Honda S2000
Value for money:

?????

Purchase link: Discontinued
Our comment: GReddy are the only JDM tuner to have produced a kit for the S2000, which at the current time is Unavailable. However, the good news is that it's because they're launching a brand-new promising S2000 kit to the market soon!
We don't have any facts about the new setup, but their old kit was of the quality and fitment you would expect from the Japanese tuning legends. With owners making up to 330hp, it certainly wasn't the most powerful option. However, it was the only kit to this day that is CARB legal in US states.
The disadvantage with the CARB restrictions means that it lacked power up top and that the turbo and downpipe were too small, potentially creating back-pressure issues. Despite this, it's one of the best and most reliable kits out there for daily driving. With a new kit in progress, this older option could start surfacing for bargain prices soon!
Manufacturer description: "GReddy Turbo Kits for naturally aspired motors provides instant horsepower gains with less time and money while still providing room for upgrading for even more power!"
"GReddy turbo kits are specifically designed for optimal response and performance while maintaining daily drivability, comfort, and reliability."
---
PFAB S2000 Turbo kit
Manufacturer: PFAB
Fitment: Honda S2000
Value for money:

????

Purchase link: Discontinued
Our comment: PFAB bring another highly-respected kit to the market with impressive power figures, with over 475hp being capable depending on which one of their several turbo's you decide to go with.
Once you've decided which option suits your needs best, you may have to relocate your fuse box and some further modifications within the bay. We recommend speaking to PFAB's great support team if you are considering this option.
Manufacturer description: "Supportable of 475+whp (will vary based on turbo selection)."
---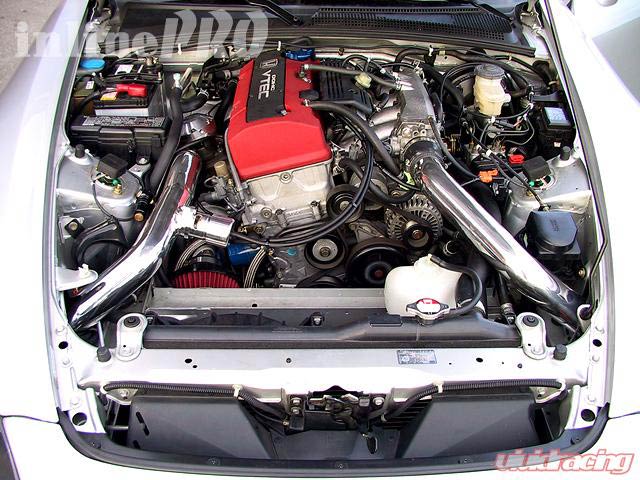 Our comment: InlinePro came into the market as one of the first turbocharger offerings and have a great reputation. Some owners have achieved up to 700whp using their Stage 2 kit, but expect the upper bracket to be around 400hp with this Stage 1 setup. This may need some additional modifications such as oil filter relocation.
If this is of interest to you, we highly recommend speaking to Vivid Racing who will no doubt be happy to assist!
Manufacturer description: "Inline Performance Products or InlinePRO, has been in the import performance industry for over 10 years. Through the years, we have manufactured some of the most high quality parts, from turbo kits to accessories."
---
Our winner
Our winner is the Full Blown Turbo kit.
To pick our winner from this choice of S2000 turbo kits we looked at a number of criteria; ease of installation, quality, popularity, upgrade potential and price point.
Based on these criteria we have chosen the Full Blown Turbo kit to be our winner.
Full Blown have brought the perfect product to the market this time around. With a reasonable price point combined with fantastic quality and great loooks, it's easy to see why so many delighted owners have opted for this kit and gone on to have long-term success with it.
With the convenience of being a straightforward bolt-on fitment from the beginning alongside the potential to upgrade to some of Full Blown's more advanced offerings further down the line, it keeps your future classic with the times.
In the unlikely scenario that the Full Blown kit doesn't suit your preference, we'd definitely recommend considering the PTUNING option.
Thank you for reading our S2000 turbo kit guide
We hope that you're now confident in choosing the right product for your needs to give your S2K the much-needed power upgrade it should've left the factory with! Want to upgrade your seats? Try our S2000 seat guide.
Photography credits
We would like to thank the following sources for use of their images:
– S2KI Forums
If you enjoyed this article then please share it with the buttons at the side and bottom of your screen. Find this information useful? Please post a link to it on your cars owners club. We really appreciate your support.