RB20DET Vs SR20DET – Head To Head Battle
We pitch the RB20DET Vs SR20DET in a head to head battle. We compare power ratings, engine specs, tuning videos and more to see which engine comes out on top.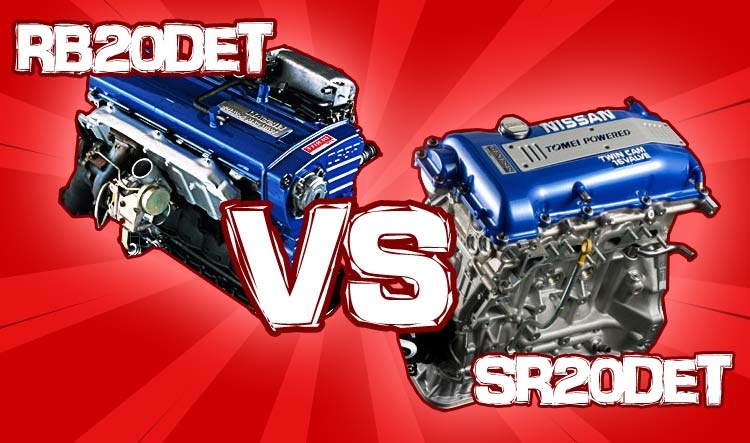 ---
RB20 Vs SR20 engine specifications
RB20DET engine specifications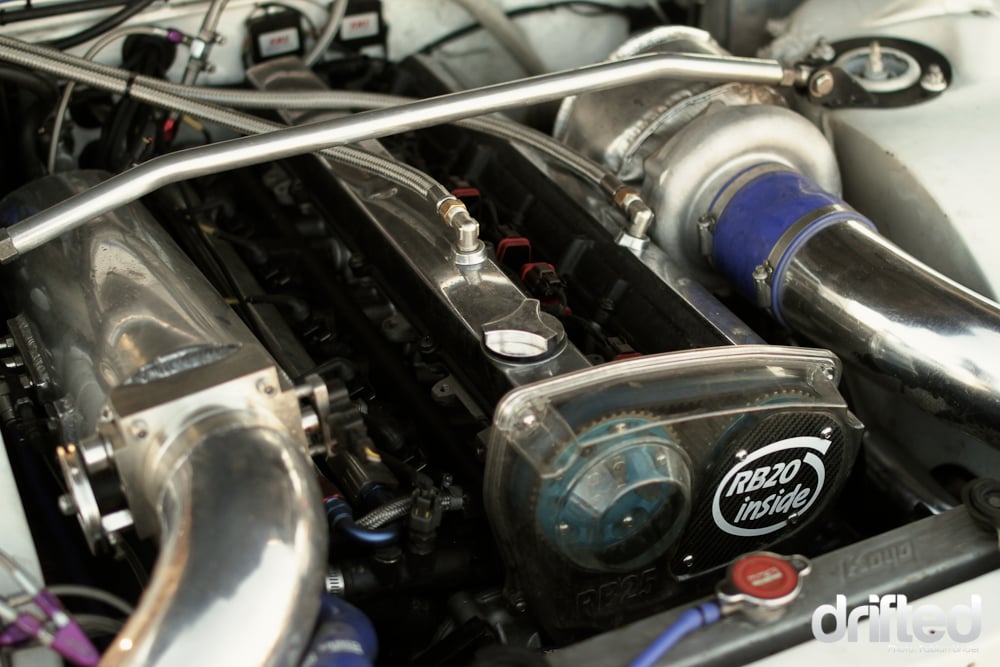 The RB20DET was first introduced in 1986, fitted into the R31 Nissan Skyline (the GT Passage, GTS Turbo, GTS-R, GTS-R and GTS Autech variants). It went on to join it's larger siblings (RB25DET, RB26DETT) in the R32 generation Nissan Skyline.
The six cylinder layout provides a scintillating sound track while the two litre displacement accommodates solid tuning potential. Rumours within the enthusiast community are that the stock engine internals should be robust for up to 400ps at the flywheel.
Manufacturer: Nissan
Version: Nissan Skyline R32 GTS-T (1989-1992)
Displacement: 1998cc (rounded to 2.0 liters)
Configuration: DOHC (Dual Over Head Cams), 24 Valves
Power: 215ps @ 6,400 rpm
Torque: 195 lb ft
Turbo: T-28 T3 Flange
Stock boost: 10 psi
Cars that housed the RB20DET: Nissan Skyline, Nissan 200ZR, Nissan Stagea, Nissan Cefiro, Nissan Crew, Nissan Laurel, Holden Commodore
---
SR20DET engine specifications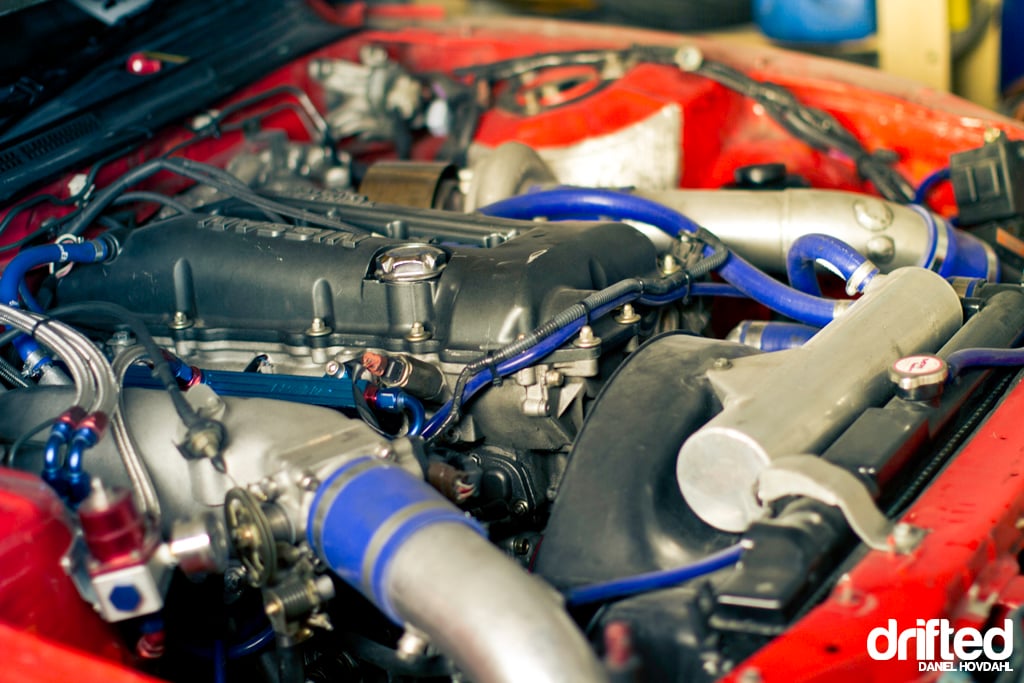 This Japanese built turbo charged four cylinder engine has powered over two decades of reliable drift cars. It is cheap to purchase, reliable up to circa ~ 400ps on stock internals and extremely tuneable.
Manufacturer: Nissan
Version: Nissan Silvia Spec R S15 (1999-2002)
Displacement: 1998cc (rounded to 2.0 liters)
Configuration: DOHC (Dual Over Head Cams), 16 Valves, Chain driven cam sprockets
Power: 250ps @ 6,400 rpm
Torque: 220 lb ft
Turbo: T-28 Ball Bearing T2 Flange
Stock boost: 7 psi
Cars that housed the SR20DET: Nissan Bluebird, Nissan Pulsar, Nissan Sunny, Nissan 180sx, Nissan Silvia, Nissan Avenir, Nissan Liberty, Nissan R'nessa, Nissan 200sx
You can read more SR20 specs right here.
Scores & Conclusion
RB20DET:

x

x

x

x

SR20DET:

x

x

x

x

x
While the RB20DET offers great out of the box performance, there are rumours that the engine can suffer from high corner load oil starvation – whether this is true or not we can't say. The RB20DET also makes less power and less torque out of the box in it's most powerful configuration against our SR20DET. Being a six cylinder engine the RB20DET is longer and heavier then the SR20DET so it could be argued that the SR20DET is the better choice for a lighter and better balanced chassis. With that said both engines have solid tuning potentials of circa 400ps at the crank attainable with just bolt on parts.
---
RB20 Vs SR20 Exhaust sound clips
Crank up your speakers and enjoy these four sound clips of our engines.
RB20DET tuned exhaust sound
Skip to 0:18 to bring the noise!
---
SR20DET tuned exhaust sound
Skip to 0:10
Scores & Conclusion
RB20DET:

x

x

x

x

x

SR20DET:

x

x
While the SR20DET makes a reasonably pleasant sound under load it is still a four cylinder engine, while the six cylinder RB20DET is the clear winner here with it's fantastic sound track. On full chat the engine sounds absolutely glorious. Five stars RB!
---
RB20 Vs SR20 Dyno tuning clips
So what are these engines like to tune? Let's find out – I searched deep into YouTube to find two clips showing two heavily tuned examples of our engines making power on the dyno.
RB20DET dyno tuning
The highest horsepower output that I could find on YouTube for the RB20DET is this video with circa 400ps at the wheels. Impressive.
SR20DET dyno tuning
This video shows an internally stock SR20DET making over 480ps at the crank. Great job! Keep watching the video and you will see a built engine clock over 600ps.
Scores & Conclusion
RB20DET:

x

x

x

x

SR20DET:

x

x

x

x

x
Both engines offer great tuning potential however with the SR20DET being so popular the aftermarket is awash with off the shelf tuning parts to help you build your perfect engine. The RB20DET is on paper just as tuneable as the SR20DET however there is noticeably less aftermarket tuning support available for this engine. Drifted asked tuning specialists FC Tuning what they thought of the RB20DET and their reply was extremely favourable.
---
RB20 Vs SR20 Drifting clips
So what do drifters themselves think of these two engines? Let's jump on board with these drivers as they put our two engines under some (sideways) pressure..
RB20DET drifting clips
Skip to 1:00
SR20DET drifting clips
Scores & Conclusion
RB20DET:

x

x

x

x

SR20DET:

x

x

x

x
Reading drifting forums and browsing YouTube shows that their is a lot of love for both of these engines in drifting. While neither engine has the cachet of a 2JZ or the reputation of an LS both engines score a solid four stars.
---
RB20DET Vs SR20DET Conclusion
So it's time to count our stars and see which engine is the winner. The RB20DET has earned 17 stars. The SR20DET has earned 16 stars. The RB20DET is the winner! While neither engine is a darling of the drifting community (2JZ i'm looking at you) both engines are a great choice to power a drift car; with two liter displacement, solid tuning potential and excellent aftermarket support it shows that you can't go wrong with either.
With that said there has to be a winner so congrats RB20DET, sip on some fresh Royal Purple – it's on us.
RB20DET:

x

x 17
SR20DET:

x

x 16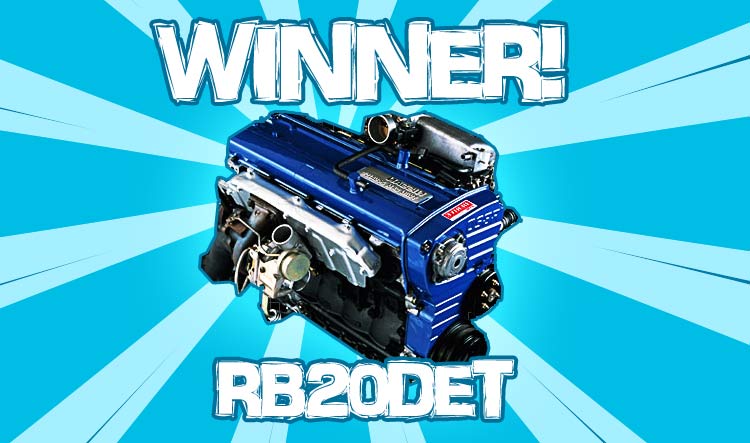 ---
SR20 Bonus content
Building a forged SR20DET step by step.
If you are building your own SR20DET perhaps you would be interested to read our SR20 tuning guide.
Learn everything that you need to know about Nissan's RB20DET engine here!
Please don't forget to subscribe to Drifted so you don't miss any of our upcoming Head to Head challenges!