RB25DET – Everything You Need To Know
We're huge fans of Nissan's RB engine, and the RB25DET is best known for being in a variety of Skylines, or swapped into your favourite s-chassis. Today, we're going to take a deeper look at the pros and cons of this JDM legend.
Here, you can click on a particular section within this article, otherwise, scroll down as we take a look at Nissan's RB25DET engine.
Introduction
Nissan's RB25DET engine is a common representative of their infamous RB series which first appeared in 1991 after replacing its predecessor - the RB20DET.
Most commonly known for finding its home under the hood of the R33 and R34 GTS-T Nissan Skylines, this impressive 2498cc powerplant has increased in popularity alongside its rivals over the years, with enthusiasts keen to swap it into all sorts of weird and wonderful builds across the world.
The first ever Series 1 (S1) RB25DET engine surfaced in the 1993 Nissan Skyline R33 GTST. Improvements over the RB20 included reinforced connecting rods, improved pistons alongside a larger 45V1 turbocharger.
The 25 also featured Nissan's NVCS VVT system on the intake side and the new larger injectors provide the engine with 370cc/min to the 250hp and 235lb/ft torque, which the engine could produce when it left the factory.
In 1995, Nissan revised their RB25DET, releasing the Series 2 (S2) engine to the market. This featured a revised electrical system and an uprated turbo, which featured a ceramic turbine wheel rather than the aluminium wheel found in the S1.
The most substantial change within the electrical system was the introduction of ignition coils, which featured built-in ignitors. Other changes included a new air flow meter, ECU, cam angle sensor and throttle position sensor.
The only real differences mechanically between the S1 and S2 are the camshafts, with the S2 Cam Angle Sensor's shaft that goes into the exhaust cam being slightly different.
In May 1998, Nissan added the NEO head to their newly-launched RB25DET R34, mainly for emissions purposes. This then enabled the R34 to be classed as a Low Emissions Vehicle due to its improved fuel consumption and emissions output.
There were quite a few changes which came with the NEO engine such as solid lifters instead of hydraulic, revised camshafts which featured on/off solenoid Variable VCT. A hotter, 82°C thermostat was added along with model-specific coil packs.
A revised inlet manifold was also introduced, which intentionally reduced the runner diameter from 50 to 45mm, therefore increasing the air velocity which handed the car more low-end torque.
The combustion chamber of the NEO head is smaller, and GTR-spec connecting rods compensate alongside the model-specific pistons and an increased compression ratio of 9.0:1.
The changes didn't end there, with a larger OP6 turbocharger providing increased power, this time, utilizing a steel compressor and turbine wheels, unlike the previous nylon plastic compressor wheel and ceramic turbine wheel.
Despite focus being on the economic output to meet the LEV emissions criteria, the NEO engine also managed to earn the highest power figures of all the RB25DET engines, achieving 276hp and 267lb/ft torque in stock form.
The RB25DET continued to be the engine of choice until the final models rolled out of the factory in 2002, with the VQ25DET becoming its successor.
A brief history of Nissan's RB series
RB20
Originally launched in 1985, the RB20ET/DE/DET series engines were fitted to the HR31 Skylines and Nissan Fairlady 200ZR (Z31) and the new engine became an instant hit. With the RB20DET eventually pushing out 212hp, not only was it a revolutionary engine for its time, but tuners soon began to unlock its true potential.
Nissan then went on to produce several variations of the 2.0L RB:
RB20E
RB20ET
RB20DE
RB20DET
RB20P
RB20DET-R
RB20DE NEO
RB24S
Little is known about the single-cam RB24S, mainly since it was extremely rare and was never produced for the JDM market, with the engine only being fitted to a small number of exported LHD Cefiro's.
This engine combined an RB30 head, RB25DE/DET block and an RB20DE/DET crank. It also used carburettors instead of Nissan's ECCS fuel-injection system, which enabled it to rev higher than the RB25DE/DET since it has the same stroke as the RB20DE/DET, but the displacement of the RB25DE/DET.
Despite its revving abilities, the naturally aspirated RB24S managed to produce just 139hp at 145lb/ft torque, it certainly wasn't an RB20DET killer!
RB25
From 1993, the introduction of the RB25 saw Nissan eventually go on introduce three variations to the market:
RB25DE
RB25DET
RB25DET NEO
RB26DETT
Typically found in the GTR, this bigger brother of the RB25 certainly needs no introduction and is arguably one of the best engines ever made, but that comes at an ever-increasing price.
The RB26DETT can be found in the following cars:
Nissan Skyline GT-R BNR32
Nissan Skyline GT-R BCNR33
Nissan Skyline GT-R BNR34
Nissan Stagea 260RS WGNC34
Tommykaira ZZII
RB26DETT N1
This engine was developed by Nismo for Group A and Group N motorsports after Nismo realized that the typical RB26DETT required too much maintenance for their planned cars, which were first used in the Bathurst races in Australia.
Several upgrades were carried out, including a balanced crankshaft due to the RB26DETT developing vibrations at 7-8,000rpm. They also upgraded the oil and water channels within the block itself and upgrades the pistons and rings.
Alongside these, there was also upgraded camshafts and three different variations of the Garrett T25 turbochargers between the R32, R33 and R34 generations. R34 engines were handed the superior GT25 ball-bearing turbos.
RB28DETT
This was another rare engine built by Nismo, this time for the unicorn Nissan Skyline R34 GT-R Z-Tune. Despite using an RB26 GT500 block, it's stroked out to 2.8L, which provides it with an impressive 510hp and 398lb/ft torque straight out of the factory.
Nissan had initially hoped to do a whopping 630hp in stock form, but due to emissions regulations, this was shelved. These figures have since become easily achievable with aftermarket support.
RB30
This engine has been the subject of many internet arguments as to who manufactured it due to its use in both Nissan and Holden cars.
The RB30 was originally designed by Nissan for use in the R31 Skyline before Holden then went on to purchase the rights due to their 3.3L Holden 202 failing emissions requirements and they were forced to make a quick and drastic decision for a replacement.
Manufactured RB30's:
RB30S (GQ Patrol)
RB30E (R31 Nissan Skyline)
RB30E (VL Commodore)
RB30ET (VL Commodore)
GTS1 RB30E (R31 Skyline)
GTS2 RB30E (R31 Skyline)
RB30DE (Tommykaira M30)
The RB30E found in the R31 Skyline achieved just 153hp and 186lb/ft torque. However, the rarer GTS2 RB30E, developed by Nisan Special Vehicles Division Australia was capable of 188hp and 199lb/ft torque.
The highest-powered factory model was the Holden-manufactured RB30ET found in the VL Commodore, which was capable of 201hp, using a lower compression RB30E bottom-end along with an improved oil pump, Garrett T3 turbocharger, and 250cc injectors.
These are far more common engines in the Australia regions and are another great example of a perfect engine for a big-power drift car.
One of the rarest ever RB's is the RB30DE, found in the Tommykaira M30, which was based on the R31 Skyline GTS-R. Using an uprated RB20DE head on an RB30E block, it achieved 237hp and 217lb/ft torque. We wish you luck if you intend to try and source one, though!
You may have heard of the RB30DET, but this was never a Nissan-produced engine. It simply refers to a turbocharged RB30E with the twin-cam head from another RB. There are several variations which can be used to achieve this since parts for the RB series are so interchangeable.
This provides the ability to achieve higher displacement than the RB26DETT, however, the RB30 lacks the RB26's internal bracing, thus making it unstable above 7,500rpm. Enthusiasts have instead utilized the RB30's torque potential of the longer stroke.
There are articles online which show that owners have achieved 11,000rpm from RB30DET with comprehensive upgrades and balancing.
OS Giken does produce an off-the-shelf aftermarket RB30DETT kit, however you can expect it to set you back a jaw-dropping ¥1,500,000, which is around $13,500USD!
RB25DET performance tuning and modifications
This is an immensely popular topic when it comes to all RB engines, with owners seeking to achieve their true potential.
As with all our guides, your first port of call when it comes to tuning is always to ensure that you have a healthy engine from the start. There's nothing worse than forking out huge money on an engine which can't deal with the power you're planning to throw at it. This will end up quickly becoming a VERY costly mistake unless you happen to have a spare RB25DET lying around.
We'd like to mention that we don't recommend tuning a naturally aspirated RB25DE or going through the process of strapping a turbo to your N/A, chances are it'll end up being far more work and far more expensive.
With a healthy RB25DET, the typical safe figures for stock internals are around 400hp, with some riskier owners having reliably pushed them 450hp. Some will even tell you that they are even capable of 500, but we never recommend chasing numbers unless you enjoy having to buy replacement engines. 450hp is going to be more than enough for most purposes.
When using a stock turbocharger, we don't recommend going beyond 0.8-0.9 bar (11.5-13psi.) If you plan to push it to 13psi, you'll want to ensure that you're running the correct supporting mods, such as an upgraded exhaust system, a front mount intercooler, an intake, Z32 MAF and you'll also need a boost controller. On top of that, other recommended mods are an uprated fuel pump, oil pump, and oil cooler. You'll also need an aftermarket ECU. This should provide you with around 300HP.
From there, you'll need to consider upgrading your turbo, injectors, a fuel pressure regulator, radiator and coils, etc.
This should be a rough package to make 400hp achievable.
If you're hoping for 500hp, expect to upgrade the camshafts, valve springs, and fuel injectors. Beyond that, GTR rods, forged pistons, uprated head gasket, ARP studs, and head porting will need to be on your agenda.
If you plan to go full retard, you can source an RB26DETT head and one of the off-the-shelf stroker kits to achieve a displacement of around 2.8-2.9L.
As you can see, tuning is never cheap and it's always better to be safe than sorry by fitting reputable parts to ensure the best reliability and smallest chance of problems possible.
If HUGE power figures are your goal, we highly recommend considering an RB26DETT swap to be on the safer side.
Which cars came with the RB25DET?
Nissan Skyline R33/R34 GTST
Nissan Stagea WC34
Nissan Cedric Y34
Nissan Gloria Y33 & Y34
Nissan Laurel C34 & C35
RB25DET vs SR20DET
If you look at the displacement, this may seem like an unfair comparison, however, there are advantages and disadvantages to using both these engines, which are both commonly used for swaps.
Firstly, one of the advantages of the SR20DET over the RB25DET when it comes to s-chassis swaps, perhaps for your 240SX, is that the 4-pot SR20 is around 80kg lighter, which is great for the weight distribution and handling.
If big power is your intention, perhaps for drag racing and even possibly drifting, then the RB25DET is most likely going to be the better choice due to its power capabilities.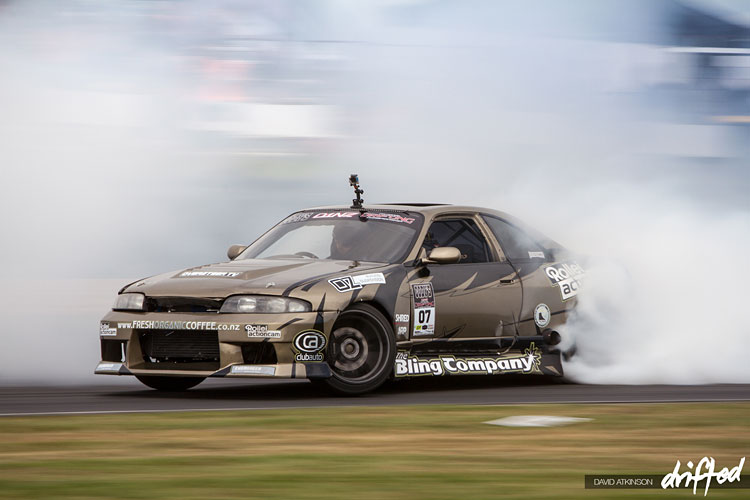 For drifting, the weight distribution of the SR will most likely be far easier to work to your advantage, depending on what you'll be swapping it in to.
With that being said, if you're intending to reach beyond 350hp, then the RB may well end up being the more efficient choice. SR's are capable of achieving bigger power figures than this, but it quickly begins to get very expensive, where RB's can achieve 500hp far easier.
If you already have an SR and you're considering swapping for an RB25DET, chances are that by the time you've spent the money on the swap, you'll be left with a 260hp engine when you could have a 350hp SR with far more torque for the same cash.
Both have their advantages, and realistically it all comes down to personal preference and whether you have a spare engine lying in the garage!
RB25DET vs 1JZ-GTE
Think of these as the little brothers of our RB26DETT vs 2JZ-GTE debate. This is the battle between two of the most popular 2.5L 6-cylinder engines out there.
Both engines are very similar in size, roughly the same bore and stroke and the head stud and bearing thickness are also roughly the same.
This video showing the testing of two randomly sourced blocks was insightful for this topic, which may sway your opinion slightly:
We're going to be brutally honest and say that the chances are, given the circumstances, we would be opting for the 1JZ on this occasion.
The RB25DET would require quite a substantial chunk of cash being thrown at it before it can achieve the same figures as the 1JZ is capable of if you're looking at big power since the 1JZ has often been seen reliably running 600hp+ on stock internals.
Like for like, the 1JZ, from our experiences, would also win the reliability argument overall.
With that being said, both are fantastic engines, and if you have the chance to get your hands on either one, you certainly won't be disappointed!
Oh, and both engines sound damn sexy too!
240SX RB25DET Swap
This has become an extremely common swap over the years, especially for KA owners. Given its popularity, there have become many off-the-shelf parts produced to make the swap easier than ever.
Here are a few basic essentials to get yourself on your way to your new big-power setup!
Engine Mounts
"The ISR Performance RB swap mounts are designed to be your one stop solution for all RWD Nissan RB series engines using the RB20 or RB25 RWD Transmission to fit in both S13 and S14 chassis."
Purchase the ISR Performance RB Swap Mounts for Nissan 240sx at Enjuku Racing.
Driveshaft
"This is a complete 6061-T6 aluminum shaft that is about 1/2 the weight of the factory 2-piece. The shaft features larger, replaceable and greaseable u-joints and can handle about 650WHP. By removing the factory 2-piece shaft and installing a single shaft the car will feel more responsive due to the fact the hanger bearing is not moving up and down during acceleration. Available for most popular motor/trans combinations, if you don't see yours listed, custom shafts are also available."
Purchase the ISR Aluminum Driveshafts at Enjuku Racing.
Wiring Harnesses
"If you're looking to save some serious time and cash by replacing both your engine and transmission harnesses, look no further. This plug-and-play is for the RB25DET installed in a S13 240SX and requires no additional wiring. The handy premade RB25 S13 swap combo makes replacing both harnesses fast, easy, and affordable."
Purchase the 240SX Non-NEO Wiring Harness at Enjuku Racing.
Purchase the 240SX NEO Wiring Harness at Enjuku Racing.
Common RB25DET Issues
RB's are generally well-known for their reliability and durability. However, all cars have issues, eventually, and given the age of these engines now, it should come as no real surprise.
When treated right using the correct service intervals and high-quality lubricants, the chances are they'll serve you extremely well, and there are no reports of any serious design flaws, which would've undoubtedly surfaced by now!
One of the most concerning issues is with circuit, drag or drift RB25's which are generally pushed to, or beyond their limits for prolonged periods. In this case, owners are finding excess oil in the cylinder head and catch can, but not enough oil in the sump.
There are several possible solutions, which include fitting an external oil return from the rear of the cylinder head to the sump. However, if you're experiencing these problems, it's well worth taking a look into all of the recommendations to see which ones apply to your specific case.
Oil surge can cause bearing failure if people overfill. This often happens during track use when owners have filled up to the 'H' on the dipstick, which is around 10mm over the 'full' line.
Running more than 0.9 bar of boost on a standard turbo will undoubtedly cause premature turbo failure, so we highly recommend against doing so.
It's recommended to fit an oil cooler, especially in hotter areas or for those that like to push the car. Either way, it's suggested that you keep a close look at the oil temperatures when driving hard.
Small problems include failing ignition coils, which can cause misfires, but swapping out the coils is an easy enough fix and it's recommended to do them every 60,000 miles anyway.
Additionally, the cam angle sensors do have a habit of causing issues from time to time. There are plenty of solutions to the problem online but swapping it out is typically the best choice.
Other than that, we have heard of various reports of electronic issues, as with all cars! However, given the age and how some of them are treated, it hardly comes as a surprise and could boil down to absolutely anything.
Overall, the RB's are generally extremely reliable engines and a healthy powerplant will certainly be more than happy to provide you with durability right the way up to 400hp on stock internals.
Conclusion
There are many valid reasons as to why the RB engine series is one of the highest regarded, not only in the tuning scene but across the entire automotive world.
If you're considering an RB, not necessarily the RB25DET, then we have no doubt that each one of them will serve you well.
If weight is an aspect in your decision, then it may well be worth looking into the RB20DET rather than completely ruling it out. These are lightweight, cheap, bulletproof engines with great tuning potential and enjoy being revved more than RB25's - great for drifting!
If HUGE power numbers are your aim, the RB26DETT needs to be a serious consideration. Sure, the RB25DET is capable of big numbers, but the RB26DETT really is the better choice if you're starting from scratch, unless you're being handed a free RB25DET!
If money is no issue, then you may even want to consider going own the RB28DETT route for the additional rarity factor!
There will always be superior engines on the market, but the RB25DET has certainly earned a worthwhile spot in the history books.
Even though Toyota lovers will continue to voice their opinions on the 1JZ (or 2JZ), we have no doubt that the RB25DET will be more than capable of putting a huge smile on your face for many years to come!
Additional RB25DET Related Content
We've selected some of our favorite RB25DET YouTube picks for your viewing pleasure!
This 280Z with a 535hp RB25 are a match made in heaven!
We never get bored of sound compliation videos!
Check out this awesome and informative 700hp+ 240SX conversion.
The worlds fastest unstroked RB25 heads to the drag strip to lay down a 9.9 sec 1/4 mile (later beating it with 9.7 sec).
Patrol? Check. Wheelies? Check!
RB25 Hakosuka. This is what dreams are made of!
Kevin Lawrence explains everything there is to know about RB's in this comprehensive video:
Photography credits
Drifted would like to extend thanks to the following sources for use of their images:
Learn everything that you need to know about Nissan's RB20DET engine here!