Ultimate Rocket Bunny 350z Guide
Whether you're looking to fit a Rocket Bunny kit to your Nissan 350Z or curious to know more about these lucrative widebody kits, we've got you covered.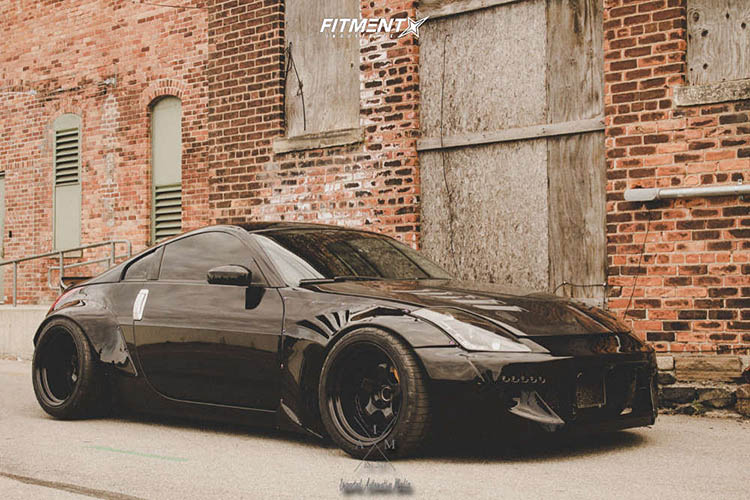 ---
When it comes to widebody aero kits, very few have achieved the same level of success as the Rocket Bunny kit, especially for Nissan 350Z owners.
Loved by drifters, stance enthusiasts, and brave daily-driven 350Z owners, the Rocket Bunny kit suits the lines of the 350Z to perfection, and with their most recent V2 kit, it's now looking even more refined than ever.
Who Makes Rocket Bunny 350Z Kits?
Since you're likely to see the names TRA Kyoto, Pandem, and often GReddy thrown into the mix, it's easy to understand why so many are confused by the origins of the Rocket Bunny kit.
Kei Miura at TRA Kyoto (Top Racing Arts Kyoto) is the designer of each Rocket Bunny kit, sold as 'Pandem' in the US due to copyright issues.
When Miura-san creates each Rocket Bunny/Pandem kit, an incredible amount of work goes into creating a unique design from scratch.
While many aftermarket widebody kits are known for terrible fitment and disappointing quality, Kei Miura proves time and time again why it pays off to buy the genuine product rather than a Rocket Bunny "replica" kit.
Not only are the highest quality materials used, with perfected curing times obeyed, but the sheer amount of work that goes into designing these kits is mind-blowing.
While most aftermarket body kits are initially formed from a clay-based design, it's Miura-san's in-depth knowledge of computers that gives him the edge over competitors when it comes to precise fitment.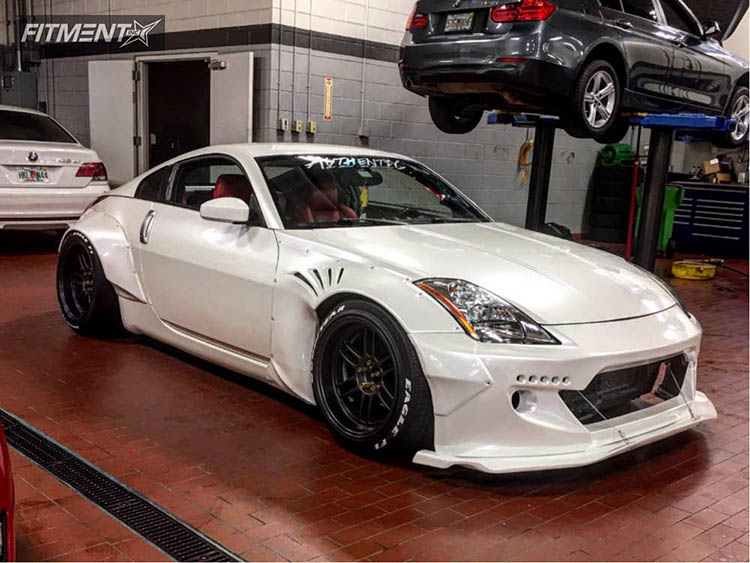 To begin, each car that receives the Rocket Bunny treatment is fully laser-scanned, which creates a precise digital rendering of the vehicle - in this case, a Nissan 350Z in its original factory form.
Kei Miura then uses this 3D model as a blank canvas as he re-creates the design entirely from scratch, providing the opportunity to implement his unique visions.
One of the most admirable traits is his ability to combine modern-day styling along with a sprinkling of old-school class from the JDM legends of yesteryear, with a subtle hint of the likes of the Bosozoku era added into the mix.
Eager to maintain the overall original styling and design of the car as Nissan had intended, he sets to work with creating his creations that have soared to popularity across the globe.
Using the 3D model, he can create and edit CG renderings of each design, enabling him to see the finished product in digital form before the physical end-product gets created.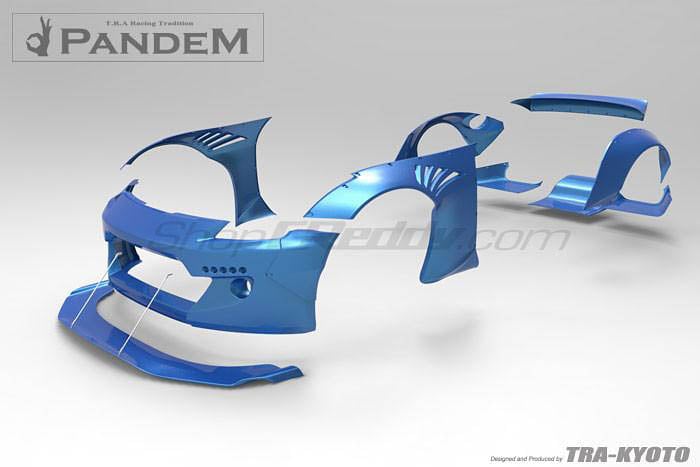 Once perfected to his harsh standards, undoubtedly smoking his way through endless packets of cigarettes in the process, it's time to begin the real-world 3D model of the freshly designed Rocket Bunny kit, which looks like this:
With the design finalized, it's time to load up enormous chunks of polystyrene, which are then placed into the CNC mill at TRA Kyoto to create the master molds that each brand new, unique Rocket Bunny kit will later be crafted from.
Now that the mold is created, it's time to use the finest quality FRP materials with meticulous care to ensure that each kit leaves the factory with the highest manufacturing standards imaginable.
Along with their unique designs, Rocket Bunny/Pandem's focus on quality and fitment has earned the brand one of the highest-regarded reputations in the aftermarket modified tuning scene.
Upon the Rocket Bunny Pandem kit leaving the factory, it's time for the likes of US distributor GReddy to deliver them to eager fans and tuning enthusiasts across the globe.
Although the 350Z is possibly the most sought-after Rocket Bunny body kit, there are also kits available for the GT86, BR-Z, FR-S, and GT-R.
They've also recently launched stunning kits for the new Toyota GR Supra and the Lexus RC/RC-F platforms.
---
Rocket Bunny 350Z Kit Cost
For many potential owners, the price of a Rocket Bunny kit can often become the make-or-break element when deciding whether the kit will suit their needs.
Meanwhile, for others, it may be the difference between opting for the real deal or considering a replica kit, which we'll be discussing more in-depth later in this guide.
When it comes to the genuine Rocket Bunny/Pandem 350Z body kit created by specialists TRA Kyoto, here are the options for you to consider.
For the latest prices, make sure you head over to the official US distributors at the GReddy USA store:
Full kit:
Complete widebody aero kit with wing - Part number: 17020350
Individual parts:
Front bumper (only, with integrated front fender extensions) - Part number: 17020351
Front lip (only) - Part number: 17020352
Front over-fenders +40mm (only, does not include bumper extensions) - Part number: 17020353
Rear over-fenders +80mm (only) - Part number: 17020354
Rear diffuser (only) - Part number: 17020355
Rear "ducktail" wing (only) - Part number: 17020356
Front bumper mesh (only) - Part number: 17010239
Front lip sport rods (only) - Part number: 17020359
V2 LED DRL/signal light kit (only) - Part number: 17010230
Although the kit is far from cheap, you're paying for the quality and near-perfect fitment that Miura-san and his team pride themselves upon.
All of the Rocket Bunny/Pandem FRP aero comes with a raw gel-coat finish, which will require preparation to fill minor surface imperfections and potential hairline cracks in the finish and smooth out the surface.
Although you could carry out the work yourself, we'd highly recommend that it's done by reputable body shop professionals, as we'll expect that you'll want to ensure that the job is carried out to the highest standards.
If you're experienced with this, then, by all means, feel free!
The 350Z Rocket Bunny kit uses the original sills and rear bumper, with the overfenders adding the width to the car, but you'll still require some extensive bodywork to ensure the perfect fitment.
Due to the width of this kit, if you want to ensure perfect fitment, the overfenders will replace your stock fenders, which will require cutting, and potentially fender rolling and sealing to smooth off the lip before the final kit fitment.
As you may have guessed, the cost of the kit, along with the prep work, cutting and sealing of the arches, and then the fresh new paint job, which you'll undoubtedly want to complete the look, all adds up to a pretty penny.
While it's certainly not cheap, 350Z costs continually improving, and thanks to the modern sibling, the 370Z, becoming increasingly affordable, it means that you may well be able to bag yourself a bargain 350Z.
However, what if you're looking for the Rocket Bunny styling, but you're not willing to fork out the big bucks?
That brings us to our next section…
---
Replica Rocket Bunny 350Z Kits
It comes as no real secret that there's no shortage of replica (fake/whatever you want to call them) Rocket Bunny kits out there.
While we strongly recommend supporting creators, especially when they've put the amount of work that Miura-san does into his work, we can see why drifters would prefer to go down this route.
Let's face it – there's nothing more disheartening than waiting for your fresh new aero to get shipped from the motherland, only to see it exploded to smithereens on your first visit to the track.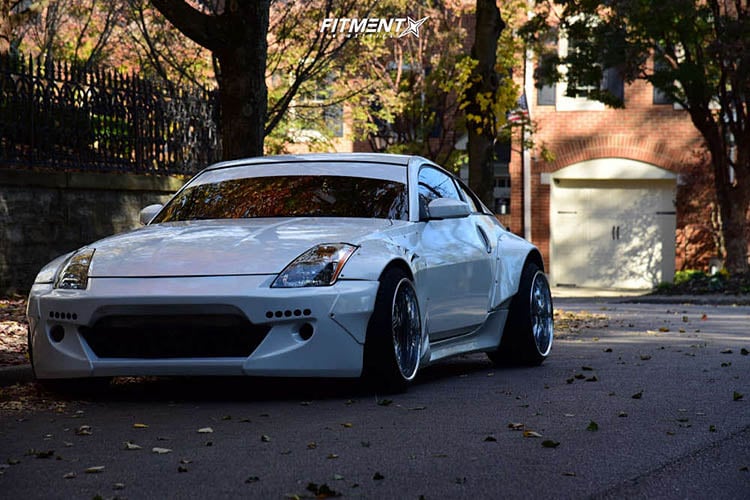 When it comes to a missile beater, or a hard-driven drift car, fitment and quality aren't really at the forefront of your agenda, either.
So, while you can go down the likes of the Duraflex route when it comes to sourcing a replica Rocket Bunny kit, you'll probably want to brace yourself for a little more than minor fitment issues.
While TRA Kyoto ensures that quality and fitment are at the forefront of the agenda when creating their genuine kits, it's doubtful that'll be the case with a replica.
Unfortunately, this often means that you'll have a terrible fitting kit, and while this might not bother missile drift car owners, you may end up regretting it if you're opting for a clean show car.
We've all seen "that guy" who thinks he's getting a bargain with his replica body kit, only to take it to the local body shop experts, to receive a several-thousand dollar bill to get the shoddy-fitting kit sitting perfectly.
Even then, the quality is likely to be far inferior to that of the original Rocket Bunny kit.
With cheap FRP vs genuine parts, it can often be the difference between scraping your way over a speedbump or crashing into it, in which case, the body shop will undoubtedly be happy to see you return!
For many reasons, we highly recommend that you don't opt for the "buy cheap, buy twice" method, and if you're looking to daily drive or have your Rocket Bunny 350Z as a clean, potential show car, then we highly recommend opting for the real deal.
On the other hand, if you're not bothered about fitment or quality, and you're likely to be running the wall and rubbing doors with your buddies at the track on the weekends, you're likely to be better off opting for a rep kit.
Either way, you're also going to have to consider which wheels will suit your newly-wide-bodied Z, which brings us to our next section…
---
Rocket Bunny 350Z Wheel Specs
As you may have guessed, the aftermarket wheels that you opt for on your Z could potentially make or break the look once you've decided to go down the Rocket Bunny route.
Using the stock wheels is going to be out of the question. Given the +80mm extension that you're going to have to accommodate for on the rears, wheel spacers are a no-no, too.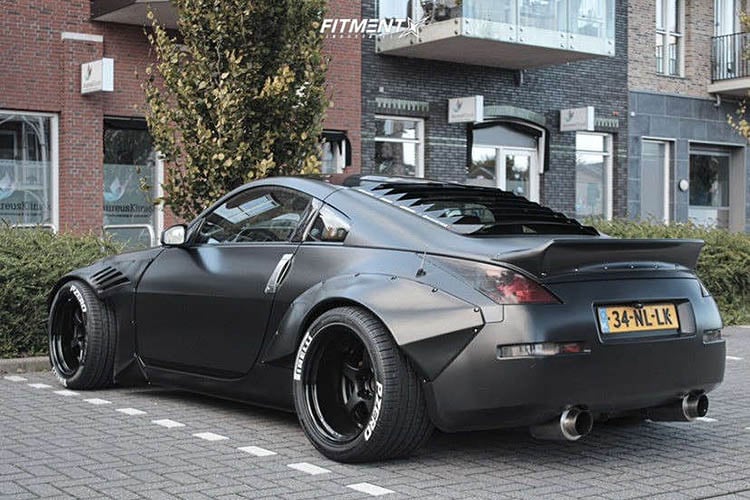 Fitting skinny wheels with gigantic spacers will not only look ridiculous when anyone peers inside the wheels, but it'll leave your Z looking like it skipped leg day from the rear!
Examples from Fitment Industries:
Wheel sizes:
Front - 18" x 11" | Offset -20
Rear - 18" x 13" | Offset -46
Tires:
(May require 10mm spacers to clear Brembo/uprated brake kits)
Wheel sizes:
Front - 19" x 14" | Offset -15
Rear - 19" x 16" | Offset -35
Tires:
These are just two examples of possible wheel fitment, but there are many more potential solutions when it comes to fitment.
My350z.com has a fantastic wheel size calculator to help you choose an ideal width for your Z, but it's worth remembering that cutting the arches will provide far more clearance than the stock body:
If you're considering a fully custom set to ensure the perfect fitment, then we highly recommend checking out Work Wheels, which can be custom-built to perfection.
If you're looking for some examples of perfect Rocket Bunny 350Z fitment, make sure you check out the gallery at Fitment Industries.
Once you've decided on the perfect wheel fitment, you'll also need to determine what tires you wish to run, which will need to be factored into your budget.
Typically, the chunkier the tire, the more expensive they're likely to be, and if you're intending on throwing it sideways, the costs will soon add up!
---
Conclusion
Kei Miura has done an incredible job when it comes to designing the Rocket Bunny kit for the Nissan 350Z.
Updating the modern styling as Nissan intended, with a touch of old-school class, has provided the perfect opportunity to make the older sibling arguably outshine the current 370Z.
While there will be quite a few considerations regarding whether a Rocket Bunny kit will suit your needs, we hope we've covered them all in this guide.
Considerations will include cutting into your stock fenders, choosing a suitable set of super-wide wheels, and some chunky meat to go on them.
It may be a more cost-effective option for those of you who are planning on drifting your Rocket Bunny 350Z to go down the replica route, assuming you're not too much of a perfectionist when it comes to fitment.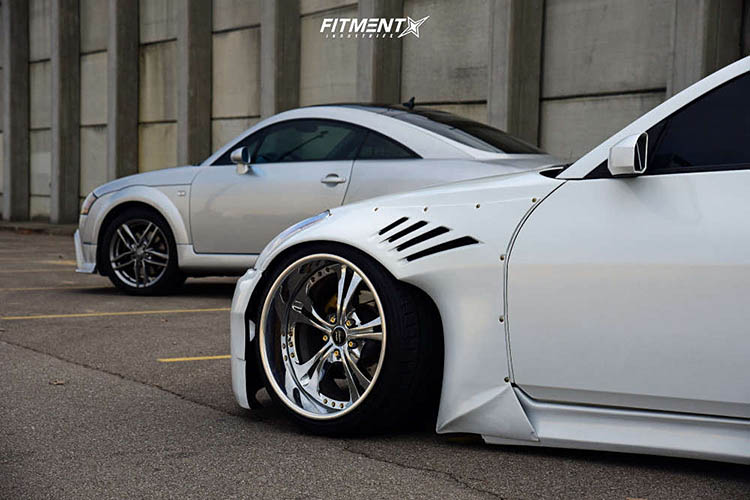 Although we rarely recommend replica products, having FRP frequently kissing concrete walls is one of the few exceptions where we think it could make sense from a cost perspective.
With that said, if you're looking to build a stance, or show car where quality and fitment are vital, then we would undoubtedly be opting for the real deal.
Those looking to daily drive or frequently drive to meets in your slammed Rocket Bunny 350Z may also want to consider going down the air suspension route.
Doing so will ensure clearance in tricky situations where you don't fancy scraping your fiberglass masterpiece on the ground!
Once you've got your Rocket Bunny kit fitted, along with the shiny new shoes, make sure you remember that she wiiiiiiiiide now - as curbs are undoubtedly going to become your enemy!
So, there we have it! We hope that we've covered everything you could want to know about Rocket Bunny 350Z's in this guide.
Thank you for reading our Rocket Bunny 350Z guide.
If you enjoyed this article, please share it with the buttons at the bottom of your screen. If you've found this information useful, then please take a moment to share it with other 350Z and Rocket Bunny enthusiasts. We appreciate your support.
---
Photography credits
We thank the following entities for the use of their photography in this article: