Why advertise with Drifted?
Our unique content is frequently covered by sites across the web with multiple features on Speedhunters, Jalopnik, Formula DRIFT, Silodrome, Lega Nerd and Stanceworks.
We have over 300,000 monthly users that come back to Drifted looking for information on cars, for product recommendations and to play games.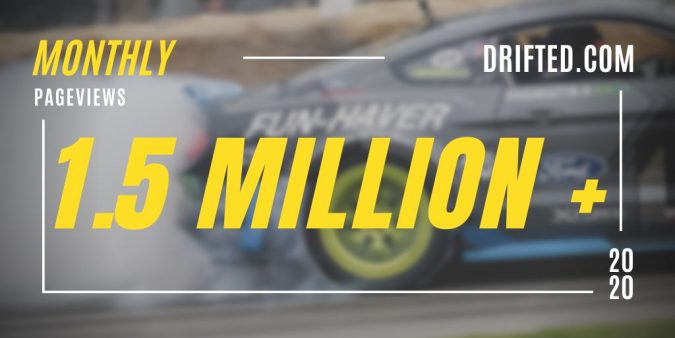 On a typical month, we will receive over 1.5 million pageviews as our audience consumes our high quality content. Our tuning guides are some of the best respected product guides in the tuning world.
We have an engaged Facebook page with over 350k followers that could be hearing about your brand and your products.
Partnership opportunities
We have a few partnership opportunities that are available for the ambitious brands. If we would like to work together we have the option of using a selection of methods to get in front of our audience:
Monthly Editorial Articles – We can create content promoting your brand, product or service to our readers.
Display Advertising – A powerful homepage banner that includes a brand description and link
Alignment with Drifted.com for further integrations to our readers, this could include; product tests, game or app reviews, tire tests etc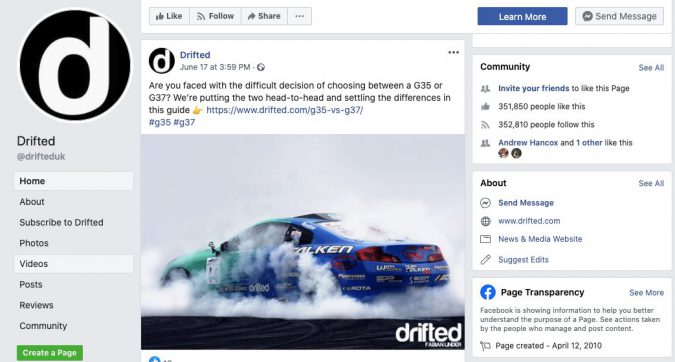 Our demographic & fanbase
Our brand has a large and loyal fanbase that has been built up since we began serving the drifting community in 2009.
Our average reader is an out and out car guy, they can spot a welded differential from 500 meters away and they are enthusiastic for all things car related.
Here are our key demographic statistics:
Gender: Males
Age range: 18-35
Location: North America, United Kingdom, Australia
Social-economic status: High disposable income
Interests: Everything car related
What kind of companies would be a good sponsor for Drifted?
We want to deliver the best advertising options available and we will only work with brands that have great synergy with us. Our focus is all on our visitors – what are they looking for? What problems do they have? What might they want to know more about?
Brands that might be a good fit for Drifted readers would be tire manufacturers, gaming, automotive parts and services and those surrounding the drift and motorsport culture.
Feel free to contact us if you are interested to work with us.
Companies that have supported us in the past
We have enjoyed great success with our company partnerships in the past. Below are some of our happy customers: