Ultimate Mazda RX-7 Guide – Everything You Need To Know
Join us as we look at the history of one of the greatest cars to ever leave the land of the rising sun. We've provided everything that you need to about the mighty Mazda RX-7.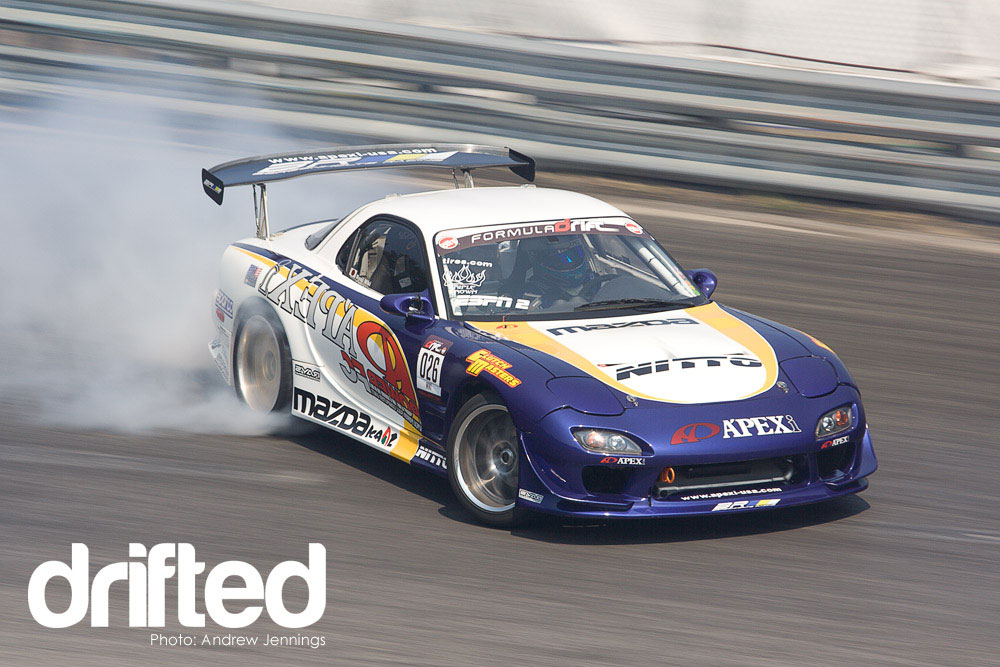 Here, you can click on a particular section within this article, otherwise, scroll down as we look at every aspect of the Mazda RX-7.
---
Introduction
The Mazda RX-7 is undoubtedly one of the first cars that pop up in conversation when enthusiasts speak about 90s legends.
However, this automotive classic has been impressing since Mazda launched its first-ever rotary powered RX to the market in 1978.
Now that it's firmly sealed its position at the forefront of Mazda history (sorry, Miata owners), we're keen to take you back to its humble beginnings as pay testament to this unique piece of JDM history.
Often regarded as one of the greatest cars ever produced, the RX-7 features stunning, timeless looks and an insanely brave and unique powerplant. Combine this already-incredible package with a perfect lightweight chassis which epitomizes its finesse - how can you not fall in love?!
It's the sheer number of boxes that the RX-7 ticks which have deservedly made it one of the most iconic cars in the history books. That's before we even get talking about its ridiculous Wankel engine and its crazy redline capabilities!
It's a perfect combination makes it a petrolhead's dream. Mazda delivered affordability, exceptional handling characteristics, and impressive power into the automotive equivalent of a bikini-clad supermodel to the masses.
Little is known about its true history, but Mazda was, in fact, on the brink of bankruptcy at the time, when they made a make-or-break decision by placing the rotary engine into the first-ever RX-7 in 1978.
With the roadsters of the 50s and 60s struggling to remain current in the new era, its main competition in the Datsun 240z suddenly became less challenging, with the far less sought after 280ZX being launched to the market.
As the RX-7 began picking up traction good export sales, it appeared that the gamble had paid off, as Mazda managed to keep their head above water.
As the FC and FD models then went on to hit the market, from 1985 (FC) until 2002 (FD), it gained it an exceptional following from JDM and sports-car lovers alike.
Following this success, they eventually went on to build over 810,000 RX-7's between these years, spanning across three generations.
With the infamous FD being sold in the US for just three years, the final generation is now, quite rightly, one of the most sought-after JDM cars on the used market.
We're going to look back over the history and exactly what this front engine-rear drive classic has offered to the world since it first launched onto the market from the late 70s, through to the present day.
---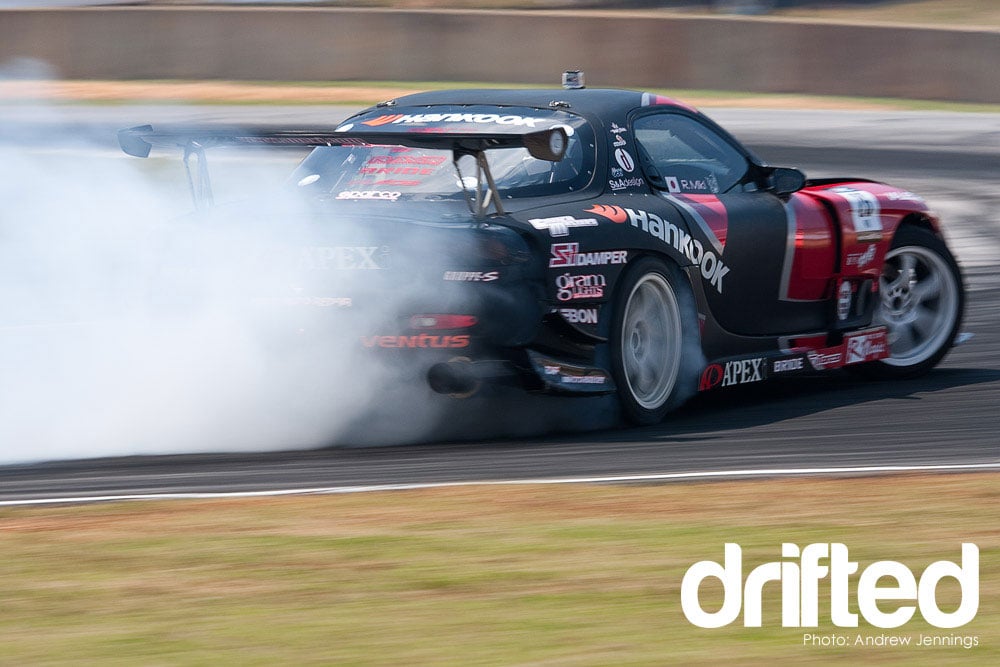 RX-7 History
When you think of a Mazda sports car, there's a chance that the affordable Miata also comes to mind, due to its huge popularity and affordability. However, the RX-7 was initially launched 20 years earlier and was an entirely different animal, which utilized a greatly improved version of the revolutionary rotary engine originally created by the German engineer, Felix Wankel.
Mazda's rotary engine was so successful that it later led them to become the only Japanese car manufacturer to win the 24 Hours of Le Mans with their four-rotor placed in one of the highest-regarded cars of all time, the 787B.
Check out this video to see the full evolution of the Mazda RX-7.
With the FD up against some of Japan's finest ever-produced sports cars of the 90s, it was quite possibly the most refined out of the bunch. You could roll one out of the showroom and often, it was capable of laughing off its competition.
It didn't need to use pistons, cylinders or camshaft, instead, it utilized spinning 'Doritos' and a pair of punchy turbochargers, yet they were placed into a perfectly-refined and beautifully crafted intense package.
But before we go more in-depth with the FD, let's take a look back over where it all started for the RX-7.
First generation – Mazda Savanna RX-7 (SA22C/FB)
Little is known about the humble beginnings of the RX-7. It was a gloriously flawed masterpiece which has never really ever received the recognition it deserves. Chances are, you've never even seen one in the flesh and metal. We certainly haven't.
Originally launched in March 1978, the RX-7 replaced the Savanna RX-3. This first-ever model was created by Hiroshima-born Matasaburo Maeda. Matasaburo's son Ikuo would also later go on to design the rotary-powered Mazda RX-8.
As the brand-new RX-7 hit the market, it provided an exceptionally lightweight and nimble chassis which weighed in at just 1,024kg. With its rotary engine installed behind the front axle, it provided the car with a low center of gravity and excellent weight distribution for a simple, raw driving experience.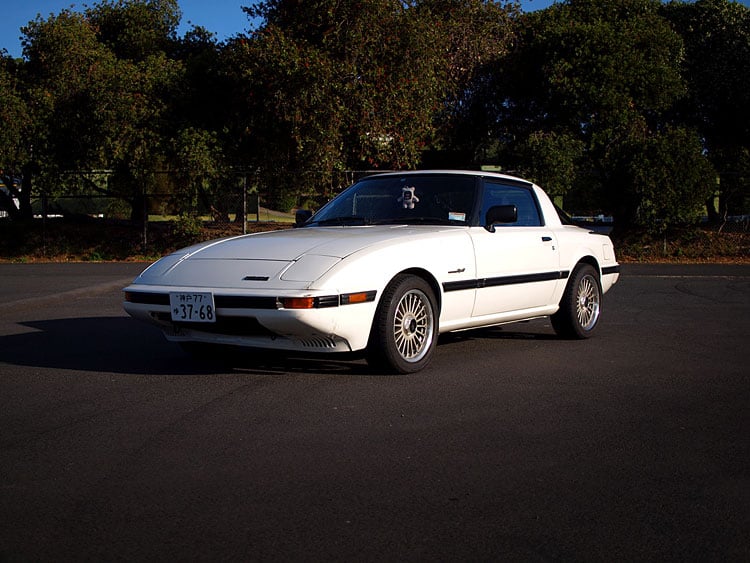 Due to the unique characteristics of the rotary engine, this allowed the Savanna's 1.1L displacement to remain below their 1.5L tax bracket threshold, which made the RX-7 far more affordable compared to its larger-engine rivals.
For the Series 3 (1984-85) Mazda introduced the GSL-SE specifically to the North American market, which featured the fuel injected 1.3L 13B RE-EGI engine for the first time. This was capable of producing 135 hp and 133 ft/lb torque compared the 100hp found in the 12A and also featured a clutch-type LSD and rear disc brakes.
Given the impressive power for its time, combined with a live rear axle and curb weight of under 1,100kg, this was the lightest RX-7 to ever be released and it's easy to see why owners were beginning to see its potential.
Savanna RX-7 Turbo
For a short period, Mazda sold their first turbocharged rotary engine from the Luce/Cosmo, which featured a fuel injected and non-intercooled 12A turbo engine. This was made available for the top-end Series 3 for a short period of time in 1983. Despite the new-found power upgrades taking it to 163 hp, Mazda soon pulled it from the market to make way for its superior newborn brother.
Second generation - RX-7 FC
With the release of the Series 4 FC in 1985, this was where things really started getting interesting for the RX-7. As well as some drastic body changes, it was the engine which really got potential owners talking.
With the basic model 13B-VDEI producing 146 hp, it was the 'Turbo II' optional model, which was Mazda's first turbocharged 13B effort that caught the enthusiasts attention, and it produced a whopping 182 hp.
Despite the power increase, the displacement was kept at 1.3L, which meant that delighted Japanese owners were still able to reap the benefits of the cheaper tax bracket allowance.
Mazda confessed to taking design inspirations from the Porsche 924 due to its popularity in the American market, where they had sold the majority of the first-generation models, in an attempt to rival the more expensive competitor.
Despite the SA22/FB being the raw sports car of the two, with the FC heading in the direction of the sport-tourers, it did manage to provide better handling with its independent rear suspension.
However, it gained around 363 kg over the first generation in the process, but that didn't stop the press singing its praises. It went on to earn Motor Trend's 'Import Car of the Year' in 1986 and the Turbo II featuring on Car and Driver's 10 Best list for the second time in 1987.
RX-7 FC Special Editions
Convertible FC (Vert)
1988 also saw Mazda announce a convertible variant of their FC, which was only available in a naturally aspirated version for the US market, whilst the rest of the world did receive a turbocharged equivalent.
10th Anniversary RX-7
After an extremely successful 10 years, Mazda launched an anniversary edition which was limited to just 1,500 models, based on the Turbo II. This featured Crystal White monochromatic paint and some small body changes, which included 16-inch 7-spoke alloy wheels.
It also included a sought-after black-leather interior and a leather-wrapped MOMO steering wheel. There was nothing drastically different, but there's no doubt that these will become increasingly collectible.
GTUs
To celebrate the RX-7's IMSA domination, Mazda released this lightweight race-orientated special edition for just one year. This was a stripped-down equivalent which came with manual windows and optional air conditioning and sunroof to keep the weight down.
This shared many of the upgraded components with the Turbo RX-7 such as brakes and a 4.300 LSD and would be the fastest naturally aspirated FC to leave the showroom due to its weight saving.
Around 1,200 GTU's were eventually built between 1989-90, making them one of the rarer RX-7 models.
Infini (ɛ̃fini)
Mazda's luxury brand, Infini, sold another special edition which was limited to just 600 units per year and was the most sought after. With many of the others featuring small changes, the upgrades on the Infini were more substantial.
This included upgraded suspension, increased power, an improved ECU, aluminium wheels and bonnet, different glass and all-around weight saving.
There was no question that the Infini was the ultimate car for FC enthusiasts, and it set the early benchmark for the ultimate RX-7. Due to only ever being sold on the Japanese Domestic Market in small numbers, you'll need to go down the import route if you're considering taking the opportunity to get your hands on one.
In its first year of sales in 1986, there were 86,000 FC's sold in the US alone. 272,027 were eventually sold across the world before they ceased production on the Series 5 in 1992.
As we all know, the 90s were one of the most significant eras in Japanese automotive history. As the highest regarded manufacturers released some incredible new cars, Mazda was certainly ready to join in the fun as they prepared to unveil their hidden treasure…
Third Generation - RX-7 FD
The FC had undoubtedly done a great job of providing a solid platform for continuing to focus enthusiasts' attention on the RX-7, but it wasn't until the release of the FD which took it back to its raw driving feel that Mazda managed to switch up the game entirely.
Many justifying rejoiced at Mazda's decision to stick with the rotary engine which made them so unique in the first place, keeping with the original small-lightweight block, yet it was better than ever.
Mazda gifted the FD with the first-ever mass-produced sequential twin-turbocharged engine to be exported from Japan. This meant that the FD was immediately capable of achieving 252hp when initially announced in 1992, before eventually going on to set an impressive 276hp in standard form by the time production ceased in 2002.
With the first turbo providing 10psi (0.7 bar) of boost, it began boosting at just 1,800rpm before the second turbo would then give it a kick it up the butt with another 10psi from 4,500rpm right the way through to its impressive 8,000rpm redline.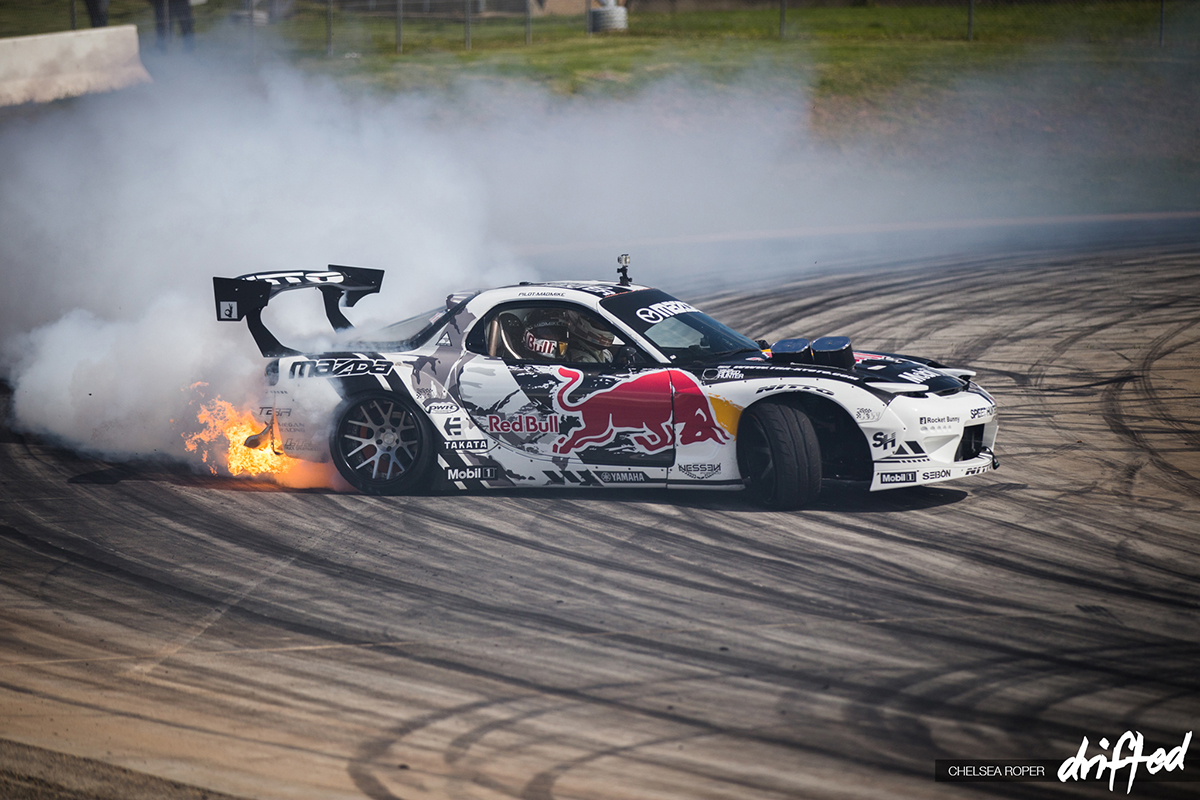 Designed by Yoichi Sato, it wasn't just the engine which got the attention, it was simply one of the stunning cars ever to be launched, not just in the 90s, but to the present day. Where the FC was compact and boxy, the FD had a smooth, sleek, curvaceous look and was certainly a head-turner!
With a curb weight of under 1,300kg and a low center of gravity, it was undoubtedly one of the best sports cars on the market and was easily capable of competing with some of the finest cars of the 90s.
With its release in Japan, the FD managed to cause big dramas when it came to dimension regulations. Due to its increased width, Japanese owners were forced to pay annual taxes on their FD's. This made the FD less affordable for the everyday driver, which is one of the main reasons why the Eunos Roadster had so much appeal.
For many, ownership was worth every cent, and to the present day, it's one of the most sought-after lightweight, front engine rear-wheel-drive JDM legends that quite rightly reserves its spot in most car enthusiasts dream garages.
Although the FD was sold in the US for just three years, sales continued worldwide, and almost 70,000 were eventually sold.
Mazda's engineers aimed to bring back the original hardcore race-orientated RX-7 philosophy with the FD after the FC failed to meet the expectations of the original, and they did so in incredible fashion.
It's undoubtedly one of the best cars that will ever leave Japan and has earned a huge following worldwide, making it a serious collectors' item for the future.
Let's take a look at the wide range of different models and limited editions which were released over the FD's life span.
Series 6 (1992-95)
The Series 6 was the first FD's to be produced from its launch in 1992/93 and were exported across the world. This included several variants – the base model Type S, the well-known, lightweight sports model Type R, Type RZ, Type RB, A-spec and the Touring X.
Series 7 (1996-98)
It was clear that Mazda had done a great job with the Series 6 when there wasn't much that needed revising for the Series 7. With some minor updates including a simplified vacuum routing manifold and a 16-bit ECU which combined provided around 10 hp extra to the engine.
However, this extra power was only earned on the manual cars due to it being provided beyond 7,000rpm, which was the redline for automatic transmission cars.
Some minor design updates were also carried out, such as a new rear spoiler and rear lights. The Type RZ model was provided with larger brake rotors and 17" BBS wheels.
This Series was only sold in Japan, Australia, New Zealand, and the UK and were only ever produced with a right-hand-drive setup from the factory.
Series 8 (1998-02)
This was the last ever series of the Mazda RX-7 FD and was sold exclusively for the Japanese market. On certain models, they provided more efficient turbochargers along with improved intercooler and radiator cooling by redesigning the front fascia with larger openings.
Internal upgrades included the seats, steering wheel, and instrument cluster, which were all changed.
A new rear spoiler was fitted, which even allowed for adjustability on certain models, and upgraded ABS allowed for improved braking ability.
There were three power levels available, just 251 hp for the automatic variant, right the way through to 261 hp for the Type RB and 276hp on the top-end models.
Power levels were able to be increased by using a less restrictive muffler and improved turbochargers. The 276hp and 333Nm of torque that the Series 8 was capable of producing ensured that it hit the maximum power limit set by Japanese regulators at the time.
Type RS
The Type RS was the start of the high-end line of FD's and came equipped from the factory with impressive Bilstein suspension and 17-inch wheels, alongside a weight reduction to 1,280kg. This was equipped with the less restrictive muffler and improved turbos, which also included abradable compressor seals.
Capable of achieving the highest ever power output of 276hp at 6,500rpm and 232 lb/ft of torque at 5,000rpm, which hit the legal Japanese limits set at the time.
The Type RS also had a brake upgrade which increased the front and rear rotors to 314mm.
It also included a 4.30 ratio diff, which provided substantially improved acceleration and a gearbox with improved gearing to reduce cruising RPM and provide increased engine efficiency.
Type RZ
This included all of the Type RS upgrades but then went on to shave even more weight, weighing in at 1,270kg. This model is identified by its gun-metal BBS wheels and red interior. ABS was improved by braking differently on each wheel, which allowed for improved turning under braking, which made the car far safer for less experienced users.
Spirit R
The Spirit R is the ultimate RX-7 ever launched, and just 1,500 were ever produced. This included all of the above upgrades alongside some further exclusive additions such as cross-drilled brake rotors.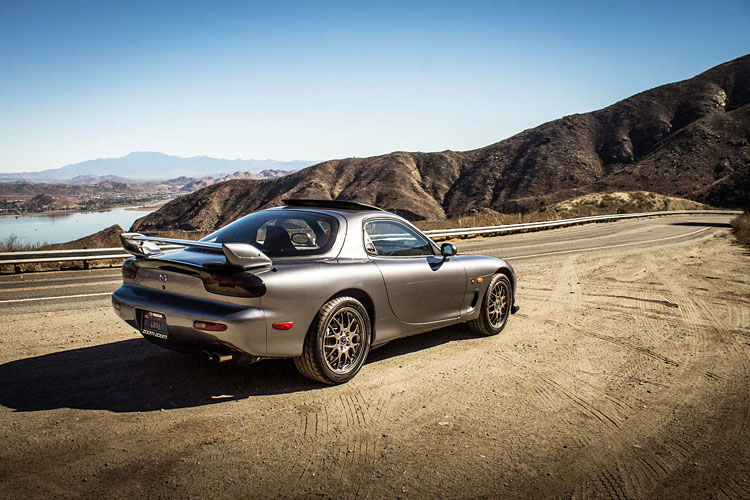 Mazda's press release stated that "The Type-A Spirit R model is the ultimate RX-7, boasting the most outstanding driving performance in its history."
RX-7 SP
This was a lesser-known model which was provided to the Australian market in 1995. This was produced to achieve homologation in the Australian GT Production Car Series and Eastern Creek 12 Hour production car races. With an initial run of just 25 made, an additional 10 were later built to fulfill demand.
The SP produced 274 hp and 263 ft/lb torque and featured a carbon fiber nose cone, rear spoiler, vented hood, and even the fuel tank was made of carbon fiber, with a 120L upgrade compared to the 76L found in the stock equivalent.
Alongside that, it featured a 4.3:1 rear diff, 17" wheels and upgraded brake rotors and calipers.
When it came to performance, the intercooler was three times more efficient and the exhaust and ECU were upgraded.
With additional weight-saving such as Recaro racing seats, the final weight of the car was just 1,218 kg compared to the original 1,250 kg.
This made for an epic road-legal race car and was capable of impressive even against the likes of the Porsche 911 RS CS.
It later went on to win the Eastern Creek 12 Hour race 4 years in a row, and even a podium finish at the Targa Tasmania tarmac rally.
Bathurst R
You're probably getting the point that Mazda loves special editions by now!
This edition was released in Japan in 2001 to commemorate the RX-7 SP. This version was based on the Type R and just 500 were built. This had adjustable dampers, several carbon fiber interior parts, re-styled fog-lights, and a different handbrake.
---
How does the RX-7 FD's 13B-REW Rotary Work?
The 13B has stood the test of time and is certainly one of the most incredible engines ever built. As it reinvented itself over the years, it eventually evolved into the much-loved 13B-REW, which was released in the FD in 1992. This immediately changed the game.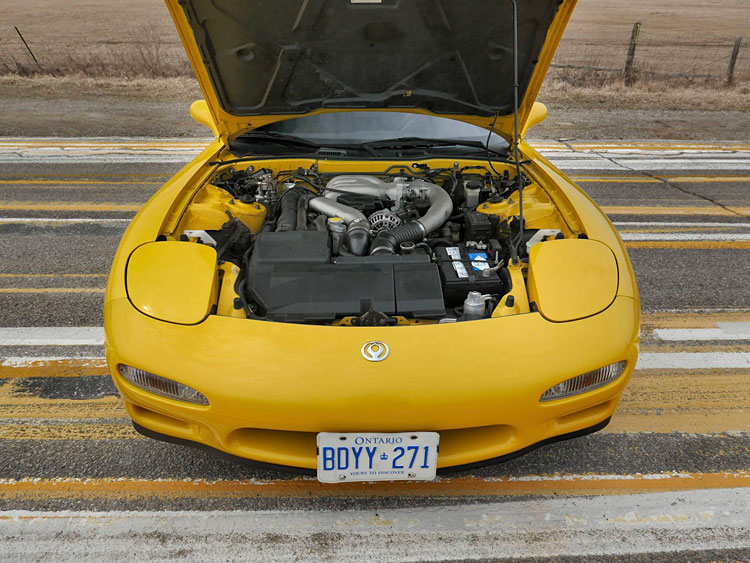 Gone were the valves, pistons and connecting rods of your everyday engine, and in its place was a spinning twin-turbocharged Dorito of destiny.
Originally designed by Felix Wankel back in 1951, this incredible feat of engineering has been given very little opportunity in the modern-day automotive world, but Mazda is determined to use it to its full potential.
You really do need to understand how a rotary works to appreciate just how truly amazing, yet simple it really is.
As you've probably guessed, explaining exactly how a rotary works is far easier in video than text, and Engineering Explained come to the rescue to explain everything you could possibly need to know about the RX-7 rotary.
So, you now hopefully understand that in a piston engine, the cylinder does four different jobs by handling the intake, compression, combustion and exhaust gases. Where the rotary is different is that it divides these into their own specific areas.
Think of it as a 4-cylinder engine, where each cylinder has its own specific task, with the piston continually moving between each cylinder. This is done within two spinning 'Doritos' (rotors) as opposed to the typical pistons and rod setup.
Rotary engines are capable of producing more power when compared to a relative piston-based engine due to combustion occurring twice as frequently. It's incredibly smooth, and it's also capable of spinning at far higher revolutions than a camshaft and valve setup.
This allows for a lightweight and extremely compact engine which is also capable of withstanding huge power to make for the ultimate package.
Mazda went on to continue using the rotary engine in their RX-8, and later featured in 2012 during Mazda2 testing, using the rotary technology as a range extender when combined with an electric setup.
Since then, patent drawings have also surfaced which prove that Mazda is still determined to continue with it, but little is known about their intentions. All we do know is that there is a small, hard-working team working at Mazda to ensure that they do their best to keep the rotary dream alive.
As we look to the future, let's take a look at the RX-7 rumors which have been floating around - could this mark the perfect return for the rotary?
Since you're here, we're guessing that, like us, you love all things rotary! If so, you'll definitely want to check out our very own Rotorhead Heaven article, as Mad Mike throws it down alongside a 787B!
---
What does the future hold for the RX-7?
We're hearing that we've not yet witnessed the end of the "RX" chapter just yet, and it seems that Mazda are more determined than ever to keep the dream alive. With the revival of the NSX and the Supra, could the RX-7 be coming next?
With what were once rumors of a 2017 re-release to coincide with the 50th anniversary of the Cosmo Sport, we can now clearly confirm that it never happened!
However, during the 2015 Tokyo Motor Show, the RX VISION was confirmed to feature a new-generation rotary under the hood, but it's still yet to see the light of day.
It seems that the main issues which are likely slowing progress are creating a reliable, fuel-efficient Wankel engine to meet with today's strict emissions regulations.
One thing we do know is that Mazda was caught testing a 1.6L, two-rotor, twin turbocharged 400 horsepower rotary in an RX-8 in 2017, which is enough to leave us feeling optimistic about the future!
If it does happen, expect it to be a little different to the rotary engines that we know and love, most likely with some kind of electronic wizardry added into the mix!
In the meantime, there are some strong rumors that there are some BIG announcements coming from Mazda in January 2020 for their 100th anniversary. Could it be the RX-9, or a new rotary? Either way, we'll keep our fingers crossed!
---
Mazda RX-7 Pros & Cons
Pros
Its smooth, high-revving rotary engine, capable of big power
Insanely well-balanced lightweight chassis
Ideal 50/50 weight distribution
Its stunning, timeless body design
No pistons? No problem! (Famous last words!)
13B engines swap into 12A RX-7's with little effort
Cons
Potentially abused engines
Reliability issues with tuned/badly maintained engines
Rotary servicing costs
The potential difficulty with sourcing parts
Rebuilding 12A engines can already be challenging due to discontinued parts
There's no question that it's becoming one of the most desirable cars on the used market, but finding a well-maintained version is going to become increasingly difficult.
If you've got the budget for your dream RX-7, we'd highly recommend saving some extra money to carry out a rebuild to ensure you have the best base for the long-term.
---
RX-7's In Drifting
There's no real question that Mad Mike has become the most well-known face of RX-7's in drifting, mainly thanks to 'Madbul'. With several ridiculous cars over the years, he's stayed loyal to representing the Mazda brand whilst shredding tires around the world.
Enjoy this video as Madbul shreds it's way up the Crown Range in New Zealand!
Alongside Mad Mike's success, let's also take a moment to appreciate some of the other insane builds which have surfaced over the years.
Hert certainly needs no introduction, and his Twerkstallion has certainly set the Hoonigan YouTube channel alight in recent times!
He may have competed and won most of his Championships in his 2JZ S14 but let's not forget about James Deane's awesome FD! (Yes, that's an SR20, sorry, not sorry!)
This is quite possibly our favorite FC ever from Item-B, you've just GOT to take a moment to appreciate this build in this awesome video from the guys over at MACHETE!
---
RX-7's In Motorsport
As you probably guessed, the RX-7 hasn't impressed in drifting alone. Let's take a look at which other forms of motorsport it's famed for.
The U.S
With its first entry in 1979, the RX-7 took both 1st and 2nd place at the 24 Hours of Daytona and claimed the GTU series Championship. It then went on to win the Championship for seven years in a row, and then went on to take the GTO championship for 10 years in a row from 1982.
It later went on to win more IMSA races than any other car in history.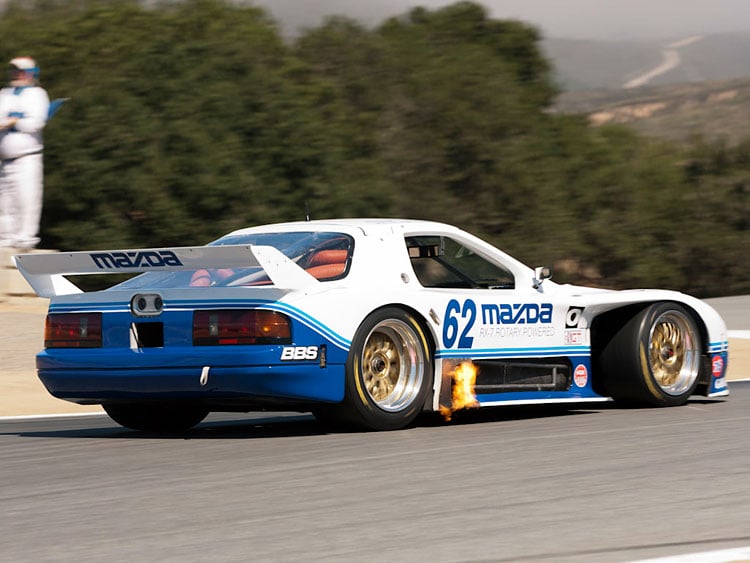 Le Mans & Spa 24hr Events
Despite it not being hugely successful, Mazda made several attempts at competing in the Le Mans, with 14th being their highest finishing position. However, they then went on to tackle Spa 24 Hours, with their Savanna RX-7 winning the event in 1981.
Australia
Having had great success in Europe and America, Australia was their next effort. It had a huge amount of success, winning the 1983 Australian Touring Car Championship and a handful of Bathurst 1000 podiums. It then also went on to take the win in the 1983 Australian Endurance Championships.
Mazda decided to retire from Australia when the Group A regulations came into force, as they would be required to build 5,000 units plus 500 evolution models.
Rally
It may come as a surprise, but the RX-7 even entered the World Rally Championship to compete in the RAC Rally in Wales, where it went on to take a respectable 11th place against some of the worlds best.
Group B
Little is known about their Group B history, mainly because it sadly never happened. However, check out their car which was built for the 40th Anniversary, which never made the crazy world of Group B.
---
Conclusion
At Drifted, we're becoming increasingly disappointed with the automated repetitiveness of the soulless present-day auto industry.
After a long-awaited re-release for the Supra which ended in a BMW-based disappointment, it makes us appreciate the finest cars of the 90s even more than ever, and the RX-7 truly earns its spot on the podium.
Even in bone-stock form, as Mazda intended, there's no question that the RX-7 is one of the most unique and iconic sports cars ever produced. It challenged the ordinary, and it well and truly stunned anyone that doubted its capabilities.
It's certainly not the cheapest or most convenient car on the planet to maintain, but we have no doubt that it'll be worth the time, money and effort that it consumes!
Its looks, suspension, and chassis truly define perfection, and the rotary really is an incredibly unique invention which makes them even more desirable in their own way.
If you can get your hands on any RX-7, from a Savanna to an FD, do so! Just be careful that it's not a complete heap, otherwise, it could end up costing you big bucks to restore it to the condition it deserves.
There's been no better time to own one and they'll undoubtedly continue to rise in value. What's better than having an investment which can also put a huge grin on your face and take you back to your childhood?!
Will we ever get a worthy heir to the Mazda throne? We'll keep our hopes up for a worthy successor and hope that Mazda once again pulls the impossible out the bag with another incredible rotary engine!
---
Additional RX-7 Related Content
There's certainly no shortage of epic RX-7 content out there, and quite rightly so! We've chosen some of our favorite YouTube picks here:
Join TheSmokingTire as they take a 400hp FD out or a spin!
We're not entirely sure on our feelings on this controversial build, but we certainly want to drive it!
Turbo? Check. 4-rotor? Check! You'll want to prepare yourself for an eargasm, as this absolutely insane RX-7 hits the dyno!
Seven minutes of pure rotary goodness!
I dunno about you, but for me, I never get bored with fresh Hert FC content!
Think a 100HP N/A won't be enough for drifting? Think again. Hoonigan took a trip to the UK and this humble FC stood out a mile!
Seven minutes of pure rotary goodness!
Photography credits
Drifted would like to extend thanks to the following sources for use of their images:
Update log
Last updated: 9th June 2019 – Added new photos and corrected spelling mistakes.