This is the definitive drifting guide – get up to speed on the fastest growing motorsport of 2020.
Whether you're new to the world of drifting, have been to a drifting competition and wondered 'just what goes into it to make it possible', or are considering taking up drifting yourself, welcome to the definitive guide to drifting!
From the origins of a motorsport that, as of 2018, is the fastest growing, to the most famous drifters around, and a taste of what it takes to start drifting, we have covered everything you need to know about this unique and exhilarating sport.
Ready to dive into the action? Let's start with the first need-to-know: just what exactly is drifting?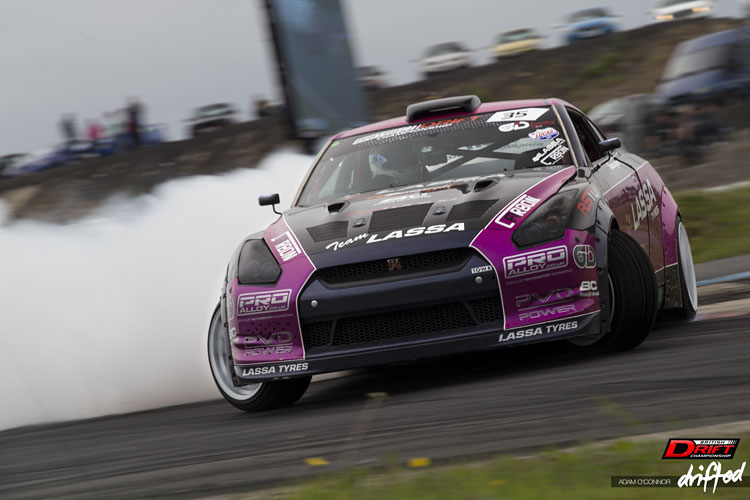 What is drifting?
Drifting is taking a car and exceeding the limits of it - and adding in some style with as much smoke as you can possibly kick up. Sound exciting? That's because it is!
Manufacturers design vehicles to be able to grip the surface of the road. This makes the car safe to drive, and of course, compliant with regulations. Drifting takes this essential function of a vehicle and explores just how far it can go on the track.
The art of drifting is achieved by taking a rear wheel drive (RWD) car and pushing it into oversteer; achieved by using the handbrake and clutch, and the throttle. When you push the vehicle into oversteer, the traction on the rear wheels break and then move out of line. The slide that this creates is then controlled via the application of the counter-steer and throttle.
Achieving and executing a drift is incredibly technical, but the sport is all about style. While most motorsports centre around lap times and speed, drifting is about the angle of the drift once the oversteer has been initiated, how close the driver gets to clipping points on their track line, and of course, how much smoke they kick up.
This accumulates to create an incredibly diverse sport with plenty of variations in competition. Solo drifting or tandem drifting (where one driver follows another driver's lead line as closely as possible without interfering with the line or making contact), is extremely exciting to watch and exhilarating to be part of. One of the best takeaways from 'what is drifting?', is that excelling at drifting means putting on the best show possible.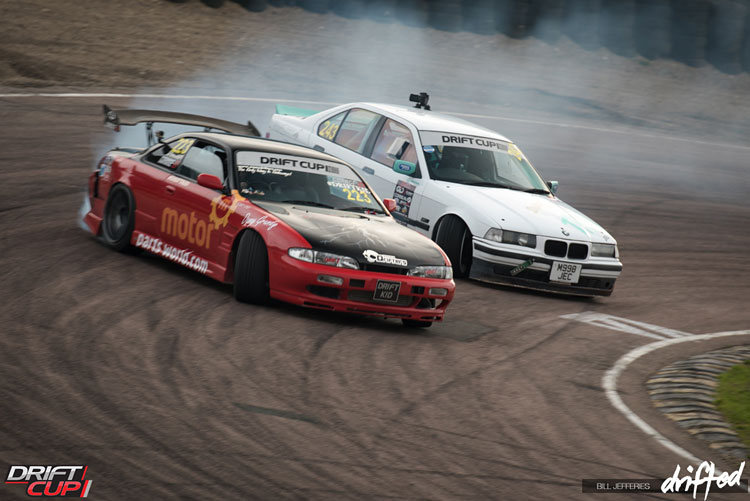 The origins of drifting
When it comes to pinpointing the exact origins of drifting, there is a bit of speculation at play with two potential origin stories.
The first story sees the sport emerging from Japan in the 1970's/1980's; this is generally believed to be the most likely of the two origin stories. The story starts with a man named Keiichi Tsuchiya, who is believed to be amongst the first people to have introduced sliding on race tracks. This emerged as a result of his experience driving on the mountainous Japanese roads.
From this humble beginning, Japan harnessed the concept of the sport and pioneered it. Slowly, it started to become a sport with a higher profile, attracting the kind of big-budget competition that you can see today.
The second story states that it was the art of 'Scandinavian flicking', that began the trend and eventually led to Japan pioneering the sport. This technique of initiating oversteer via the handbrake was used during rallying in order to prevent the vehicle losing momentum on the track.
Whichever origin story is truly correct, doesn't detract from the fact that drifting has come a long way as a motorsport in only recent years, and today, only seems to be growing.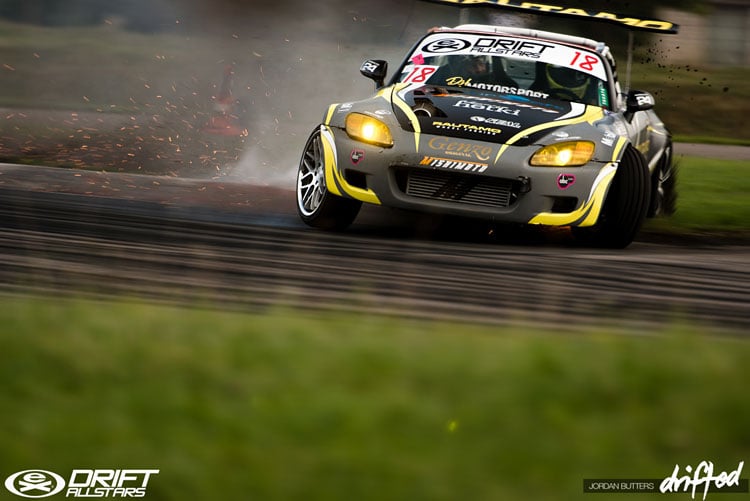 Famous drifters
Due to the popularity of the motorsport, it will come as no surprise that quite a few drifting legends have already emerged, pathing the way for the motorsport as we know it today. There are two standout drifters that have worked their way up the ranks to be classed as two of the most famous drifters in the world; Keiichi Tsuchiya and Daigo Saito.
Keiichi Tsuchiya
We've already touched on Keiichi Tsuchiya as a key player in the origins of drifting, but he went on to have an outstanding career in drifting, to the point that today, he is known as the 'Drift King'.
Tsuchiya's exciting career sees him go from a teenage tearaway to a king of the drifting track, covering renowned contests like the All Japan GT Championship and the Toyota Cup. While he has retired from drifting today, his career inspired a generation of new drifters and he is still a prominent face in the motorsport.
Daigo Saito
Daigo Saito is a big name in the drifting world and a true legend of the Japanese drifting scene. Renowned for his control over some almighty beasts of drifting cars, Saito has paved his way into the drifting history books with wins at the 2008 Japanese D1GP Championship, Formula D series and Formula D Asia series. Today, Daigo Saito is commonly considered to be either the number one drifting champion or at the very least, way up there with the very best.
Want to learn more about JDM cars? Try our 11 Best JDM Cars From The Nineties feature.
Drifting for beginners
Now you know a little more about what the sport entails, the history of drifting, and those household names of the drifting world, its time to delve a little deeper into how to start drifting yourself. For all those drivers out there inspired by the showmanship and excellent technical ability of drifters - this is the section of the guide for you!
We'll be taking a look at some of the top tips every beginner should know, and also those essential bits of information you need to know about drifting cars and equipment. But first things first, why should you consider drifting?
If you're a drifting enthusiast, then you'll already be up to speed with the excitement that drifting creates - it's a unique motorsport and is popular for a reason. If you're just taking your first tentative steps into the drifting world, then its worth checking out a few videos and tutorials - immersing yourself in what makes drifting so exhilarating.
As we'll cover later in the guide, drifting also opens the door to competitions across the globe and introduces drivers to a whole new way to explore some of the most beautiful landscapes in the world. Drifting is a growing sport, with drift challenges becoming even more exciting and diverse. Unlike most racing sports, drifting is in its early days and offers a prime opportunity to expand your horizons when it comes to motorsports.
Top tips for beginner drifters
Drifting can be a bit of a baffling sport at first, no matter how much you know about it. One of the best ways to get your head around what you should be doing and what to avoid is to take a look at some of the top tips for drifting for beginners. If you're getting ready to drift for the first time or preparing for your first competition, here's what you need to know:
1. Understand How Your Car Works
Your car is the most important piece of equipment that you need to drift, so you need to understand how it works - the ins and outs of what makes your car tick. Understanding the uniqueness of your vehicle is the key to understanding how it's going to perform out on the track.
2. Understand Why You Want to Drift
Drifting is a technical sport and it's unlikely that you're going to nail it on your first attempt. It takes practice and determination to excel at drifting. You need to be committed to the sport, and in return, it can really set you free. Understand what makes you want to drift, and you'll find that determination and commitment that you need to excel.
3. Perform the Right Upgrades
Once you know your car, you can get to grips with the right upgrades that it'll need to achieve a boost in performance out on the track. From coilovers to perfect suspension, take the time to tailor your car to your drifting style and make it as comfortable as possible to drive.
4. Think About Chassis Stability
Reinforcing the chassis on your car is essential if you're going to drift. Achieving stability when you initiate oversteer is vital if you're going to begin well and achieve a good slide.
5. Practice Leads to Success
At the end of the day, you're going to need to put in the practice if you want to excel. This means practising initiating a drift, learning the facets, and putting those upgrades to good use. A great car will only take you so far before practice has to take you the rest of the way.
What car should you use for drifting?
As we mentioned before, your vehicle is the most important piece of equipment that you need to drift. Choosing the best car to start drifting with can be a bit of a minefield, especially if you're new to drifting.
The weight of the car, the engine, suspension, and power output all need careful consideration, along with pretty much every other element of the vehicle that is going to make the difference between a comfortable and well-suited drive and one that really isn't going to bring out the best of your skills.
So, where to start?
The first decision you're going to have to make is whether to choose an automatic car or a manual car. Now, manual cars are generally the preferred option for beginners and pros alike, but automatic still has a small following. If you're brand new to drifting, a manual is very likely to be the best option for you; while it is possible to drift an automatic, it can be much harder. Really, it comes down to preference, but you'll likely find that you have a MUCH larger choice of cars when you opt for a manual drive.
Luckily, there are plenty of decent cars that are well-equipped for beginners and not too expensive. Here are 7 of our top picks for beginners:
1. NISSAN 240sx S14
2. BMW M3 E36
3. NISSAN SKYLINE R33 GTS-T
4. NISSAN 350z
5. MAZDA MX-5 NB
6. BMW M3 E46
7. Toyota Mark II Tourer V JZX-90
Picking your first drifting car is a massive step, so always make sure that you do your research, test out the vehicles if possible, and get advice from drivers that have had experience drifting in the vehicles before.
Now that you've picked perfect drift car, you are going to need some car insurance. Check out our comprehensive guide for types of car insurance in the USA. Don't like to keep things stock? Then check out our extensive car tuning guides.
Will drifting damage your car?
For beginners, a limited shift differential (LSD), is the way to go for easier control over your drifting, whether on wet roads or dry roads.
A big worry for anyone starting out in drifting is whether drifting is going to damage their vehicle, and if so, to what extent. Put very simply, yes, drifting does damage your car, but then very few sports can be enjoyed without the occasional wear and tear on the equipment that you use.
Really, the extent of damage that your car will sustain comes down to your driving, and the way that you look after your vehicle. If you are cautious, then you can minimize the damage to only encounter the unavoidable wear and tear of putting your car through its paces, and the results of an off, that at some point or another, every drifter is going to experience.
Tyre replacement is a key part of the damage sustained through drifting, and something that you will have to go through on a regular basis. On top of that is any chassis damage sustained during an off. Ending up off the track can cause minimal or major damage, depending on what you're landing on; a grassy patch is unlikely to do as much damage as a large ditch, for example.
Repairing your vehicle will factor into your drifting experience, but again, like any sport, its all part of the experience, and if you're careful and follow the right protocol and techniques, damage should rarely be anything too serious.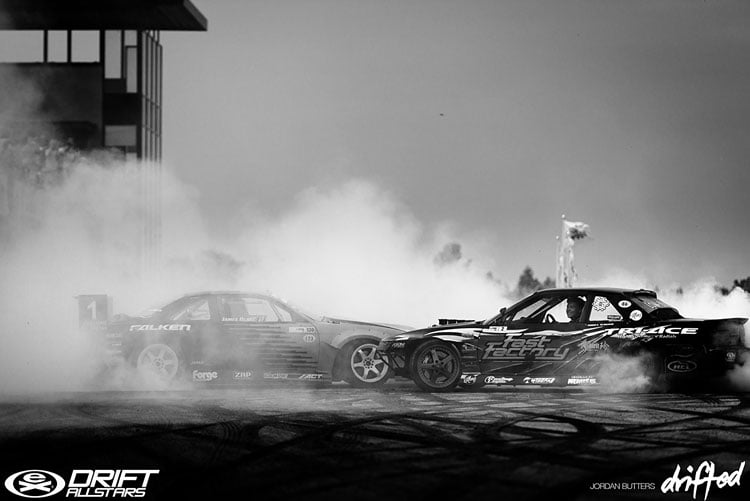 Essential equipment for drifting
There really is no limit to the number of ways that you can modify and enhance your vehicle; drifting is one of those sports where the extent of customisation is really down to how much you want. However, it's not advisable to go all out before you truly commit to the sport. There are some true essentials that you're going to need to take your drifting to the next level, and then much of the rest comes down to preference, aesthetics, and gradual enhancement.
Five major pieces of equipment make up the essentials: the seat, differential, suspension, handbrake, and rubber. Let's break them down a little…
Seat
This is the source of your comfort and something that you're going to want to make sure that you get right. Installing a specialist seat, like a racing seat or a fixed-back seat, will make all the difference when drifting. Getting a harness installed is also a crucial safety measure!
Differential
For beginners, a limited shift differential (LSD), is the way to go for easier control over your drifting, whether on wet roads or dry roads.
Suspension
The suspension in your car is a key part of your ability to drift; a good all in one coilover unit will help you to retain more control over your vehicle and help with handling.
Handbrake
Always make sure that your handbrake is in excellent condition, otherwise, you'll feel the repercussions when initiating a drift. If you find that your handbrake is not performing as it should, its better to get it replaced quickly.
Rubber
Drifting eats tyres; never be in any doubt that if you really get into drifting, then you're going to be burning through tyres at a rapid rate. As a beginner, try investing in re-moulded types, and always think about quality!
Where are the drifting hotspots?
Putting the technical aspects of drifting aside, it's about time to unleash what can really set drifting apart as a uniquely exhilarating sport - the best drifting hotspots around the world. These are places to really let loose and have fun, put your drifting skills to the test and explore parts of the world in one of the most exciting ways imaginable. Here are three of the best drifting hotspots:
Evergreen Drift Park, New Zealand
Located Meremere, New Zealand, the Evergreen Drift Park is a dedicated drift park that offers a brand-new track for drifting enthusiasts to check out. The track features narrow corners, with a unique set-up that creates a complex track with a unique design.
Yas Marina Circuit, Abu Dhabi
The site of the Abu Dhabi Grand Prix, the Yas Marina Circuit features 21 corners that explore Yas Island. This stunning track offers a unique view of Abu Dhabi with exciting tight corners, long straights, and the chance to get up close to some sand dunes.
Franschhoek Pass, South Africa
A very narrow mountainous road in South Africa, Franschhoek Pass offers truly breath-taking views and a drifting experience like no other. Located in Cape Town, you can expect to pick up some serious speed on this road and take in some of the best views in South Africa at the same time.
Drifting competitions
While some drifters strive to compete in drifting competitions, others simply enjoy the sport as a way to let off steam; whichever category you fall into, there is something truly exhilarating about witnessing a drifting competition first hand.
Thankfully, drifting competitions are in relative abundance across the globe, so whether you're willing to travel, or are looking for a competition to check out near you, you shouldn't be hard pressed to get in on the excitement.
Drifting competitions come in all shapes and sizes, but they also come with a unique scoring and judging system. Drivers arrive, sign on, and get a clear picture of the track that they're going to be facing. This involves mapping out a course, assessing the clipping points, and getting to grips with the line that the judges will expect to be followed.
A key thing to note here are the painted boxes on the track – these boxes (or sometimes cones), show where a driver has to run the rear or the front of their car.
Drivers have to compete in the qualifying run which will cut the competition down to only 32 drivers. Then it's on to the battles, which see the first-place position take on the driver in the 32nd place position; tiering down in the same way until every driver has drifted. The drivers will take turns being the leader and the chaser, each time mirroring the driver in front without crossing the 3-metre rule.
Points are tallied up at the end of a run, with the drivers losing points for a bad start, understeering, hitting other vehicles, spinning the car out, and clipping. The winner of the competition will have shown the best demonstration of angle, line, style, speed, and a key part of any competition, show.
What drifting events are there?
As we mentioned, drifting competitions occur all over the world, with plenty of variations and series to watch or even get involved in. These draw in massive crowds and some of the biggest names in the drifting world. They're also a great place to check out drifting cars and unique modifications as drivers strive to make sure their equipment is always up to the task. These are some of the main competitions to be on the lookout for:
Formula DRIFT, USA
This is a premier drifting series hosted in the United States. The competition began in 2003 and is performed at race tracks all around North America.
D1 Grand Prix, Japan
Another premier drifting series, this time hosted in Japan. The Drift 1 Grand Prix is one of the most well-known championships in the world; you need to be exceptional to even qualify for this competition!
King of Nations Series, Europe
The King of Nations series takes place in various locations across Europe, with a different global calendar each year that spans countries ranging from Italy to France.
Learning how to drift
Taking up drifting as a sport is a big decision, but one that is rewarding in so many ways. The ability to let loose and have fun with drifting is unlike any other experience in the world. Whether this is your first voyage into the sport or a welcome refresher of just what drifting is all about, we hope our guide has provided a little insight into the diverse, exciting, and outstanding world of drifting. Curious to try drifting yourself? There's no better time to get started!
Anything else?
No doubt we've missed loads. Disagree with what we've said? Got something to add? Have any questions? Leave us a comment, feedback or questions below and we'll slowly but surely add some debate to the article!
Don't forget to share the love by clicking the sharing buttons – we really appreciate it!
If you would like to check out some fantastic drifting content check out Speedhunters – one of our favourite websites!