17 Best Drift Cars For Beginners
We present seventeen of the best drift cars for beginners. From BMW to Toyota, we'll find you the perfect platform to get started on your drifting adventure.
---
With so many potential platforms to choose from when picking your first drift car, getting the perfect ride can prove challenging.
For that reason, we've written this guide to provide you with the cars we think are solid choices when it comes to choosing a beginner's drift car.
Seventeen of the best drift cars for beginners
New to drifting? Check out our drifting tips for beginners and our Drifting 101 guides. When you're ready to take your skills to the next level, make sure you head over to our ultimate How to Drift guide.
Ready to start? Let's see some cars!
---
BMW M3 E36
Manufacturer: BMW
Country of origin:
Model year: 1994 – 1999
Engine: S50B30US
Engine displacement: 2,990 cc
Drivetrain: FR
Power: 243 bhp @ 6,000 rpm
Torque: 225 lb-ft @ 4,250 rpm
0-60 mph: 5.5s
Top speed: 155 mph
The BMW M3 is the mainstay drifting car for many countries around the world, this is especially true in Europe where the number E36 and E46 models on track even outnumber the s-bodies.
With solid German engineering underpinning every aspect of the car, high performing naturally aspirated engines, and great looks it is no big surprise that this is a great drifting platform.
The E36 offered 3.0 litre straight six engines which ran through five-speed manual transmissions and limited slip differentials. In European trim the engine produced 282 bhp as standard.
E36 examples are plentiful and relatively cheap for the performance that they offer. This would be a solid, low cost entry into the drifting world and could also be a great platform for a street sleeper.
With BMW M3 prices continuing to increase in recent years, it may also be worth considering one of the modern-day 3 Series options.
Browse BMW E36 articles
---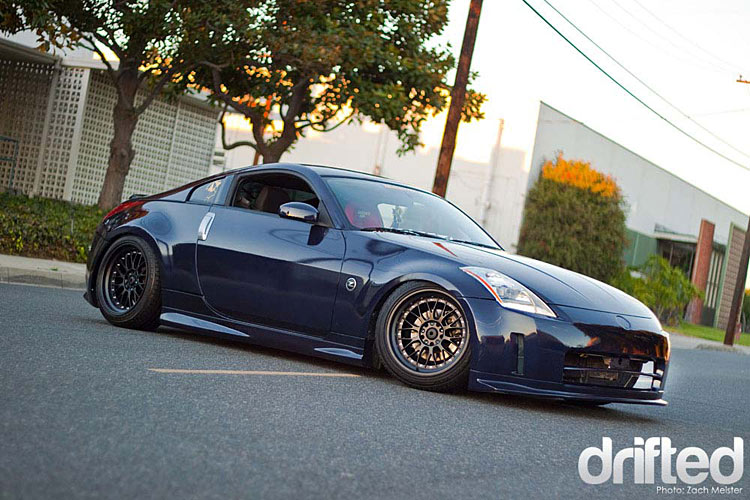 Nissan 350Z
Manufacturer: Nissan
Country of origin:
Model year: 2003 – 2008
Engine: VQ35DE
Engine displacement: 3,498 cc
Drivetrain: FR
Power: 287 bhp @ 6,200 rpm
Torque: 274 lb-ft @ 4,800 rpm
0-60 mph: 5.5s
Top speed: 155 mph
The Nissan 350Z was released in 2003 to rave reviews, this car was the latest in the 'Z' car lineage and carried many of the traits that made the cars before it a great success with sports car fans of the period.
The 350Z was built by Nissan in the classic sports car drivetrain configuration of front engine and rear wheel drive. Oh, and did we mention its retro-inspired looks?
As standard, the cars came with a bulletproof 3.5 litre V6 engine producing 287bhp at the flywheel which was put to the tarmac through a six speed manual transmission and a limited slip differential.
These mechanical assets make the Nissan 350Z a perfect beginners drift car; a potent and tough power plant mated with a manual gearbox and a limited slip differential ensure that as you learn the ropes and increase your drifting abilities this car should see you through until you feel ready to substantially increase your car's power level.
If you end up loving this platform there are forced induction options available for the V6 engine (depending on your budget) so the Nissan 350z could well be your perfect partner.
With the 350Z's sibling, the 370Z, now becoming increasingly affordable, more drifting beginners than ever opting for the modern-day Z as their weapon of choice.
Wondering if you should take a 350Z or save up for a 370z? Try our 350z vs 370z guide to see if it's right for you.
Browse Nissan 350Z articles
---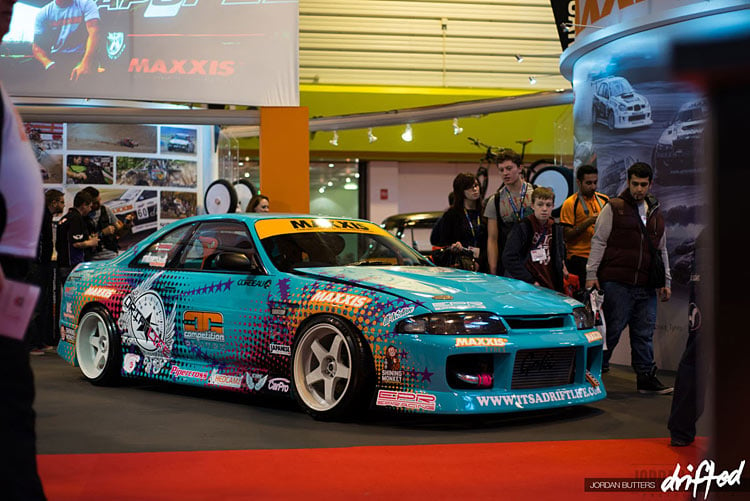 Nissan Skyline R33 GTS-T
Manufacturer: Nissan
Country of origin:
Model year: 1993 – 1998
Engine: RB25DET
Engine displacement: 2,498 cc
Drivetrain: FR
Power: 247 bhp @ 6,400 rpm
Torque: 217 lb-ft @ 4,800 rpm
0-60 mph: 6.7s
Top speed: 165 mph
The Nissan Skyline is a high-performance sports coupe with a lineage going as far back and as equally impressive as the Nissan 'Z' cars.
The model we have picked for this guide is the R33 GTS-T, this model was built between 1993 and 1998 and offers some great features for the aspiring drifter.
The R33 GTS-T uses a 2.5 litre straight six RB25DET engine mated to an efficient turbo charger. The power is fed through a five speed manual transmission and into a limited slip differential.
This six-cylinder engine produced a healthy 280bhp from the factory and there is proven power potential of up to 400bhp with a few bolt on modifications.
As standard there is plenty of power to hone your skills plus the potential is there if you want to up the power.
There are many Skyline owner's clubs available to help you out if you want to do your own mechanical work or face problems, which is always a bonus.
There is also very strong aftermarket support for the R33 so you can customise it to your heart's content. A good solid choice.
If you are interested in importing your own Nissan Skyline into the US, then you best check out this article first: Why are Nissan Skylines illegal in the United States?
Browse Nissan Skyline articles
---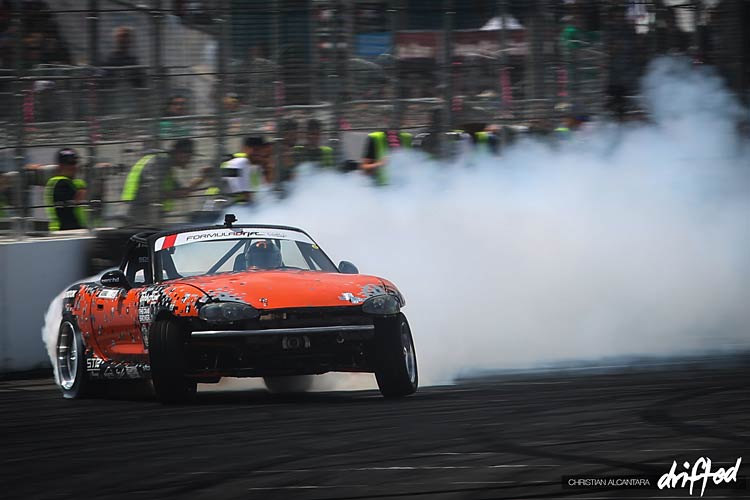 Mazda MX-5/Miata NB
Manufacturer: Mazda
Country of origin:
Model year: 1998 – 2001
Engine: BP-4W
Engine displacement: 1,839 cc
Drivetrain: FR
Power: 138 bhp @ 6,500 rpm
Torque: 119 lb-ft @ 4,500 rpm
0-60 mph: 8s
Top speed: 127 mph
There is a popular saying among gearheads that goes "Miata is always the answer!" The same applies here, as we believe anyone who is on the hunt for a great entry-level drift car should definitely have the MX-5 on their radar.
The MX-5 (Europe/EDM), also known as the Miata (US/USDM) and Eunos (Japan/JDM) is a classic Japanese take on the iconic drop-top sports car concept. The original model was unveiled in 1989 and went on to become one of the best-selling sports cars of all time.
The NB designation refers to the second generation of the model of this fun roadster, this version received many improvements over the original including a useful hike in power output.
We recommend the 1.8 litre option as the four-cylinder engine offers 138 bhp on tap, which is plenty for any drifter starting out.
The car offers solid and reliable mechanicals throughout and is naturally aspirated.
This means that improving the power output will be challenging without spending out on forced induction and the supporting modifications needed to run it.
Great aftermarket support and active enthusiast communities mean it should be a good platform to adopt. Prices are very reasonable. Please note: Drifted's own Dan H's MX-5 NA pictured, not an NB (sorry but I love Dan's car!).
Browse Mazda Miata / MX-5 articles
---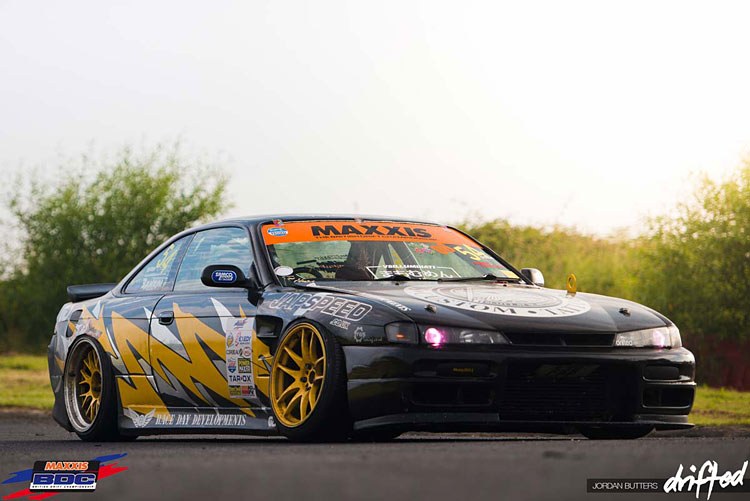 Nissan 240sx S14
Manufacturer: Nissan
Country of origin:
Model year: 1995 – 1998
Engine: KA24DE
Engine displacement: 2,389 cc
Drivetrain: FR
Power: 158 bhp @ 5,600 rpm
Torque: 160 lb-ft @ 4,400 rpm
0-60 mph: 7.2s
Top speed: 137 mph
If you ask someone to imagine a drift car, we can guarantee that 9 out of 10 people will imagine the Nissan 240sx.
No drift cars list could ever be complete without at least one generation of Nissan's 240sx being mentioned, this car (after the expensive AE86) is the recognised face of drifting with hundreds of the cars around the globe being used in both grassroots and pro levels.
We have picked the S14 variant as there are plenty still available (the S13 is becoming rarer and more sought after and therefore more valuable), they offer a solid engine package and come with great looks.
The 240sx S14 houses a 2.4 litre naturally aspirated engine that produces 155 bhp, this is fed into a five speed manual transmission and put onto the tarmac through a limited slip differential as standard.
The lightweight chassis means you do not need a lot of power to get the 240sx loose at the rear end and the natural balance will help you learn faster than with many other cars.
The aftermarket support for this platform is huge so you can pick up a standard example, learn the ropes and this car can grow with you by introducing upgraded aftermarket parts – if you want it to.
A great option for the drifting beginner, highly recommended.
Browse Nissan 240sx / 200sx articles
---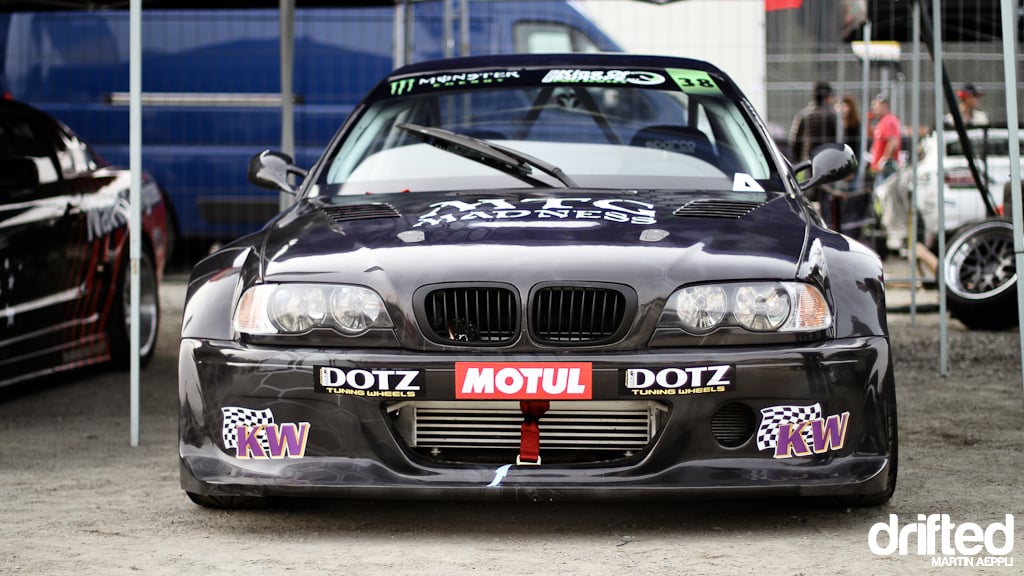 BMW M3 E46
Manufacturer: BMW
Country of origin:
Model year: 2000 – 2006
Engine: S54
Engine displacement: 3,246 cc
Drivetrain: FR
Power: 338 bhp @ 7,900 rpm
Torque: 269 lb-ft @ 4,900 rpm
0-60 mph: 4.5s
Top speed: 155 mph
The BMW M3 E46 was the more powerful and better-looking younger brother of the E36. The engine performance was increased to an impressive 338 bhp out of the box with the inclusion of a new inline six-cylinder engine that has proven to be bulletproof to this day.
Everything that applies to the E36 above also applies to this car with the exception that they are on the higher end of the price range.
The E46 is a staple part of the drifting landscape with one powering Michael Essa to a Formula Drift win in recent years. If you can afford to stretch to an E46 M3 you will not be disappointed.
With prices continually increasing on the older-generation M3's, while modern-day M3 and M4 prices drop, it may well be worth considering the latest platform if the M3 is already an option. Keep in mind that the latest G80 M3 will be the last of its kind to be offered with a manual transmission.
Browse BMW E46 articles
---
Toyota JZX-90
Manufacturer: Toyota
Country of origin:
Model year: 1992 – 1996
Engine: 1JZ-GTE
Engine displacement: 2,498 cc
Drivetrain: FR
Power: 276 bhp @ 6,200 rpm
Torque: 268 lb-ft @ 4,800 rpm
0-60 mph: 5.3s
Top speed: 145 mph
Here's a car that you might have never heard of. The Toyota Mark II has been active in the drift scene in Japan and Asia since the early nineties however in the West these cars have been a rare sight on our roads.
As these cars have gotten older and more affordable they are seeing their way across the ocean and are popping up on our shores in increasing numbers.
In most markets these cars are at a price point lower than the E46 M3 mentioned in this guide and they offer many benefits the beginner drifter would do well to consider.
Packing a potent and highly tuneable straight six 2.5 litre 1JZ-GTE turbo charged engine the JZX-90 is not lacking for power or for tuning potential.
The transmission was a five-speed manual and it featured a limited-slip differential as standard.
This big, luxury four-door sedan offers an easy road into drifting with a well-balanced chassis and fast engine response.
If you can get one in your country, this would be our pick of the bunch!
If you're a JZX fan, make sure you check out this insane JZX100 build from Daigo Saito.
Browse Toyota Chaser articles
---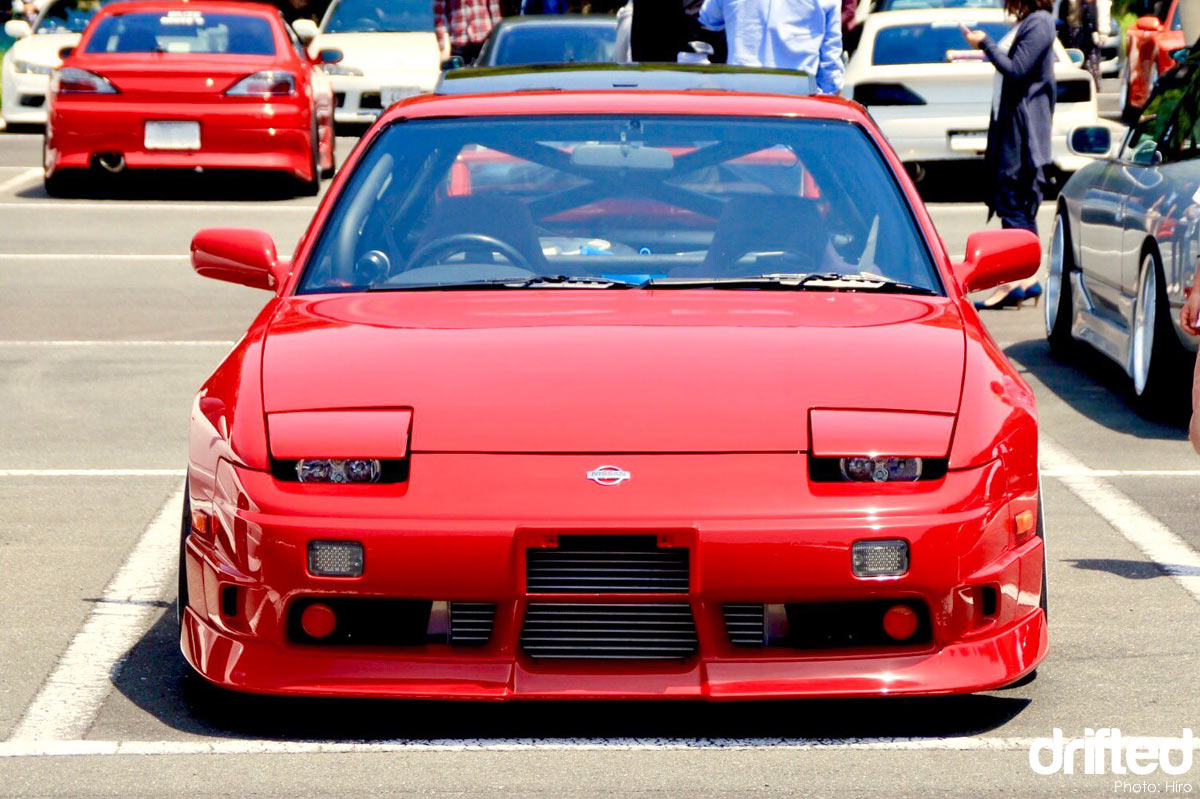 Nissan 180sx
Manufacturer: Nissan
Country of origin:
Model year: 1989 – 1998
Engine: SR20DET
Engine displacement: 1,998 cc
Drivetrain: FR
Power: 202 bhp @ 6,000 rpm
Torque: 203 lb-ft @ 40800 rpm
0-60 mph: 6.2s
Top speed: 146 mph
The JDM Nissan 180sx is one of the icons of the drifting world. Launched back in 1989 with a potent turbocharged CA18DET under the hood, the lightweight and RWD FR platform was a hit with both mountain touge racers and track enthusiasts.
The car was equipped with a limited slip differential and it's great natural balance made it a little easier to get the hang of the tricky drifting learning curve.
As the years went by Nissan decided to upgrade the CA18DET with their new SR20DET powerplant, this engine produced over 200bhp out the box and was tuneable up to 400bhp with just bolt-ons and tuning.
The 180sx aftermarket is one of the largest available today, with everything from aero parts, engine components and drivetrain upgrades available off the shelf.
Right now in 2023 the 180sx has appreciated in value and is a little out of reach from budget drifters, however if you can get your hands on one and if you take care of it, the Nissan 180sx will make a superb drift car.
Browse Nissan 180sx articles
---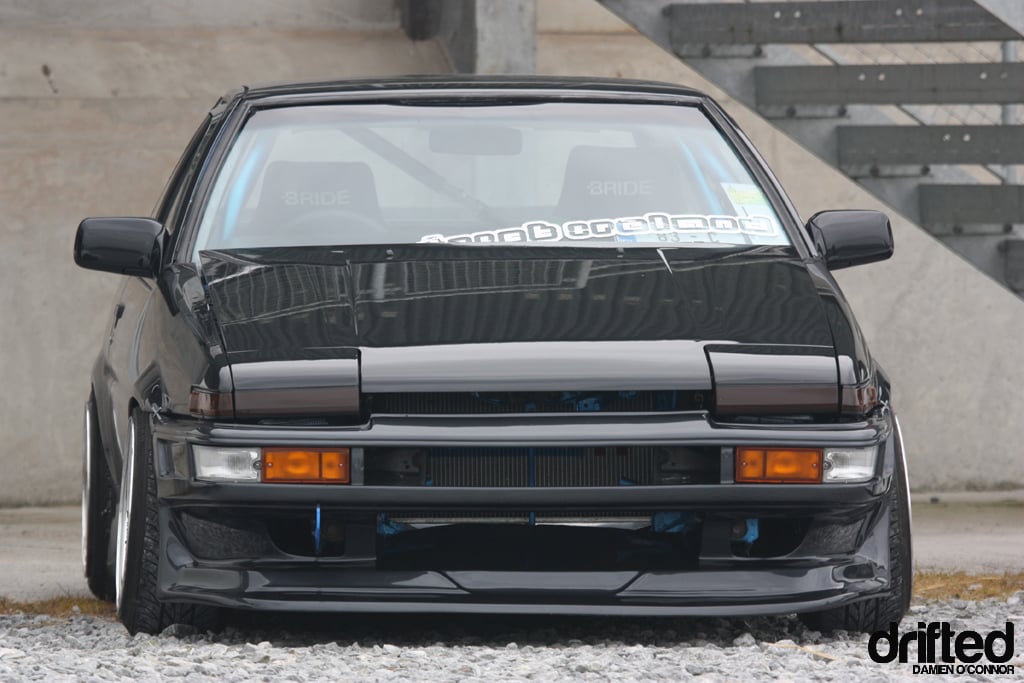 Toyota Corolla AE86
Manufacturer: Toyota
Country of origin:
Model year: 1983 – 1987
Engine: 4A-GE
Engine displacement: 1,587 cc
Drivetrain: FR
Power: 128 bhp @ 7,200 rpm
Torque: 101 lb-ft @ 4,800 rpm
0-60 mph: 8.5s
Top speed: 125 mph
Here we are, at last, the Hachi Roku (hachi-roku meaning "eight six"), the Drift King's trusted steed, Toyota's mighty AE86. I had left this car out of the beginners guide so far due to the rising value of the "twincam" AE86.
These iconic drift cars are now so valuable you'd have to be very financially well-heeled, to buy, let alone to drift one.
But really, no drift car guide is complete without the AE86 so let's crack on.
The plucky little Toyota offers a wonderfully balanced front engine, rear-wheel-drive platform. Nestled up front is the naturally aspirated 4A-GE inline four-cylinder DOHC powerplant which develops 128bhp @ 6,600rpm. This power was put through the rear wheels with an optional limited slip differential.
Back in the eighties safety restrictions were nothing like today so manufacturers had a lot of scope to create lightweight cars. Toyota managed to keep the kerb weight to just under a ton. This light weight and solid power are a perfect recipe for a nippy little sports car.
There are plenty of tuning options, engine swaps, aero kits and parts available for the little Corolla, there are even AE86 dedicated part suppliers based in Ireland and Japan.
If you can afford one, you will love the Hachi Roku. Keiichi salutes you!
Browse Toyota Corolla AE86 articles
---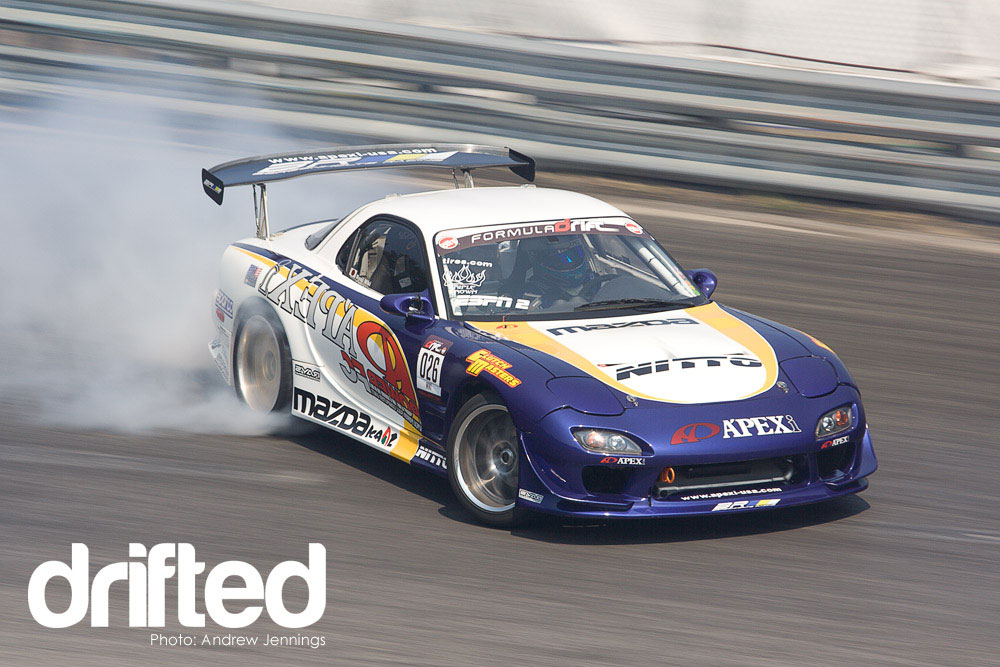 Mazda RX-7 FD3S
Manufacturer: Mazda
Country of origin:
Model year: 1992 – 2002
Engine: 13B-REW
Engine displacement: 1,300 cc
Drivetrain: FR
Power: 276 bhp @ 6,500 rpm
Torque: 232 lb-ft @ 5,000 rpm
0-60 mph: 4.8s
Top speed: 161 mph
The third generation of Mazda's RX-7 line, the FD3S, is a great choice for a budding drifter. Stunning looks, great aftermarket support, potent powerplant and a finely tuned chassis make the FD3S a great choice.
The RX-7 enjoyed a long and successful career, with the model receiving numerous upgrades and improvements as it was revised for each iteration. The initial cars were called Series 6 cars (1992-1995), Series 7 cars (1996-1998) gained more power, improved engineering and revised looks.
The final Series 8 cars (1998-2002) are the most desirable, with a slew of updates covering power, interior and exterior. This culminated in the Spirit R – the ultimate RX-7.
The RX-7 uses the 13B-REW twin-rotor engine, running twin sequential turbochargers. The nature of the rotary engines means RX-7 drivers enjoy a huge powerband, the car pulling hard all the way to the redline. The downsides of this powerplant are fuel economy, heat generation and potentially "apex seal" failure.
Most RX-7's on the market today will have already had an engine rebuild, however, I would still budget in a rebuild if you are planning on beating on the car (let's be honest, of course you will!).
The FD3S has some excellent aftermarket support, many specialists worldwide support the platform, especially in Japan which has several dedicated RX-7 tuning houses.
The large displacement offered by the rotary engine means it will spool up turbochargers very effectively, so single turbo conversions are very common within the RX-7 community. This means the drivetrain has potential for big power.
If you can find a good one, that has been looked after and has had the right parts upgraded, it will make a fine drift car.
I ran an FD3S for a year, it was tuned with a single turbo to 350 bhp and was great fun, spinning up second and third gears in the dry. The fun lasted until I needed to gas the tank up! I believe at the time I calculated it achieved less then 10mpg…
Browse Mazda RX-7 articles
---
Mazda RX-8
Manufacturer: Mazda
Country of origin:
Model year: 2002 – 2012
Engine: 1.3L RENESIS
Engine displacement: 1,308 cc
Drivetrain: FR
Power: 232 bhp @ 8,500 rpm
Torque: 159 lb-ft @ 5,500 rpm
0-60 mph: 6.3s
Top speed: 147 mph
Let us take a small detour from traditional piston engines to one shaped like a Dorito. With RX-7 prices continuing to soar, yet RX-8's popping up on the market cheaper than ever, this younger brother of the FD could be the perfect answer for those looking to get into drifting.
The RX8's four-seat cockpit is bedazzled with rear-opening suicide doors, making it more practical than the FD RX-7 too!
Weighing in at just 1,309kg, the RX8 makes the perfect candidate for an engine swap further down the line if you're like us and terrified of rotary maintenance!
If you're brave and you've got deep pockets, you could even consider taking it back to its original 13B heritage.
With its sleek shape, rear suicide doors, incredible handling, and insanely cheap price tag, the Mazda RX-8 is a fantastic car that can present a real bargain.
Browse Mazda RX-8 articles
---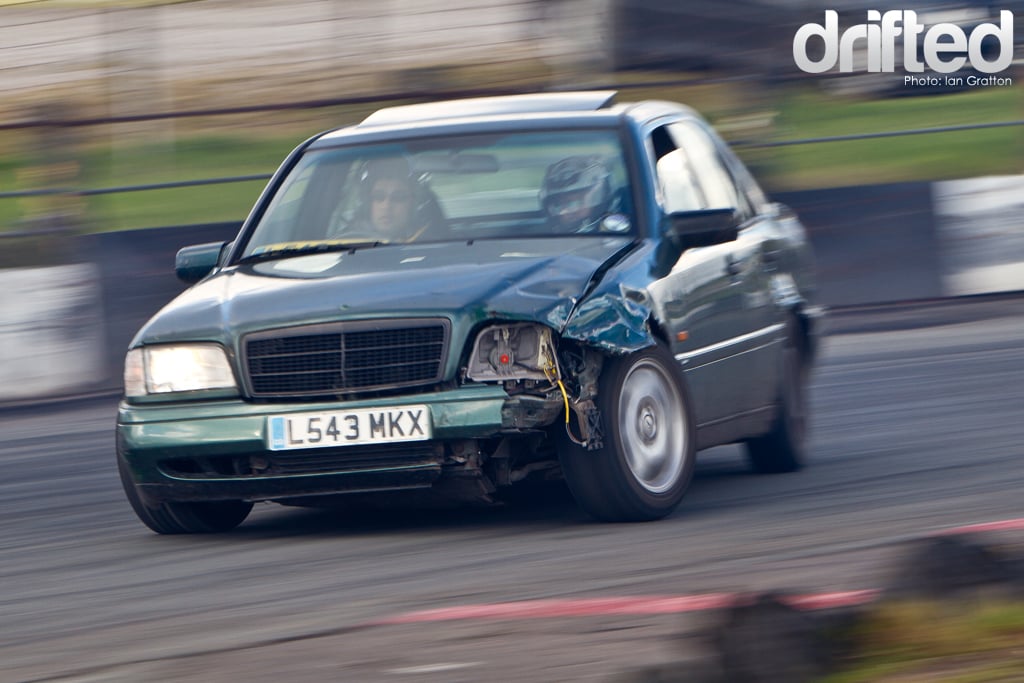 Mercedes C230 Kompressor (W202)
Manufacturer: Mercedes Benz
Country of origin:
Model year: 1993 – 2000
Engine: M111
Engine displacement: 2,295 cc
Drivetrain: FR
Power: 191 bhp @ 5,500 rpm
Torque: 207 lb-ft @ 2,500 rpm
0-60 mph: 6.8s
Top speed: 143 mph
Mercedes is probably one of the last car manufacturers that you would think of when it comes to finding an ideal drift car for beginners, but let us surprise you with this entry to our list.
The W202 C Class 230 Kompressor, which in short is a supercharged 2.3 litre, 4 cylinder engine is the perfect drift car for a beginners to start with and is comes recommended by Dan from YourCar.co.uk who is currently building one.
From the factory, it has 190 BHP and 280 LB/FT of torque from the bulletproof M111 engine that can take abuse all day long.
They were produced from 1993 to 2000 and with the predecessor being the mighty 190E. In around 2012, they could have been picked up for around £500 but have creeped up to around the £1,000 mark these days.
Manual C230 Kompressors are becoming harder to find but there are still many around and loads of spares parts available.
An alternative to the C230 could be the 2.5 turbo diesels but modified by fitting a larger turbo but this will become an expensive drift car to begin with.
---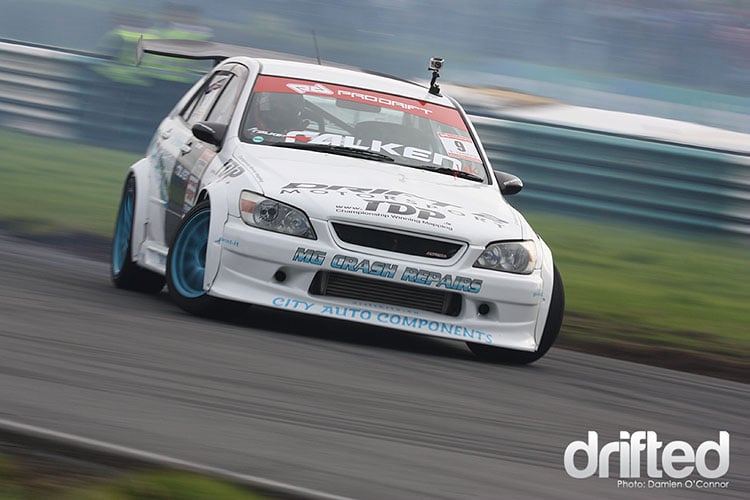 Lexus IS200 / Altezza (XE10)
Manufacturer: Lexus
Country of origin:
Model year: 1998 – 2005
Engine: 1G-FE BEAMS
Engine displacement: 1,988 cc
Drivetrain: FR
Power: 158 bhp @ 6,200 rpm
Torque: 147.6 lb-ft @ 4,400 rpm
0-60 mph: 8.7s
Top speed: 134 mph
The Lexus IS200 (or Altezza in Japan) was one of Lexus's most sporty cars when it was released back in 1998.
Nobuaki Katayama (lead engineer on the AE86 project) was responsible for the technical development of this car.
Nobuaki-san's efforts paid off as the car won Japan's prestigious "Car of the Year" honour when it was released and continued to retain the title until 1999. The car was praised for its stylish looks, luxurious cabin, high revving engine and solid handling dynamics provided by the classic FR layout.
Now, in 2020, this compact and sporty sedan is a very tempting proposition for a beginner's drift car.
These cars are widely available in most Western markets, normally well under the USD 1k range. They come with the reliable 1G-FE BEAMS engine, a front-engine and rear-wheel-drive platform plus a limited-slip differential as standard.
Although the power output of 158 bhp and 147 lb-ft of torque isn't going to set anybody's hair on fire, it is plenty to allow you to break traction and learn how to get to grips with the car.
The US market was also blessed with the IS200's bigger brother, the IS300 which came equipped with a 2JZ variant, but, as these cars are more desirable, they will command considerably more cash.
While tuning potential is limited by the naturally aspirated engine, some owner's that wanted to keep hold of this platform have been known to add mild superchargers onto the engine, this typically brings power up to the 250-300 bhp mark.
Overall this is a great drift car for a beginner and certainly worth keeping an eye out in the local classifieds for.
However, if you can get your hands on an IS300, it's likely to be the better choice if you're looking to keep the car long-term, with plenty of upgrades available for the naturally-aspirated 2JZ.
Check out our favorite IS300 turbo kits, coilover kits, exhaust upgrades, and body kit options to see the potential that it has in store.
---
Infiniti G35 Coupe
Manufacturer: Infiniti
Country of origin:
Model year: 2003 – 2007
Engine: VQ35DE
Engine displacement: 3,498 cc
Drivetrain: FR
Power: 280 bhp
Torque: 270 lb-ft
0-60 mph: 5.8s
Top speed: 151 mph
The Infiniti G35 is the second car on our list to utilize Nissan's potent VQ35DE engine. The G35 is an upmarket version of the 350Z platform aimed at a more "premium" target audience. Classy looks, a high-quality interior, and better components separated the G35 from it's cheaper cousin.
The classic drift car recipe is fully represented in the G35; a powerful and high revving V6 engine, manual transmission, front engine and rear-wheel-drive layout, and a limited-slip differential (on manual models).
While the car tipped the scales a little more than the 350Z, stripping the interior of all those lovely materials makes a big difference and helps to boost performance for no cost.
And when we talk about boosting performance, the G35's VQ35DE really is ripe for the tuning.
From off the shelf supercharger and turbocharger kits to a plethora of NA upgrades, the G35 is a platform that can grow with you as you get to grips with the art of drifting and you want more from your car.
The fact that these cars are quite plentiful in supply and are becoming very affordable is just another reason this may be the perfect beginners' drift car.
I strongly encourage you to consider an Infiniti G35 for your first drift car.
With Infiniti G37 prices continuing to fall in recent years, it could now present the perfect opportunity to get your hands on the G35's younger, more powerful sibling.
We've weighed up the positives and negatives of both platforms in our G35 vs G37 guide to help make the decision easier.
If you think the G37 may be the ideal choice, make sure you head over to our G37 mods guide to learn how you can unleash its true potential.
Browse Infiniti G35 articles
---
Toyota GT86/Subaru BRZ/Scion FR-S
Manufacturer: Toyota
Country of origin:
Model year: 2012 – 2021
Engine: 4U-GSE D-4S
Engine displacement: 1,998 cc
Drivetrain: FR
Power: 232 bhp @ 7,000 rpm
Torque: 184 lb-ft @ 3,700 rpm
0-60 mph: 6.4s
Top speed: 140 mph
After already securing its spot as one of the best drift chassis' ever built, the Toyobaru is finally starting to fall in price and become more affordable to beginners that are willing to spend a few extra bucks.
With stunning, modern looks, and plenty of gadgets to match, the GT86 is the perfect drift car for those looking for something more recent to enjoy.
Since Toyota recently announced the 2022 GR 86, GT86/BRZ/FR-S prices will likely continue coming down, which is excellent news for drifting fans!
With the GT86 already capturing numerous podiums in drifting competitions across the globe, there's no question that this epic platform has insane potential.
Admittedly, it doesn't come with a massive amount of power from the factory, but luckily for our readers, we've written several GT86 Tuning Guides to show you how to unleash its potential.
The GT86/BRZ/FR-S are fantastic, stylish, modern-day drift cars with an ever-dropping price tag, and we're already eyeing them up as future candidates for our personal goals.
The reign of the GT86/BRZ/FR-S came to an end in 2021, with a brand new, slide happy successor taking its place. We'll talk more about the car that replaced the GT86 later on in this article.
Browse Toyota GT86 articles
---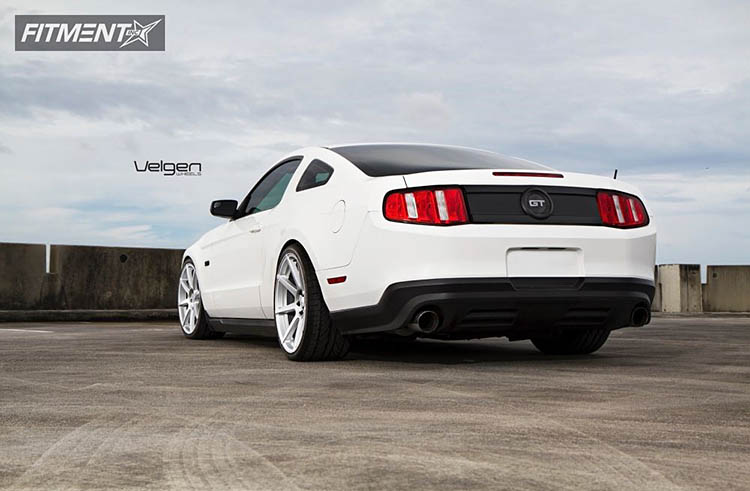 Ford Mustang GT
Manufacturer: Ford
Country of origin:
Model year: 2004 – 2012
Engine: 32-valve 5.0 L DOHC V8
Engine displacement: 302 cu in
Drivetrain: FR
Power: 412 bhp @ 6,500 rpm
Torque: 390 lb-ft @ 4,250 rpm
0-60 mph: 4.6s
Top speed: 155 mph
Thanks in part to its appearance in great car movies like Bullitt and Gone In 60 Seconds, the Ford Mustang has cemented its legacy as one of the most popular vehicles on the planet.
The history of the Ford Mustang goes back to the 1960s, and it continues to thrive in the drift scene to the present day.
While the most affordable Mustang on the used car market is the Fox Body, the newer GT model can also be picked up at an affordable price for many.
That's not all; the Mustang's fifth-generation model, which earned an unfortunate reputation for its crowd-hunting antics, also provides a roaring V8 soundtrack at a reasonable price point, with legendary aesthetics to match.
Brazilian champion Diego Higa went on to prove what this chassis was truly capable of by taking the win in the Hyperdrive series.
Sara Haro also managed to impress on the world stage with her near-stock V6 model.
As Chelsea DeNofa and Vaughn Gittin Jr continue to prove what the wheelie-poppin' RTR chassis has to offer in the present day in Formula Drift, there's no doubt of the Mustang's potential capabilities.
---
Toyota GR86
Manufacturer: Toyota
Country of origin:
Model year: 2021 – Present
Engine: FA24D H4
Engine displacement: 2,387 cc
Drivetrain: FR
Power: 232 bhp @ 7,000 rpm
Torque: 250 lb-ft @ 3,700 rpm
0-60 mph: 5.4s
Top speed: 140 mph

The long-awaited successor to the beloved Toyota GT86 arrived in 2021 in the form of the GR86. GR stands for "Gazoo Racing" which is Toyota's homegrown racing division.
When compared to the previous generation, the GR86 brought several upgrades in different areas. The looks were updated, retaining the 86 ethos while bringing it in line with the modern crop of competitors.
There were some significant updates done under the hood as well. The most significant change was the increase in horsepower, with the new 2.4-liter boxer engine producing 228 hp compared to the previous generation's 205.
Torque figures also improved, making the GR86 one of the best platforms to be built into a drift missile. Don't believe us? Then go ahead and ask Formula D's Ken Gushi what made him choose the GR86 to build a 1000-horsepower monster.
Toyota also makes an automatic version of the GR86, but let's be real. If you are serious about drifting, you have to go for the three-pedal version.
And if the stock 228 horses simply aren't enough for you, there are many twin-turbo kits available that let you easily double the horsepower figure.
---
Want to try drifting now?
Can't wait to get started drifting? Try our free to play drifting games, or if you prefer stunt games, Madalin Stunt Cars 3 will be a perfect choice.
But where is the 240sx S13?
So the 240sx S13, arguably the "go-to" car for many drifters.. While it has been omitted from this list, Nissan's 240sx S13 does indeed make a great beginner's drift car. As we had already included the talented S14 it seemed a little too much of the same to include it's older brother. For detailed information on the S13 check out our 7 Reasons Why The Nissan S13 Is The Best Drift Platform For Beginners article.
Got an S13 already and wondering what to mod first? Try hooking it up with a fresh set of suspension. Don't know which coilovers to buy? Check out our S13 coilovers guide.
An off the wall alternative to the drift cars we have mentioned already could be this truck. The truck is a mid 90's Nissan that shares a similar floor-plan to the 240sx and also shares the KA engine and running gear. Truck drifting yeah!
Maybe you aren't quite ready to look at your first drift car and instead want to learn more about drifting? If so please take a look at: What is drifting?
Want to learn more about these JDM monsters from the nineties? Try our 11 Best JDM Cars Of The Nineties feature.
Are you on a tight budget? Try our cheap drift cars roundup.
Not old enough to buy that first drift car? Why not start your journey with an RC drift car?
Updated January 2022
– Added Ford Mustang GT to list of drift cars
– Updated content from 15 drift cars to 16
Updated June 2021
– Added GT86/BRZ/FR-S to list of drift cars
– Added Mazda RX-8 to list of drift cars
– Updated content from 13 drift cars to 15
Updated December 2020
– Added Infinity G35 to list of drift cars
– Added new drift car group picture
– Updated content from 12 drift cars to 13
Updated April 2020
– Added Lexus IS200 / Altezza to list of drift cars
– Updated content from 11 drift cars to 12
Updated August 2019
– Added new photos of several cars
– Added new performance data for all cars
Updated April 2019
– Added Toyota Corolla AE86
– Added Mazda RX-7 FD3S
Updated February 2019
– Added a 1 minute summary video for time strapped fans!
– To help keeping this article current I have added two more popular drift cars; the Nissan 180sx and the Mercedes C230. Both of these cars would make a fantastic platform for learning how to drift.
Updated February 2023
– Added a new video under the Toyota GT86 section replacing an unavailable one
– Updated content from 16 drift cars to 17 by adding the Toyota GR86, which is the successor of the GT86.
– Added some additional information throughout the article, to make it more informative for our readers.
Thanks for reading the article. If you enjoyed it, please share it using the social buttons. Thanks!