1UZFE – The Complete Motor Guide
Considering either buying a car with a 1UZ-FE or thinking about swapping one into your car, plane or boat? We've covered all you need to know in our 1UZ-FE engine spotlight.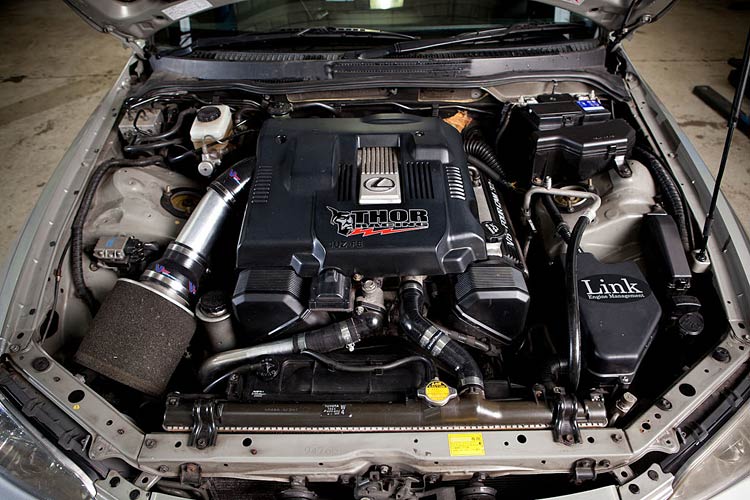 In 1989, Toyota's 1UZ-FE engine became the firstborn in their soon-to-be legendary UZ family, which later went on to include the 2UZ-FE and 3UZ-FE.
A highly advanced V8 engine for its time, the 1UZ was showcased in the LS400, which was the Japanese rival of the BMW 735i and Mercedes 420 SE at the time.
Many experts are positive that the 1UZ was one of the strongest contributors towards Lexus becoming the top-selling luxury car brand in the US at that time, further proving just how impressive this V8 engine really is.
With a combination of high-power, impeccable value for money, impressive fuel efficiency and undisputed reliability, it's easy to see why.
Drifters are quickly realizing the untapped potential of combining huge power with reliability at an extremely affordable price, this has led to the 1UZ-FE seeing a rise in popularity over the years on the tuning scene, and more enthusiasts than ever are opting for this reasonably-priced JDM LS alternative.
The 1UZ was something of a game-changer in its time. In the Late 80s, Japanese auto manufacturers weren't exactly renowned for their V8's, and no DOHC V8's had been reliable up until then. However, when Toyota entered the 1UZ into the mix, it quickly became up there with some of the best engines ever produced.
Check out this great video from Donut Media as they revisit the history of the legendary LS400:
Looking for a compact V6 instead of a V8? Our VQ35DE guide was written just for you.
Many went on to claim that it's a 'million-mile engine' if correctly maintained. They are commonly seen with over 250k, and there are many out there with over 500k that are still going strong.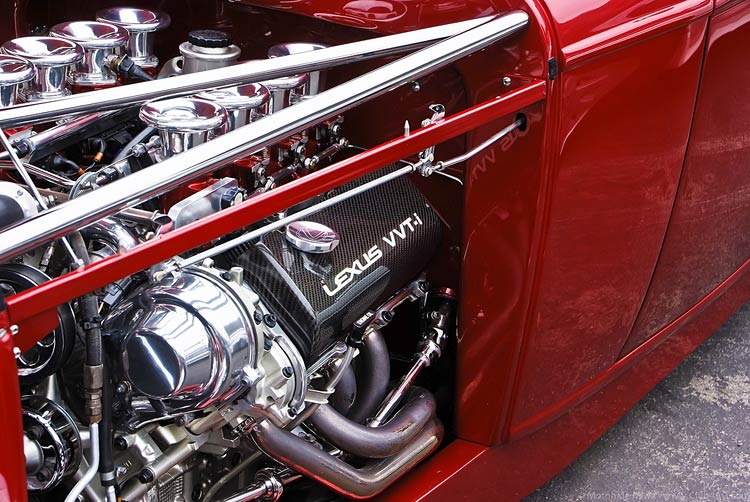 Not only was it reliable, but it was also silky smooth, high-revving and ridiculously strong. For a quad-cam V8, it was also very compact, which allowed for the tuning scene to place these into a huge variety of unlikely smaller cars.
All of the UZ-series engines from the factory were mated to automatic transmissions. In fact, there has never been a Toyota V8 which has been tied to a manual box. All UZ-powered cars were rear-wheel drive with the exception of just two - the AWD Aristo and a Land Cruiser.
Despite the earlier models leaving the factory with 251hp, these are actually the most desirable for tuning. Toyota carried out some minor updates to the engine over the years to help increase horsepower and efficiency, which included the addition of Toyota's VVT-i system.
VVT-I was the perfect addition which added a further 50 horsepower, also bringing the peak torque down by 400rpm, making it far more enjoyable for street use.
Up until 2002, the ever-popular 1UZ continued to be rolled out of the Toyota showrooms, featuring in variants such as the Toyota Crown, until production was ceased to make way for the new 4.3-liter 3UZ-FE. During that time, the 1UZ won several 'Best Engine' awards and won over the hearts of owners and tuning enthusiasts alike.
Fast forward to the present day and the 1UZ's huge popularity meant that engines are readily available from just about anywhere on the spares and parts market, making them cheap and easy to source - the perfect solution for those that are considering them for an engine swap.
With prices sky-rocketing on alternative conversions such as the 2JZ-GTE, the 1UZ is a breath of fresh air, providing you're not a V-hater!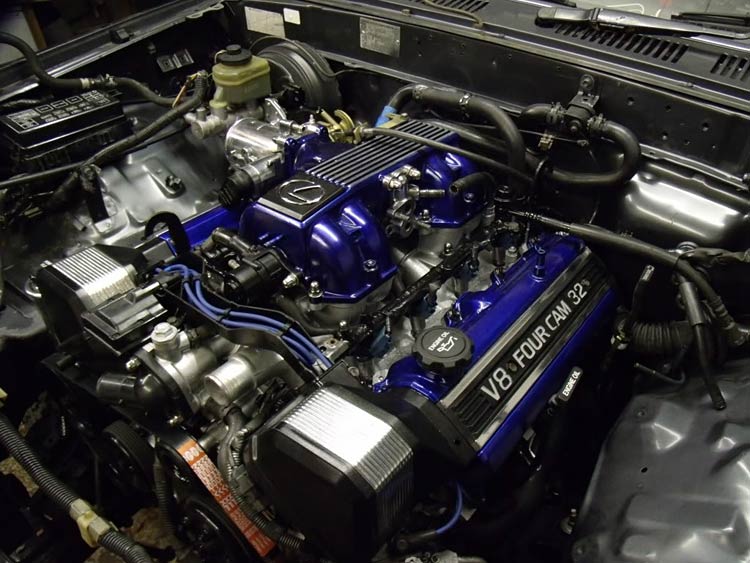 Interesting facts
The 1UZ-FE isn't only popular in cars. A little-known fact with the 1UZ is that it hasn't just been featured in all sorts of automobiles, it's also an FAA certified aircraft powerplant.
In the early 1990s, Toyota began working with Hamilton Standard to develop a twin-turbocharged aircraft engine from the 1UZ. This resulted in the FV2400-2TC, which was a 360-horsepower fuel injected engine. Although they received FAA certification in 1996 and begun production in 1997, the project was unfortunately later abandoned.
Flight testing was actually carried out with the engine, and it was still a great opportunity for Toyota to have a taste of the aviation industry. We find the thought of a flying 1UZ pretty crazy!
Alongside that, the 1UZ is now commonly used as a popular motor in racing boats, check out this epic video - we need one of these in our lives!
1UZ-FE Tuning Potential
With the 1UZ being updated with VVT-i in 1999, you may want to consider whether an earlier or later model is likely to be best for your needs.
Sure, the VVT-i model hands you higher power and compression out of the box, however, when the 1UZ was initially released, Toyota were so keen to make a statement in the luxury car market that they actually over-engineered the engine.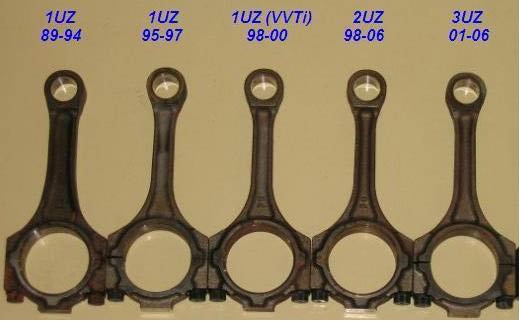 Once they had tried and tested the capabilities of the engine with daily market use, later generation 1UZ's were actually fitted with thinner rods and weaker pistons, since they knew these were still easily capable of withstanding the power. With sintered and forged connecting rods and a forged steel crank, some owners have managed to get away with revving their 1UZ to 9,000rpm with the stronger stock internals.
This means that post-94 engines are likely to feature the thinner rods (despite VVT-I not being added until later), therefore making pre-94 the holy grail variant for tuning. It's not too easy to tell them apart, but often you can tell by the writing on the plug leads, just remember that they may have been replaced later on. We wouldn't recommend going above 500hp with stock internals on the later rods.
Naturally-aspirated engines have been said to be capable of achieving around 400hp, but the expense of trying to squeeze out the extra horses is going to be far higher with less end reward. It'll end up costing you a fortune with heaps of work.
Those of you that are planning to buy a 1UZ-FE for forced induction or high-tuning purposes, but aren't planning on upgrading the internals are going to be better off with the stronger, earlier models.
A testament for what the 1UZ is capable of is this video showing an SC400 with 800hp without upgrading the bottom end, cams, manifold, ring gap or any porting!
There have been rumors 1,000hp on the stock internals with thicker head gaskets and studs making the rounds, and while we certainly have no reason to doubt this based on the video above and numerous other builds, the reliability would certainly come into question at this point.
Overall, the 1UZ-FE is inherently strong and there's not too much to worry about besides holding out hope for an earlier model. Of course, not all of them have been maintained perfectly over the years, so it's always advised that you ensure you are building a strong engine from the start. You can do this by removing the rocker covers and check the internal condition. A well-maintained example will be a nice golden color, however, if you see anything along the lines of black sludge, we recommend perhaps trying to find a cleaner example.
1UZ-FE Forced Induction
Firstly, you'll want to check out our Turbocharger Vs Supercharger - Who Wins? article to ensure which forced induction method is the correct for your needs.
One downside with the 1UZ is that there is a strangely small amount of off-the-shelf aftermarket parts available. This engine is perfect for forced induction, yet the most popular method for carrying this out still seems to be going down the custom route.
1UZFE Supercharger
Carrying out a supercharger swap may sound daunting, but there are many guides out there to shows you how it's done and assuming it's done properly you can guarantee you'll have a huge amount of fun for the money.
With basic additional changes such as fuel injectors and an exhaust, the 1UZ-FE can make around 350+ horsepower at 6psi (0.4 bar). If you were then to go on to build the bottom end with lower compression ratio pistons, connecting rods, ARP studs, intercooler, 2JZ injectors, an uprated fuel pump and a mapped ECU, you can expect to achieve over 400 at 10psi (0.7 bar).
It may sound like a lot of work, but it'll certainly be worth the effort.
The Eaton M90 and Terminator Cobra superchargers are both popular choices for the 1UZ.
1UZFE Turbocharger
First off, let us show you what has actually been achieved with a far from stock 1UZ-FE. In an unlikely engine transplant, this owner has opted for a twin-turbo setup in his Ultima GTR. The outcome? A mind-blowing 982hp on a Porsche 6-speed gearbox!
Turbo kits are more readily available for 1UZ's than superchargers, but they're still far from common.
When adding a turbo, your best bet is to go with the pre-94 engines. We understand that they're obviously going to become harder to find, so the best alternative to ensure you have a good foundation and reliability is to consider uprated internals, to begin with, especially if you're aiming for high power. For moderate power, the stock internals even on the later models should be capable of up to 500hp.
With the correct internals, much like Toyota's other awesome engines such as the 2JZ, the 1UZFE block is easily capable of achieving 1,000 horsepower on the right setup if you have big-power goals. We'd love to see it if you have, or are planning to!
For a basic turbocharged setup, we would plan on buying a single-turbo kit (such as the Garrett GT40 or VNT25), multi-layer steel head gaskets, wastegate, blow off valve, boost controller, oil lines, fuel injectors and an uprated ECU. With these upgrades, we'd expect to see around 450 horsepower which should be safe even with the later stock internals. With forged pistons, we would be happy to go over the 500hp range.
Which cars left the factory with the 1UZ-FE engine?
The following cars featured the 1UZ-FE:
Lexus GS400
Lexus LS400
Lexus SC400
Toyota Aristo
Toyota Celsior
Toyota Crown
Toyota Soarer
And rather amusingly…
Some JDM Hi-Ace Ambulances
Desperate for more 1UZ-FE goodness?
Don't worry, we've got you covered, check out some of the best videos on YouTube that prove just how awesome this JDM V8 powerplant really is!
We weren't lying when we said they've been fitted to a huge variety of cars, check out this turbo-powered old-school KE20 Corolla!
It's also been a popular swap for the Toyota GT86/Scion FR-S/Subaru BRZ. High Performance Academy show you what's needed to carry out the swap in this series:
Once you've fitted it, you can hit the track and throw it sideways just like French drifter Axel Francois, running a competition GT86 1UZ!
If you're planning to throw it down at the track, you're going to enjoy this S12 1UZ video:
If you enjoyed that, why not strap another turbo to it for maximum awesome?
Thank you for reading our 1UZ-FE engine spotlight guide
We hope that you've now gained enough knowledge to know whether or not the 1UZ is the right engine for you, although we feel like it's a bit of a no-brainer! We've got a whole lotta love for the 1UZ!
If you enjoyed this article then please share it with the buttons at the side and bottom of your screen. Find this information useful? Please post a link to it on your cars owners club. We really appreciate your support.
Photography credits
We thank the following entities for use of their photography in this article: