The Best Rally Cars In Forza Horizon 5
Feel the thrill of tarmac, dirt, mud, and horsepower with the ultimate rally cars from the latest game in the Forza Horizon series – FH5.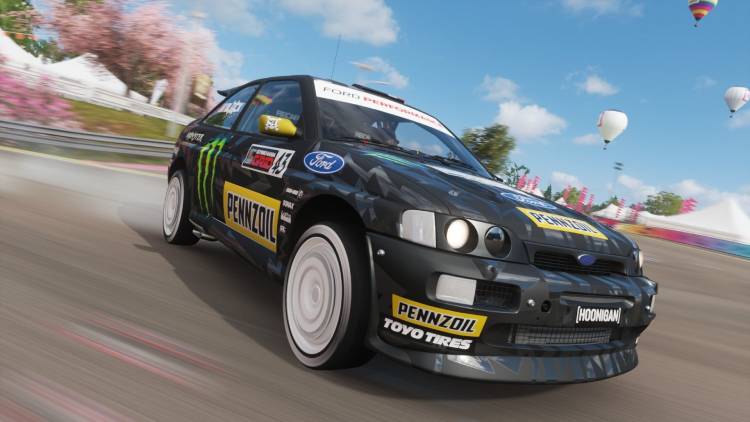 ---
Introduction
For the fifth game in the Forza Horizon series, Horizon enthusiasts are fast-tracked to Guanajuato, Mexico, with the opportunity to discover more uncharted lands and exotic roads than ever before.
Since we discovered more dirt roads in this expedition, the developers got the opportunity to take a more in-depth approach to rally driving than ever before.
You can find many events on the map leading to the incredible dirt roads the game offers.
Suppose you wish to be competitive against your formidable rivals. In that case, we recommend that you acquire a vehicle with the ability to hang with the best.
Before hitting the road, you must complete a few steps to unlock the Dirt Racing Festival.
First, you'll need to spend an "Adventure Token" for the Horizon Wilds. After you complete this task, the video game automatically will set a new waypoint on your GPS.
Second, you'll need to finish a set of "Quests" in the Jungle Expedition. These requirements are easy to follow, so don't worry; you'll finish this part in a few hours. Furthermore, you'll also get more cars in your garage as a reward.
Lastly, when you unlock the Horizon Wilds outpost, you'll see new icons on the map representing all the available rally races in which you'll eventually be able to compete.
Even though there are different ways to experience Rally races in various video games of the Forza Horizon franchise, this one takes it to another level.
If you're looking to compete for podiums, why not learn how to tune your rally car to perfection? We recommend this video for some great setups to get you started:
In this 5th edition of the Horizon series, we visit the harsh and rugged Mexican terrain and experience many dirt roads that might be difficult to pass with an "ordinary" car.
As a result, unlike its earlier predecessors, we now have a specific "Offroad" category on each vehicle.
---
Getting Started: Rallying in Forza Horizon 5
Getting started with rally races can be easy or tedious, depending on your experience within any Forza Horizon game.
Above all, almost the entire roster in the game allows you to hit the dirt and earn a victory. To achieve this task, you need to look (or set) these characteristics on any car:
Stock Drivetrain: It is recommendable that you use All Wheel Drive (AWD) for maximum control and launch, or Rear-Wheel Drive (RWD) for speed.
Engine: Anything that makes your car lightweight.
Tire: Pick Rally or Offroad, depending on how much PI (Performance Index) or suspension you want to add.
Platform and Handling: Go for the Rally options and weight reductions.
If you've not already chosen a car to apply your setup to, fear not. We're going to take a look at the best options for Horizon 5's best rally car in each class.
---
Best C Class Rally Car In Forza Horizon 5
We start our best rally car in Forza Horizon 5 list with the lowest category in FH5, but the best car in this category is certainly no slouch.
Nissan Pulsar GTI-R
As you might already know, all the C Class vehicles feel slightly slow but give lots of opportunities to handle the road. However, the Nissan Pulsar GTI-R must have missed the memo – it runs way faster than many of its similarly-specced rivals.
Being a Retro Rally car, you'll experience the top speed (151 mph without tuning) offroad or traveling at the top of a cliff – assuming you've built enough momentum!
The downside is that it requires a lot of practice to master the curves on the road, and there may be better C Class choices for rallying beginners.
Overall, if you're new to the Rally format (or even Forza Horizon 5), it is best to practice in this category first.
The Nissan Pulsar GTI-R is available at the Autoshow for a mere 20,000 CR. Therefore, it is recommendable that you get it ASAP and earn rewards as you complete different events within Forza Horizon 5.
In C class, the vehicles will be more "forgiving," and you'll have fewer mistakes as you try to master the challenging bits.
As you gain confidence, you can begin moving up the classes with our following recommendations.
---
Best B Class Rally Car In Forza Horizon 5
Found in the Autoshow (for 165,000 CR), this car will help you reach the podium on many occasions.
Mercedes-Benz AMG Hammer Coupe
Thanks to the acceleration you'll find in this vehicle (100 mph in 12 seconds), you'll dominate the race and leave your opponents behind.
Furthermore, the AMG Hammer Coupe will help you get many score points thanks to the mighty drifting capabilities that the vehicle possesses.
The downside of this car is more noticeable when you're trying to handle complex curves. In which case, you may want to consider learning the art of car control with our FH5 drift tune guide.
First, you'll see that it takes more time to reduce the speed. Secondly, if you're not careful, you might lose control when trying to regain momentum in a race.
Thankfully, if you're trying to race in a B Class event, things won't be that complicated. So keep calm and take advantage of those straight segments of the event.
---
Best A Class Rally Car In Forza Horizon 5
Mitsubishi Lancer Evolution X GSR "Welcome Pack"
You'll need to own the "Welcome Pack" DLC to unlock this vehicle, giving you four additional cars and more in-game items.
Therefore, you'll need "real money" to acquire it, but the Mitsubishi Lancer can be yours as soon as you start the game. Moreover, it has a fantastic rally setup straight out of the box that makes it ready to hit the road.
This version of the Mitsubishi Lancer has a powerful acceleration speed (60 mph in 5 seconds) and is ready for any Modern Rally events.
Reaching the podium with this vehicle won't take too long, but you still need to practice beforehand. Therefore, it is recommendable that you run in the open world or battle against AI (Artificial Intelligence) opponents before attempting any online races.
---
Best S1 Class Rally Car In Forza Horizon 5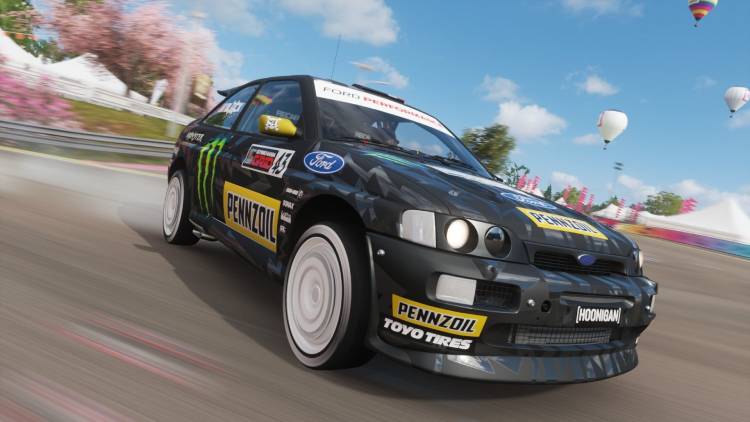 Hoonigan Gymkhana 10 Ford Escort Cosworth Group A
Even though you'll need half a million CR to obtain this car in the Autoshow, it's well worth it.
Thanks to its 9.1 score for acceleration, you'll find it easier to gain speed and take first place in the early stages of the event.
Additionally, the 7.6 number that follows the Offroad characteristic will hint that the vehicle can handle the dirt well when required.
However, it also comes with a 6.2 Handling score, which means you can spin out if you're not careful.
Furthermore, when you're in a Rally event, you'll notice that the road can be treacherous, and a lousy turn might lead to more troubles.
Since you're in an S1 Class car, you'll soon see how easily you can reach a high speed, which adds difficulty when you need to make lots of turns on a stage. Still, if you manage to follow the guidelines and with some practice, you'll encounter fewer troubles as you pass through multiple checkpoints.
Keep one eye on the road and the other on your opponents. Hence, move around the dirt to prevent any other player from gaining an advantage and leaving you behind.
---
Best Overall Rally Car In Horizon 5
Hoonigan Ford RS200 Evolution
Even though each vehicle on this list has great potential, the Hoonigan Ford RS200 Evolution takes it to another level.
First, you have a 9.5 Acceleration score, thanks to its powerful engine which helps you reach 100mph in 4.9 seconds. Also, this car won't have trouble maintaining a higher top speed between curves.
Secondly, it gets an 8.3 in the Offroad score and settles the vehicle into one of the best options if you want to play any Rally event.
In other words, when pushing the boundaries in the Hoonigan Ford RS200 Evolution, the dirt and pavement will provide equal confidence in its abilities.
Lastly, even though it comes with a 6.5 Handing score, it is above the usual Rally score for most cars.
The downside comes with the Braking (5.3), which could become a problem when the road becomes difficult. But, as long as you keep the speed in control, you'll get accustomed to this type of vehicle.
Most noteworthy, the light weight Hoonigan Ford RS200 Evolution will provide that finishing touch to catapult you to the finish line before your rivals. You can obtain it from Autoshow for 500,000 CR.
---
More Of The Best Rally Cars In Forza Horizon 5
Now that you know the best options for each class, there are still other vehicles that almost made it to the final cut.
Consider getting these to spice things up and increase your garage options. Even though a little "detail" is missing, they are good options to consider.
Without further ado, here are more of our top picks for the best rally cars in FH5:
Datsun 510 (D Class)
At first glance, you'll see that almost all of the scores are low, but the Offroad reaches five points. Hence, you'll need to spend a lot of CR on different parts to improve it. Above all, you'll need to know how to make the Datsun 510 better for the Offroad instead of buying and driving immediately.
Maserati 8CTF (B Class)
Without a doubt, one of the "overpowered" options that appear in Forza Horizon 5. First, it comes with unique visuals and outstanding characteristics. Second, the Maserati 8CTF has a fantastic speed score (6.7) for a B Class vehicle. Sadly, it's tough to acquire and expensive (10mil CR). Furthermore, driving on Mexico's harsh terrain can sometimes prove challenging.
Shelby Cobra Daytona Coupe (B Class)
One of the most excellent options available for all players of Forza Horizon 5. However, it could be hard to add it to your collection. First, you can buy it in Autoshow for 30mil CR. Second, you can get it by exchanging an Accolade voucher under a Festival Playlist ("The one with the hairy chest"). Third, it could appear on wheelspin if you're lucky enough. Lastly, you can find it cheaper at the auction house. Moreover, after you acquire the vehicle, you still need to use more CR to build it properly for any Rally events.
Porsche 911 GT3 RS Forza Edition (S1 Class)
Even though this is one of the best options, you'll need to acquire all the other Porsches and get it as a collection prize reward. Therefore, you'll need to share lots of gaming sessions and use CR to buy the missing vehicles, and then you could take the Porsche 911 GT3 for a spin. When you unlock the car, you'll see that it comes with outstanding scores and only needs a few changes for Rally events.
Ford Racing Puma Forza Edition (S1 Class)
Acquired from the Forza Horizon 5 VIP Membership, the Ford Racing Puma Forza Edition is a powerful option. From the start, you'll see that it has a 9.4 Acceleration score and 8 points in Offroad. So try this vehicle if you have enough "real money" and want to start with a robust collection.
---
Best Rally Car Forza Horizon 5 FAQ
In this section, we cover a few of the commonly asked questions regarding rally cars in Forza Horizon 5.
What is the Best Rally Car in Forza Horizon 5?
Currently, the best rally vehicle is the Hoonigan Ford RS200 Evolution. Thanks to its impressive specs, you'll have less struggle and more ways to earn a victory in Rally events. You can unlock this car by buying it from Autoshow (for 500,000) or the auction house.
Where Are the Rally Events in Forza Horizon 5?
They appear on your map when you unlock the Horizon Wilds outpost. To accomplish this task, you'll need to spend an Adventure token within Horizon Wilds and follow a questline. After you complete the Jungle Expedition, you'll have Road Racing to experience.
How Can I Earn Credits Fast In Forza Horizon 5?
You earn CR, the Forza Horizon in-game currency, in multiple ways. You could earn CR by completing different events on the map. Alternatively, you can acquire more credits from the wheelspin or the Car Mastery.
Which DLCs Give Powerful Rally Vehicles?
The "Welcome Pack" or the Forza Horizon VIP Membership can give you some high power output options if you're getting started with a new account. Then, after a while, you can earn better cars by acquiring them by chance (Wheelspin Prizes) or buying them in the Autoshow.
There we have it! We hope that we've covered everything you could want to know about the best rally cars in Forza Horizon 5 in this guide.
Thank you for reading our best rally car in Forza Horizon 5 guide.
If you enjoyed this article, please share it with the buttons at the bottom of your screen. If you've found this information useful, then please take a moment to share it with other Forza enthusiasts. We appreciate your support.