Ultimate Nissan 350z Bash Bar Guide
If you're tired of repairing your 350Z front-end after a day at the track and looking for a more robust solution, then it's time to explore what bash bars have to offer. We're covering everything you need to know.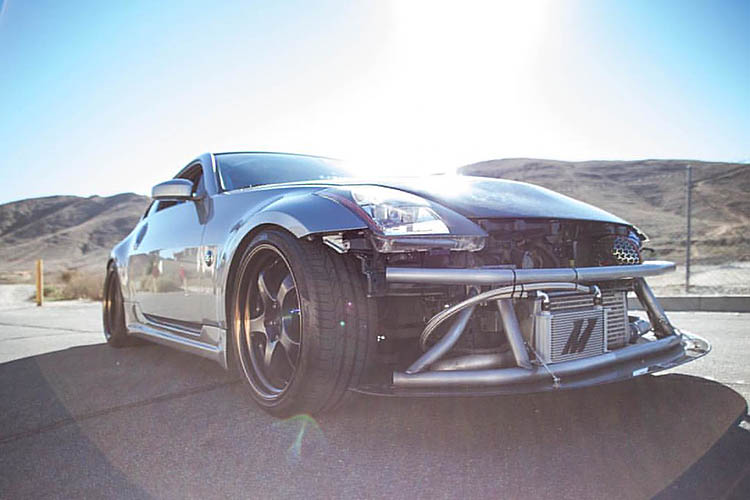 ---
In a hurry? Here are our 350z Bash Bar winners
| Budget Choice | Drifted Choice | Premium Choice |
| --- | --- | --- |
| | | |
| DMC Fab Werks 350Z Bash Bar | Street Faction Engineering 350Z Bash Bars | True Focus Fabrication 350Z Bash Bars |
| 🔥🔥🔥🔥🔥 | 🔥🔥🔥🔥🔥 | 🔥🔥🔥🔥🔥 |
| Buy Now | Buy Now | Buy Now |
---
Introduction
We've seen bolt-on bash bars, drift bars, or whatever you want to call them becoming increasingly popular on the US drift scene in recent years.
At the same time, they don't seem to have reached the same levels of popularity on the Japanese or European drift scenes.
The concept of them makes sense, as your stock front end is going to be a little worse for wear after you've run out of talent a few times, resulting in high-speed impacts which have left the front end looking a little, well, destroyed.
If that hasn't happened yet, it probably will do eventually, especially for those pushing the car hard and frequently crashing, or participating in tandems with other missile cars.
Over time, all that bending and smashing will leave it weak, and corrosion will inevitably begin to take its toll on the dodgy repair jobs.
It gets tiring to attempt to bend the reinforcement bar back into place every time you take a small hit, or even worse, destroying your intercooler or engine, which is just one factor where bash bars become super useful.
No-one likes crashing, but when you're driving hard, especially as a beginner, accidents happen, so it's best to prepare for the inevitable.
The sooner you fit a tube front, the less mangled the mounting area is likely to be, and this will ensure that these bolt-on bars will hopefully provide a quick and easy fix right away.
Once you've got your bash bar fitted, you won't need to worry about your FMIC getting destroyed at the slightest hit.
While improving your front end's structural integrity, you'll also potentially shed some weight at the same time.
It also provides a convenient way to mount things like a radiator and an oil cooler alongside the FMIC (for those running turbo or supercharger kits, with convenient access becoming an additional bonus.
Some of our list choices will also come with additional benefits, such as corner bracing for additional support and conveniently-placed jacking points, which are an absolute godsend at the track.
While it's easy to get caught up with added extras, less is often more with crash bars, especially the rear-end ones. A simple design with a jacking point is all you'll need there.
Although they provide a fantastic purpose hiding behind the front bar, some owners opt to have them on show, which has earned bash bars a bad rep, especially in tandems. We certainly don't appreciate getting hit by them!
The idea of a bash bar is that it's strong enough to save your car in a crash, but not so strong that it causes more damage and potentially ends up destroying your frame, which is why they're designed to 'crumple' on impact.
Thankfully, a tube front leaves your front end far-less vulnerable to damage, and also provides a far more convenient option when it comes to rebuilding, or replacing, the front end of your 350Z.
So, we'll focus on the very best of the convenient, off-the-shelf options that we can purchase for a reasonable price in this guide.
These options will provide you with tried-and-tested quality, fitment, and durability so that you can get back to pushing the limits at the track without worrying about bending your OEM front-end.
If you've not yet purchased a Nissan 350Z, but you're strongly considering doing so, make sure you check out our 350Z buyer's guide.
For those who have not yet completed your upgrade checklist, we've compiled a guide where we give a round-up of all our favorite Nissan 350Z mods on the market.
Since you're opting for a bash bar, the chances are that a roll-cage is high on your list. We've already put the best 350Z roll cages head-to-head to help choose the perfect cage for your needs.
Our comment: All Weather Motorsports is the first option in our list with a great selection of premium bash bars.
Designed and manufactured in California, they've opted for 1.5" diameter tubing with .120 wall thickness to ensure strength and integrity.
Professionally MIG welded before being finished in a durable wrinkle black powder coat. These bash bars bolt directly onto the factory frame rails, utilizing the original factory hardware.
They offer two different designs for their front bash bars, one of which features a jack point.
The rear also features an integrated jack point alongside an additional brake light mount, which can be useful for those without functioning rear lights.
You won't be able to run a front bumper with this setup, and you'll need to do a half-cut on the rear.
All Weather Motorsports are known for good quality, but it's a shame that you won't be able to run OEM or aftermarket front bumpers with this kit.
Manufacturer description: "All AWM products are 100% designed and manufactured in our 30,000 sqft facility located in Los Angeles, California".
"We seriously take pride in what we do and guarantee the quality of our products".
AWM Bash Bars Installation Video
---
Our comment: Bell Race Works have opted for a simple, clean design with their subtle front and rear bash bars, which will fit discreetly under your OEM bumper setup.
These bars have been MIG welded using steel roll cage tubing – 1.5 x 0.95" DOM.
These once again bolt up to the OEM factory mounts, which hopefully won't be damaged, and provide convenient jacking points at the front and the rear.
This kit provides an excellent opportunity for those looking for a setup to improve the structural integrity of your 350Z without needing to scream out for attention.
Manufacturer description: "Designed to fit under OEM bumpers and provide maximum protection".
"Mig welded steel roll cage tubing 1.5x.095″ Dom. Bolts to factory mounts on the chassis. Both front and rear jack points".
---
Our comment: The cheapest kit in our guide even allows you to slip in a cheeky Best Offer to the seller.
Given the bargain price tag, it's a shame they're not yet providing front bash bars to the community.
However, DMC Fab (and Exhaust) Werks are well known for their incredible fabrication and continuously receive glowing reviews from owners.
With 1 ½ DOM .095 wall thickness and 1/8" baseplates, this represents a fantastic opportunity for those looking for a rear bash bar with an integrated jacking point on a budget.
Manufacturer description: "DMC Fab Werks Rear Bash Bar for Nissan 350Z. Fits years 2003-2009. Rear Bash Bar that fits underneath your stock bumper cover".
"Made from 1 1/2 DOM with .095 wall thickness and 1/8 baseplates. Weight – 22lbs, Length – 64″, Width – 16″, Height – 12″".
---
Our comment: The most straightforward design yet comes from SOHO Motorsports, with their 350Z front tow bar design.
Designed specifically for those running a front-mount intercooler on your forced induction setup, this provides some strength while keeping things simple.
Utilizing 1.5" steel tubing with a 0.120" thick wall, we feel it may be a little too simple for the money, and that the tow bar design has the potential to cause further issues upon contact.
While this could well be an excellent choice for you, we can't help but feel that other products in this guide present superior opportunities.
Manufacturer description: "We are proud to announce our aftermarket front tow bar for the Nissan 350Z & Infiniti G35. This tow bar was designed for the individual who is utilizing a front mount intercooler and can not use the OEM crash bar".
"Made out of 1.5″ steel tubing with a 0.120″ thick wall, we have designed a front crash bar that will still utilize the OEM mounting points and tow hook location".
---
Manufacturer: Street Faction Engineering
Fitment: Nissan 350Z (Z33) – Front & Rear
Value for money:

?????
Our comment: You may remember Street Faction from our 350Z wing guide, where they certainly stood out with their gigantic chassis mount wings, which have a fantastic reputation.
They've returned this time around to provide the most comprehensive selection of reasonably-priced bash bars to the 350Z community.
Street Faction utilizes an aerospace TIG welder alongside a digitally-calibrated tubing bender and powder coating, ticking tick all the right boxes when it comes to choosing the perfect bash bars for your 350Z.
You can add various extras such as a tow hook mount, jack point, and a license plate mount onto these bash bars, which fit the OEM factory hardware and replace the OEM crash beam.
These bash bars provide exceptional quality at a great price point, with an excellent variety of products to suit every need imaginable.
Manufacturer description: "Our bash bars are designed by a certified aerospace TIG welder. Each of our bars is constructed using thick mild-steel tubing that is bent on a digitally calibrated tubing bender".
"Additionally, all of our bars come powder coated to prevent corrosion".
Street Faction Bash Bars Installation Video
---
Our comment: True Focus Fabrication has earned our premium product choice for providing quality, alongside a vast selection of products when it comes to protecting your 350Z.
With two front and two rear bash bars to choose from, featuring substantially different designs, you can opt for the simple jack bar or the dual row bar for FMIC owners. Both of these come with a variety of additional options.
Utilizing professionally MIG welded .095" x 1.5" mild steel, these are durable and light, and designed to bend under high-speed impacts with a removable 'crumple zone'.
As well as the front and rear bash bars, True Focus Fabrication have also designed sidebar protectors to add to your weaponry, which could provide the perfect opportunity for missile cars.
True Focus Fabrication has a fantastic choice for those looking for the ultimate all-around protection.
Manufacturer description: "True Focus Fabrication Nissan 350Z Bash Bars are constructed of .095″ x 1.5″ mild steel. Our professionally MIG welded bars are durable, light weight, and aesthetically appealing".
"These bash bars are strong enough to hold up to light bumps, but designed to bend from medium to high level impacts. This creates a removable "crumple zone" that will absorb impacts and help prevent vehicle damage".
TFF Bash Bar Installation Video
---
Our comment: ZAKUSTECH was an exceptionally close contender for our Premium Choice award, but we couldn't ignore the vast range that True Focus Fabrication had to offer.
Crafted using 1 1.2" .095" DOM tubing, these bash bars come finished in a stunning metallic charcoal finish, with a selection of other options available upon request.
These offer fantastic, simple, lightweight craftsmanship, combined with an integrated rear jacking point.
We feel that these are quite possibly the best-looking bash bars in our selection.
Manufacturer description: "Constructed From Light Weight 1 1/2 .095 DOM Tubing".
"Each Bash Bar Is Hand Crafted And Offered In A Metallic Charcoal Grey Finish. Custom Powdercoating Color Options Available"!
---
Our comment: Our bonus choice isn't even a bash bar at all, but don't worry, we haven't lost our minds (hopefully).
Since bash bars are likely to take a hit at some point, there's a chance that you may end up needing to replace your bash bar plates further down the line.
We've included these extremely reasonable CNC cut plates from Gremlin Fabrication, which could well provide the perfect quick, and easy solution for a convenient bash bar repair with your local fabricator.
Or, if you're brave or talented enough with a welder, you could even consider doing the job yourself!
Manufacturer description: "CNC cut front bash bar plates for the 350z perfect for making your own bash bar".
"Cut from 1/8 cold roll steel. Thicker material is available upon email request".
---
Our winners
Here are our winning choices for three bash bar categories:
Drifted Choice
Our favorite 350Z Bash Bars are brought to you by Street Faction Engineering
Street Faction Engineering continues to bring exceptional products to the 350Z market, and these highly customizable front and rear bumper bars are certainly no exception.
With various options to choose from, combined with exceptional quality at a great price, we feel that they're worthy winners of the Drifted Choice award this time around.
---
Budget 350Z Bash Bar Choice
Our Budget Choice is the DMC Fab Werks Bash Bar
For those of you on a budget that are looking for a rear bash bar with an integrated jacking point, look no further than DMC Fab Werks.
They've been making waves in the exhaust scene, and their fabrication work has extended to bash bars, where they've created this fantastically-priced opportunity for those that aren't looking to spend big bucks.
Now, if only we can convince them to provide a front bash bar, too!
---
Premium 350Z Bash Bar Choice
Our Premium Choice is the wide selection from True Focus Fabrication
It was a close one to call between ZAKUSTECH and True Focus Fabrication for our Premium Choice award, but it was TFF's range, which allowed them to steal the win.
You really can't go wrong with either of these choices, so we recommend taking a look and seeing which one will be perfect for your individual needs.
Thank you for reading our Nissan 350Z Bash Bars guide.
We feel that we've provided you with the ultimate products on the market when it comes to 350Z Bash Bars, and now it's time to decide which one is best for your needs.
Have you been keeping top of the maintenance with your Z? If not, did you know that it's easy to do the smaller jobs yourself? Our 350z oil guide will provide everything you need to know when it comes to carrying out an oil change.
---
Photography credits
We want to thank the following sources for the use of their images:
If you enjoyed this article, then please share it with the buttons at the side and bottom of your screen. Find this information useful? Please post a link to it on your Nissan, 350Z and drift enthusiast forums and pages. We appreciate your support.