Ultimate Miata Mods Guide
Are you looking to build the ultimate Mazda Miata? Look no further – we've covered everything you need to know about modding your miata in this guide.
---
Introduction
Given that we've got such a strong following from the Miata fan base, we've had many requests for articles where we round-up the best Miata upgrades available on the market.
With so many different guides, we've built up an impressively comprehensive selection, and we've created this article to get them all in one place.
We, therefore, declare this – the Ultimate Miata Mods guide!
After its unveiling at the 1989 Chicago Auto Show, the Miata immediately changed the two-seater roadster game with the NA's introduction.
The Miata's fresh-out-the-showroom price tag of just $14,000 would soon make it a cult classic among petrolheads.
Best known for its handling rather than power abilities, this perfectly-refined package was about the closest you could get to having a road-legal go-kart.
The first version featured a 115 hp 1.6-liter engine, and Mazda would later introduce the 1.8L variant, capable of a more-impressive 133 hp.
For the 1998 model year, the second-generation NB reached the market. Although enthusiasts were disappointed to see the pop-up headlamps' exclusion alongside the modernized design, however, it thankfully came with a power upgrade providing 140 hp.
When the facelift arrived in 2001, US Miata's received 143 hp, while Japan, UK, and Australian Eunos/MX5 models were treated to 152 hp.
Power increases continued with the limited edition models. The MX-5 SP was limited to just 100 models, which reached 200 hp for the first time, proving that the Miata undoubtedly had more power potential in-store.
This turbocharged variant is the highest-powered Miata (well, MX5) that Mazda has released in the factory form in the present day.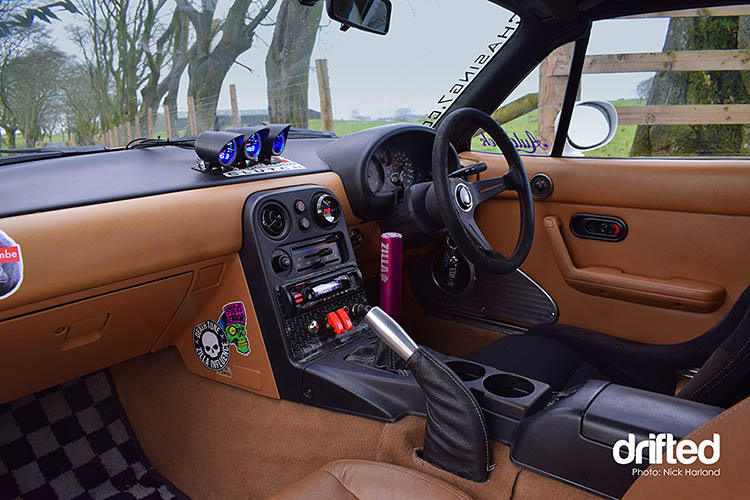 There's no secret that we love the humble two-seater roadster that provides top-down, drifty goodness along with an incredible price tag, making it a perfect choice for those getting started with drifting.
One of the great things about Miata's is that they've continued being sold from the early 90s to the present day, meaning that there are opportunities to pick up some real bargains at the older end of the market.
Alternatively, if you're looking for some modern-day luxuries, then you're still able to head to the local Mazda showroom to get your hands on a brand-new Miata.
Since the Miata has one of the largest aftermarket selections out there, from NA to ND, they provide the perfect platform for tuning, and with the right upgrades, your humble two-seater could soon be battling it out with the big boys.
With some simple upgrades that we've listed in this guide, your Miata is easily capable of being transformed into something special.
Whether you're just looking to replace your tired old battery, upgrade your headlights that resemble candles in the night, or go all-out with a crazy-powered turbo upgrade, we've covered it all.
As tuners, let's face it - we know that the Miata has so much more potential waiting to be unlocked.
If you've not yet purchased a Miata and you're considering whether it'll be the ideal choice for you, make sure you check out our Miata vs BRZ article, where we put the two impressive contenders head-to-head.
For now, let's take a look at the best upgrades to get the most out of your Miata!
---
Best Miata Batteries
Car batteries usually are one of the most straightforward parts when it comes to routine maintenance.
Given the nature of Miatas, they're somewhat of a headache compared to your typical daily driver.
As a Miata owner, you're likely to be already aware that they're fantastic when it comes to chewing through batteries quicker than most cars on the road.
Given the age of the NA and NB models, they're likely to have already been replaced, and if not, we're certainly not surprised that they're reaching the end of their lifespan.
Since some NA's are now celebrating their thirtieth birthdays, it'll be a real cause for celebration if your battery has somehow survived along the way.
If you're stumped when it comes to locating your Miata battery, Mazda designed the NA and NB generations to run the battery in the car's trunk, rather than under the hood, to provide optimal handling performance.
Heat can become a big issue for batteries, especially on a forced induction setup, where temperatures will be far higher than your typical naturally aspirated setup, which is worth thinking about for NC/ND owners.
When it comes to finding the ideal battery for your Miata, ensure you opt for an AGM (Absorbed Glass Mat) battery, as these won't spill acid into your trunk over time, unlike other batteries.
Cheap batteries can be tempting in budget cars. However, given Miata batteries' location, we certainly don't recommend going down the cheap lawnmower/tractor battery route like some 'enthusiasts' will advise online.
With the incorrect fitment, cheap car batteries can become extremely dangerous, and that's certainly not worth saving a few bucks on in our minds.
Let's take a look at our recommended batteries for your Miata.
Drifted Miata NA/NB Battery Winner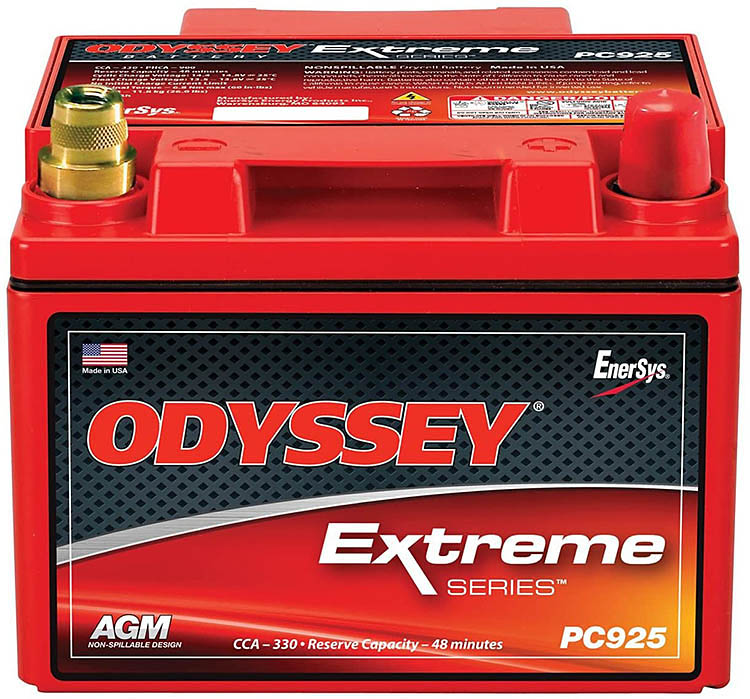 Voltage: 12 volts
Capacity (C20): 28 Ah
CCA (Cold Cranking Amps): 330 A
Length: 168.6 mm
Width: 179 mm
Height: 148.1 mm
Weight: 26 Lbs
Battery type: AGM (Absorbed Glass Mat)
Warranty length: Limited 3 and 4-year full replacement warranty
Value for money:

?????

Purchase link: Buy your Odyssey Extreme PC925MJT Miata battery at Amazon or eBay
The Odyssey Extreme PC925MJT provides the best performance and the best warranty to match. We feel it's worth paying a little extra to get the best battery for your NA or NB.
With a 3-10 year service life, the Odyssey is the ultimate 'set and forget' battery that you'll only need to check on every few years.
It features a 70% longer life-cycle than conventional batteries and has a fast recharge feature capable of fully charging in 4-6 hours.
A slight modification to the mounting bracket required a snug fit, but we certainly wouldn't let that put us off.
We know of many owners that have had fantastic long-term results from this battery.
Our NA/NB Battery runner-up was the Deka/East Penn 8AMU1R.
Drifted Miata NC/ND Battery Winner
Braille B3121 No-Weight Extreme Use Carbon Fiber Battery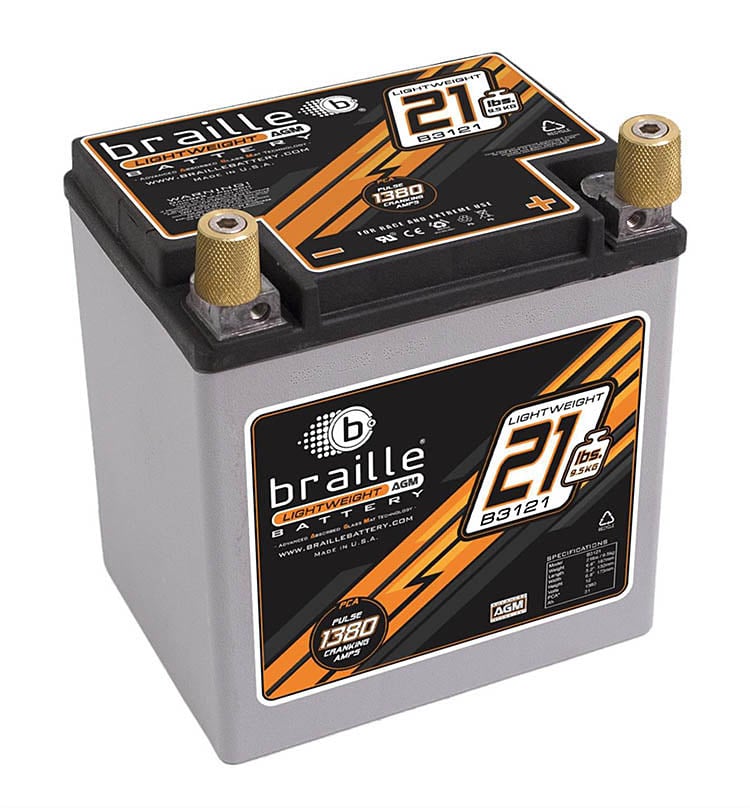 Voltage: 12 volts
Capacity (C20): 31 Ah
CCA (Cold Cranking Amps): 550 A
Length: 168 mm
Width: 132 mm
Height: 173 mm
Weight: 21 Lbs
Battery type: Advanced AGM (Absorbed Glass Mat) Racing Technology
Warranty length: Typically 2 years (Check with reseller)
Value for money:

?????

Purchase link: Discontinued
Despite its unique, tiny, lightweight design, this Braille battery is, in fact, a real bargain when compared to some of its competitors.
For those of you that are planning a substantial engine swap, want the best performance for your race car, or want to treat your Miata to the best battery out there, look no further.
This tiny, lightweight, carbon fiber battery packs more of a punch in a smaller, lightweight package than its competitors.
If you're serious about racing, then each pound counts, and this could present the perfect opportunity for enhanced performance and weight saving at the same time.
Braille has an excellent reputation, and many owners have been delighted with their batteries long-term.
It is a fantastic choice that will be a convenient fit in the front or rear (with a relocation kit) of your NC/ND Miata, and best of all, it's currently at the same price as the Optima.
Designed with the likes of Corvette V8's in mind, your Miata certainly isn't going to be too much of a challenge for this incredible battery.
Our NC/ND Battery runner-up was the Duralast Gold.
If none of these batteries tick the right boxes for your needs, then make sure you head over to our Miata Battery guide, where we provide a vast selection to choose from.
---
Best Miata Coilovers
Since the Miata has one of the largest aftermarket selections out there, prepare yourself to be spoilt for suspension choice. Some owners might tell you not to bother buying a fancy suspension kit and chop your springs, but we all know this is far from the perfect solution.
A highly-regarded coilover kit will completely transform this two-seater roadster's handling, and the Miata provides the ultimate platform to get the most out of a coilover setup.
Coilovers help you to achieve the perfect fitment and stance while giving you a ride range of adjustability, whether you're after a soft, lowered ride or a stiff track-clinging setup.
Drifted Miata NA/NB Coilover Winner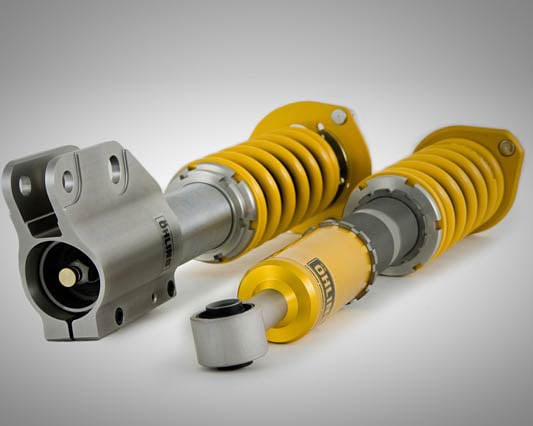 Manufacturer: Ohlins
Levels of damping adjustment: 20
Construction type: Monotube
Spring rate front: 458 lbs/in.
Spring rate rear: 343 lbs/in.
Fitment: Mazda Miata NA & NB
Value for money:

?????

Purchase link: Ohlins Road & Track Miata NA & NB Coilovers
This probably comes as no surprise, but there's no doubt that they are the worthy winners. Combining incredible German quality with one of the best handling setups on the market, you really can't go wrong with these. These also fit the NA if you're looking for an alternative option.
Quality comes at a price, and owners have been delighted with this setup for many years. It features strong corrosion protection, which shows they're built to last. The DFV technology certainly sets these apart from the lower-priced competition in our NB selection.
If they're out of your price bracket, consider opting for the Tein Flex Z for a great low-priced all-rounder.
If you want to check out the best Miata coilovers on the market, make sure you head over to our Miata Coilovers guide.
Drifted Miata NC Coilover Winner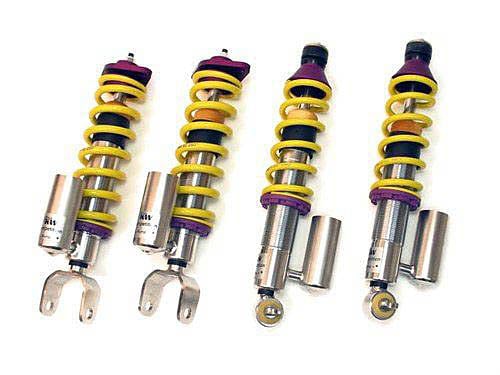 Manufacturer: KW
Levels of damping adjustment: 14
Construction type: Twin-tube
Spring rate front: 230 (lbs/in)
Spring rate rear: Progressive
Fitment: Mazda Miata NC
Value for money:

?????

Purchase link: KW V3 Miata NC Coilovers
KW brings their competitor for the Ohlins Road & Track. This is KW's big daddy kit, which certainly lives up to expectations and includes full 3-way adjustment and corrosion protection. These are unsurprisingly one of the most popular coilover choices on the market.
We know that it's always a personal choice as to whether you go for these or the Ohlins Road & Track. If you like the Ohlins, they're an incredible choice too. If you're after a stiffer ride, then maybe consider those instead.
Drifted Miata ND Coilover Winner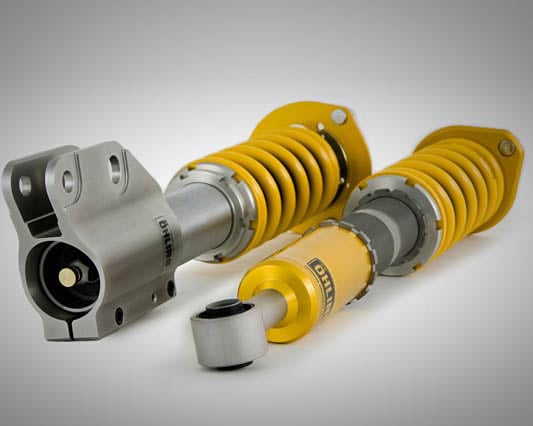 Manufacturer: Ohlins
Levels of damping adjustment: 20
Construction type: Monotube
Spring rate front: 572 lbs/in
Spring rate rear: 229 lbs/in
Fitment: Mazda Miata ND
Value for money:

?????

Purchase link: Ohlins Road & Track Miata ND Coilovers
It's the Ohlins Road & Track that we once again provided the best all-around offering for ND Miata owners.
They were the most featured coilover kit in our guide, and quite rightly so. These suspension giants are certainly not to be dismissed if you're looking for a serious setup.
Quality comes at a price, and Miata Ohlins owners have been delighted with this setup for many years. It features strong corrosion protection which shows that they are built to last. The DFV technology certainly sets these apart from the lower-priced competition.
For our runner-up, we would go with the tried and tested HKS Hipermax GT IV. These are undoubtedly a fantastic lower-price choice for those who aren't too serious about track times.
If none of these coilover kits tick the right boxes for your needs, then make sure you head over to our Miata Coilover guide, where we provide a huge selection to choose from.
---
Best Miata Cold Air Intakes
Once you've had your Miata for a while and enjoyed the fun that top-down motoring and drifting has to offer, you'll probably be looking to carry out some upgrades.
If you're looking to improve the sound of your Miata, perhaps add some engine bay bling and allow it to breathe a little more freely, there's the option of upgrading your cold air intake.
CAI's are one of the most popular off-the-shelf modifications for the Miata. Although the manufacturers' power claims are often somewhat inflated, they can still be a worthwhile upgrade to consider.
It's always important to get your engine breathing as freely as possible, and there's no better way of doing so than relocating your air filter to inhale the coldest air possible.
As you've probably guessed, an engine bay gets pretty hot, especially when pushing your Miata to its limits. Hence, the job of a CAI is to provide additional cooling to the engine to improve its efficiency.
When a CAI is coupled with an exhaust, this is when you not only get the optimum airflow, but you'll also provide a much-improved soundtrack, which you can enjoy to its maximum potential with the roof down.
Drifted Miata NA Cold Air Intake Winner
Thankfully, due to their simplicity and gaining a considerable aftermarket following over the years, there's a vast array of aftermarket NA cold air intakes to tickle your fancy. However, this kit was the particular stand-out for us.
Randall Cowl Intake Duct
Manufacturer: Randall
Fitment: 89-97 1.6 & 1.8L Mazda Miata NA
Value for money:

?????

Purchase link: Discontinued
Are you looking to add some reasonably-priced carbon fiber bling to your Miata's engine bay? Look no further!
Due to its imaginative design, the Randall Cowl Intake Duct often takes the crown as the best choice for those of you that are keen to achieve the maximum performance from your NA Miata.
Taking advantage of its unique design, the Randal Cowl Intake pulls the cool, high-pressure air from the Miata's cowl area, unlike most CAI's, which extract air from the front of the bay. Randall's design is hugely beneficial in hot-weather scenarios and has repeatedly proven to keep engine temps down.
Flyin' Miata claims that they achieved a 5 HP gain with this method in a real-world test scenario with a closed hood. They also state that they noticed significantly improved intake growl under load, too.
The downside of the Randall kit is that you'll need to cut a hole above the firewall, which may not be allowed in some competitions, so it's certainly worth doing your homework if you're likely to have challenging race restrictions.
Due to its popularity and simplicity, a common trend among the Miata community is to build a DIY Randall Cowl. If you're doing a budget build, and aren't looking for engine bay bling this could be a perfect alternative.
The Randall cowl provides a simple yet extremely effective design with a fantastic looking carbon fiber snorkel. For those of you looking for maximum power gains without needing to worry about competition legislation, this is an excellent choice.
If you're looking to compete in your Miata and can't cut into the firewall or don't like the idea of doing so, we'd recommend checking out our runner up, the Apexi Power Intake.
Drifted Miata NB Cold Air Intake Winner
Although the NA and NB share many similarities, the CAI choices on the market are entirely different, and this kit was a clear winner for the NB.
This kit adds a premium-sounding intense, deep growl to your Miata and features the typically excellent build quality that you'd expect from K&N.
If you're after engine bay bling, then this is one of the best looking kits out there. While there are dyno claims of 3-4 HP power increases, this is much of a muchness when compared to its rivals.
Overall, this provides significantly improved airflow, a small power increase, great looks, quality, and a reasonable price.
Many owners say they would happily repurchase it purely based on the intoxicating sound.
Drifted Miata NC Cold Air Intake Winner
Although there are fewer options for NC compared to the previous generations, there are still some fantastic choices to be had.
One of NC's main positives is the ease of access to airflow from behind the front bumper, where most kits remained within the bay for NA and NB's.
The improved location allows for cooler air to reach the engine, but the downside is that it requires longer piping.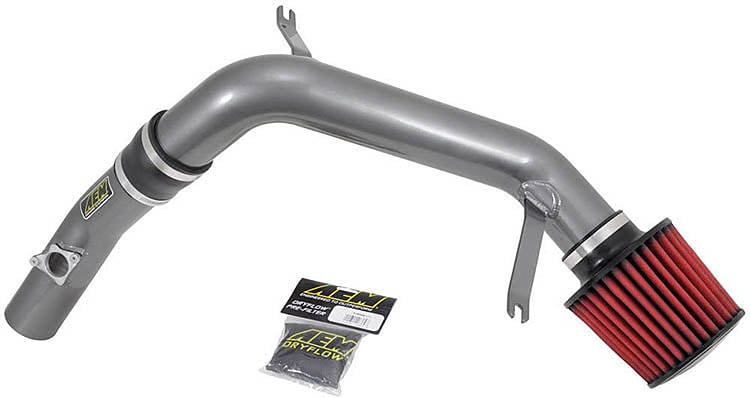 Manufacturer: AEM
Fitment: 05-15 Mazda Miata NC 2.0L
Value for money:

?????
This kit positions the filter in the lower part of the front bumper, where it's capable of extracting the maximum possible airflow.
We think that this is the best thought-through NC kit on the market, and it comes at a reasonable price, too.
Although we somehow doubt their claims of 10 HP gains, we're sure that its ideal location will provide some much-needed cooling for your NC's engine.
Drifted Miata ND Cold Air Intake Winner
Over its lifetime, Mazda has continued to improve its intakes, and you are going to struggle to see significant improvements over the well-refined stock unit on the ND.
You can still enhance the sound and add a unique touch to your engine bay with these great CAI choices.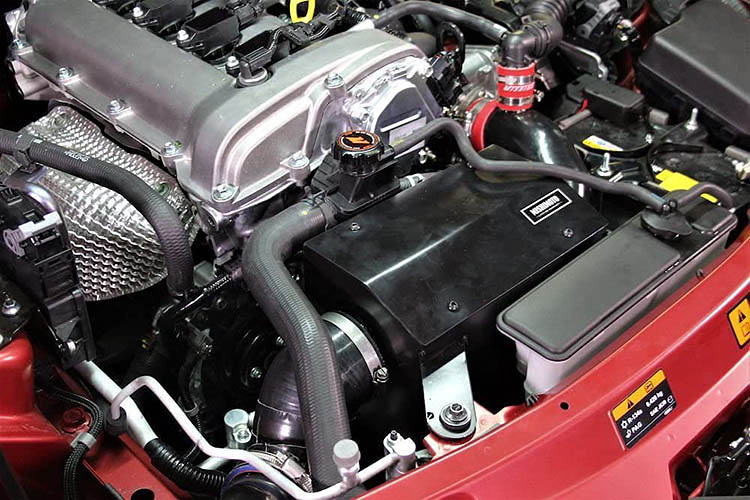 Despite coming in cheaper than AEM, Mishimoto has provided a fully enclosed powder-coated airbox for keeping the temperatures as low as possible.
Although they don't make any excessive power figure claims, they say it may help you achieve up to 3 HP; you'll undoubtedly notice some improvements from a sound perspective.
Mishimoto is happy to stand by their quality products, which is why they offer a lifetime warranty for this fantastic piece of kit, which comes highly recommended.
Overall, this is a fantastic piece of kit, especially for the price, which we're confident won't leave you disappointed (unless you have unrealistic power expectations, of course!)
---
Best Miata Exhausts
As fantastic as this tiny sports car is, many owners are left underwhelmed by the stock power and sound.
Thankfully, an exhaust upgrade will help you squeeze some vital horses from under the hood and provide you with a much more pleasant soundtrack in the process!
Drifted Miata NA Exhaust Winner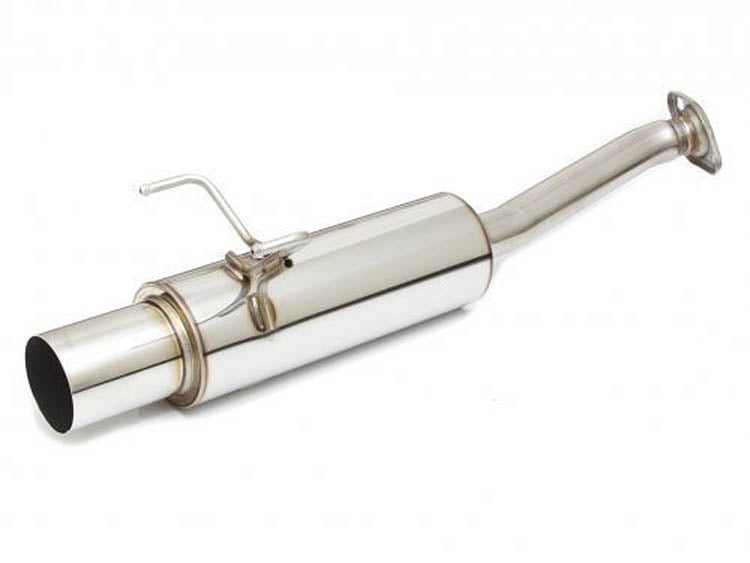 Manufacturer: APEXi
Internal pipe diameter: 50-60mm (2-2.3″)
Tailpipe configuration: 90mm (3.5″) tip
Primary exhaust system material: Stainless Steel
Value for money:

?????

Purchase link: Buy your APEXi N1 EVO exhaust here

This exhaust is the perfect all-rounder - combining great looks, excellent quality, and a sexy tone.
They say that quality comes at a price and the daddy of NA exhausts proves that. This full stainless cat-back system brings APEXi's legendary quality and fitment to make your NA look better than ever.
The exhaust won't drone on long journeys like cheaper offerings, yet it roars to life when you hit the throttle on the canyon runs.
There are certainly cheaper alternatives out there, and if you don't mind your car being louder and drone noise won't bother you, make sure you take a look at those too.
Drifted Miata NB Exhaust Winner
Manufacturer: ARK
Internal pipe diameter: 63.5mm (2.5″)
Tailpipe configuration: 90mm (3.5″) tip
Primary exhaust system material: Stainless Steel
Value for money:

?????
Despite having a higher price tag, it's easy to see why the DT-S is so popular with Miata owners. It boasts a pure, deep exhaust note (which isn't overly loud) alongside a well-crafted, free-flowing design.
Combine this with the great looks and typically fantastic quality from ARK, and there's no doubt this exhaust is a great all-rounder. ARK also offers numerous tips, such as polished, burnt, and techno, depending on your preference!
ARK's popular offering boasts a pure, deep exhaust note while still maintaining a subtle noise level.
Combine this with ARK's usual high-quality and a selection of tips, it's undoubtedly a great choice. If you're after something a little cheaper, we recommend looking at the Megan Racing alternative.
Drifted Miata NC Exhaust Winner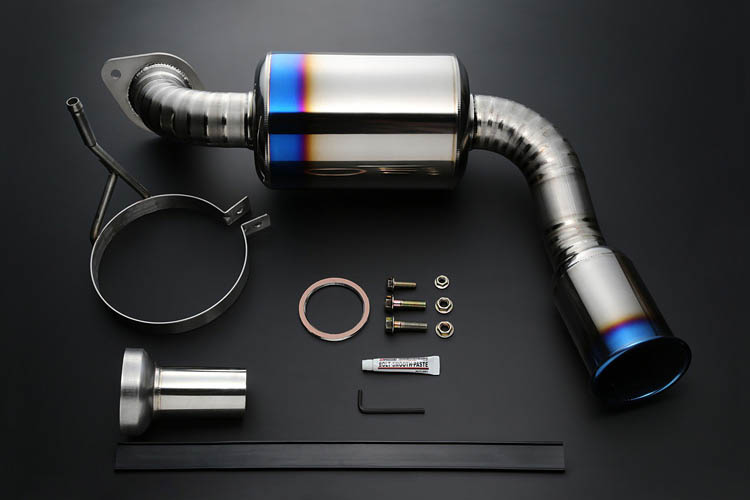 It may seem like a bargain, but this incredible offering from the legendary exhaust creators will come at a price to your eardrums.
This system is certainly not quiet, but it's an absolute work of art and a thing of beauty. If you're building a serious weight-shedding track car, this is the exhaust for you. With a weight loss of 21lbs in this muffler alone, the full exhaust system takes off an insane 16kg total weight from the stock exhaust.
If you only want the best for your NC, combine it with their matching straight pipe and manifold for the ultimate performance, looks, and sound. Admittedly, this may also cause a beating to your wallet too, but we think it'll be worth it!
We don't recommend it for street use, but if you're planning to head to the track and cut down those valuable lap times, this is undoubtedly the choice for you.
Make sure you check out ISR Performance's offering if you're upgrading your street-car.
Drifted Miata ND Exhaust Winner
Manufacturer: GReddy
Internal pipe diameter: 63.5mm (2.5″)
Tailpipe configuration: Twin 82mm (3.25″) tips
Primary exhaust system material: Stainless Steel
Value for money:

?????

Purchase link: Buy your GReddy Supreme ND exhaust
ND owners are spoiled for choice with exhausts, but the GReddy Supreme ticks all the right boxes and offers a full system if you're not just after a muffler.
Featuring the typically impressive welds and design we've come to expect from them over the years, this exhaust certainly doesn't disappoint. It delivers a clean and subtle yet deep rumble, which opens up perfectly when you step on the gas. If you want to get the best out of it, make sure you check out their full exhaust system.
If we've not provided you with the perfect exhaust for your Miata with this selection, make sure you head over to our Miata Exhaust guide, where you'll find a wide selection to choose from.
---
Best Miata Racing Seats
Miata seats, particularly from the earlier generations, seem to have earned themselves a love/hate relationship among enthusiasts.
Some will argue that the Miata's OEM seats are fantastic, and they've even become a popular 'upgrade' for vintage car owners that are looking for a little more comfort or support on a budget.
On the other hand, other owners believe that they're too hard, too flat, and don't feature anywhere near enough support.
Either way, I think it's safe to say that although the stock seats are adequate for many purposes, there's no question that they're deteriorating with age, and let's face it, there are better alternatives out there, whatever your needs may be.
Some owners look to aftermarket seats for styling purposes. After all, the seats in a Miata are far more visible than most cars, especially when it comes to a roof-down blast.
Other enthusiasts may be looking to find the ultimate racing seats, which will provide adequate support, ensuring they don't end up flying over to the passenger side when they initiate their first drift, or flinging them around the car on their first grip day.
Although some owners opt for upgrading their OEM seats with the likes of the alternatives found in the Lotus Elise, this can soon end up becoming costly, and you're likely to be left with old, worn seats, which are crying out for a refurb.
Not to mention that their increasing popularity and rarity are making them harder than ever to come by with a reasonable price-tag.
However, if you want to keep life simple, then there's a vast array of incredible brand new aftermarket seats waiting on the shelf ready to be fitted into your Miata.
When looking for the perfect seats for your Miata, you'll ideally want to find seats with around a 19.5-inch base and 21-inch shoulder width. However, the shoulder width will depend on the height where the seat widens.
Typically, the maximum base width you'll be able to consider will be around 22-inches, with a shoulder width limit of 24-inches.
With all things considered, we found these seats to be the perfect choice for Miata owners:
Manufacturer: Bride
Base width: 18.5″
Shoulder width: 22″
Value for money:

?????
Bride's A.i.R. series is the latest in Bride's revolutionary line of seats, which could quite possibly be the ultimate seat for Miata owners.
Specially designed with two-seaters in mind, the A.i.R. series utilizes Bride's LOWMAX system to ensure the lowest possible seating position, allowing zero offset with the floor pan.
The new lower-angled side bolsters make getting in and out of the seats far more convenient than traditional buckets. Yet, the modern design also ensures that you still receive significant hip support when driving.
Stylish, unique, and weighing in at just 6.8kg per seat, this brand new offering from JDM legends Bride could well be the perfect Miata solution.
Although the A.i.R. isn't the usual, common choice, we feel that's because they're one of Bride's latest releases and haven't yet had time to settle into the deserved spot in their unique market.
They've been designed with two-seater convertible sports cars in mind, and they look stunning in any generation of Miata.
Bride intentionally aimed at having minimal head-rest and shoulder bolsters to reduce drag when driving with the top down.
Not only that, but they've also made the seats as narrow as possible to allow for maximum clearance within the tight Miata interiors. We have no doubt they designed these with the likes of the Miata owner in mind.
If these are out of your price range, we highly recommend checking out the insanely reasonably-priced Corbeau Forza, which will be perfect for a lower-budget build.
On the other hand, if you've got some cash to splash and you're looking for a luxurious, premium seat, then look no further than the Sparco SPX
We understand that the A.i.R. won't be ideal for everyone's taste and budget, but you really can't go wrong with any of the five-star options in our Best Miata Seats guide.
---
Best Miata Supercharger Kits
Although the Miata provides the perfect opportunity in the twisties for low-budget fun, it can sometimes lack the necessary grunt when it comes to the straights, whether at the track or when you're carving the canyons.
Thankfully, the aftermarket tuning scene has stepped in to provide a vast range of aftermarket supercharger kits to suit the power goals you've been craving.
Thanks to the impressively low weight of these cars, forced induction can completely revolutionize your Miata and provide you with the perfect opportunity to cause some real upsets, even without the need for a huge budget.
Not sure whether a turbo or supercharger setup is going to be best suited for your needs? Make sure you check out our comprehensive turbocharger vs supercharger guide.
Drifted Miata NA Supercharger Kit Winner
Supercharging options for the classic NA platform Mazda Miata are thin on the ground in 2018. After some research, a well-regarded kit that is still available today is this Rotrex offering.
While the entry-level price is high, this kit offers everything you need to double the stock bhp of your 1.6 Miata.
An intercooler and supporting hardware should enable you to run this power level without compromising on your Mazda's reliability.
Features
Rotrex C30-74 blower with 80mm 4-rib pulley
TDR auto tensioner supercharger mounting system
TDR air to air front mount intercooler
TDR custom radiator air flow panels
TDR stainless steel intercooler piping
TDR custom silicone hoses including a cold air intake system with K&N filter
TDR Custom fender mounted supercharger oil cooler setup
Supercharger oil reservoir with hoses and fittings
TDR Insulated Header Heat Shield
TDR Oil Catch Can System
TDR plug and play fuel card engine management
TDR custom fuel injectors
Walbro 190lph fuel pump and strainer kit
NGK spark plugs
TDR Hood Lift Kit
Drifted Miata NB Supercharger Kit Winner
Fast Forward Superchargers provide a great selection of supercharger kits for NA/NB Miatas, and thanks to their personalized service from the owner, Tom, they've earned themselves one of the highest regarded reputations in the Miata scene.
We've heard some incredible stories about Tom's kindness and hospitality, which goes a long way with trusting your precious Miata to be in the right hands.
If you're looking for support FFS's very own online forum is frequently visited by Tom, who helps people with every potential supercharger issue imaginable.
Their MP62 supercharger kit is the entry-level option, which has everything you need to get your NA/NB hitting 160-170 WHP on a '90-'93 1.6L Miata and 190-200 WHP with the '94-'05 1.8L variation.
This CARB approved kit provides everything you could need to have your NA/NB Miata running 10psi on 91 octane pump gas.
If you like the sound of this kit, but it's not providing as much power as you'd hoped, then make sure you check out our next option.
Features
Eaton MP62 Supercharger (or optional TVS 900)
70mm Throttle Body
FFS Engineered High Flow Cast Throttle Body Adapter
FFS Engineered High Flow Cast Intake Manifold
Complete Plug and Play FFS Engine Management with Boost Fuel, Timing Control + ECool™
High Flow Fuel Rail
Separate 6-Rib Belt and Pulleys with Automatic Belt Tensioner
Iridium Spark Plugs
High Flow K&N Intake + Cold Air Box
All Fittings and Hoses for Kit Installation
Drifted Miata NC Supercharger Kit Winner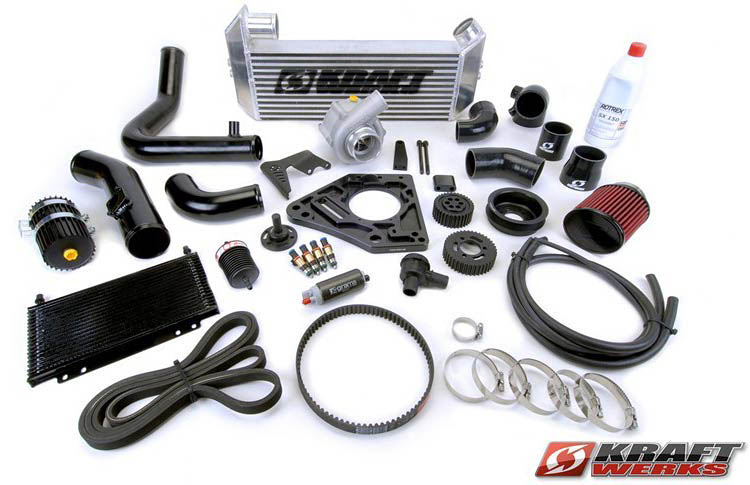 Manufacturer: Kraftwerks
Fitment: Mazda Miata (MX-5) (NC) 2006-2013
Supercharger type: Centrifugal
Value for money:

?????

Purchase link: Kraftwerks Supercharger Kit
The Kraftwerks team has done a fantastic job of ensuring that all of your component upgrade needs will be taken care of with this very affordable package.
From the robust and performant Rotrex supercharger unit itself, the cooling, the fueling and the engine management are all supplied in this kit.
Based on the performance and features, we rate this kit a full five stars.
Features
Rotrex C30-84 Supercharger Unit
Ultra high efficiency
Silent operation
Low operating temperatures
Self contained lubrication and cooling system
High reliability
Fuel and Engine Tuning
Optional EcuTek Tuning package
Base Maps Developed in Collaboration with Moto-East
550cc Grams Performance Fuel injectors
265 Lph Grams Performance Fuel Pump
Independent Drive System
Does not share belt with engine accessories for greater reliability
If the drive belt breaks, you won't be left stranded
Allows for more flexible offset supercharger placement
Toothed Belt System
Zero slip under the heaviest loads and hardest accelerations
Offset Supercharger Placement
Allows for greater clearance around belts, thus reducing chances for rubbing
Allows for simple and more efficient tubing layout
No poorly designed, inefficient and goof-looking custom hoses/tubing into the throttle body
Improved Water pump Belt Routing
Improved support on custom nose pulley for water pump.
Increased traction and efficiency of water pump
Optimized Tubing and Intercooler Layout
2.5″ mandrel bent aluminum hot side tubing into intercooler made possible because of newly designed washer bottle (included)
3.0″ mandrel bent aluminum cold side tubing into throttle body made possible because of independent drive and offset supercharger configuration
8 Row, 3.5″ thick Intercooler
Intercooler good up to 460whp
Ease of Installation and Tuning
Simple bolt-on installation. No cutting, drilling, or welding
4.5 hours installation time (approximate)
Kits sold with or without tuning
Drifted Miata ND Supercharger Kit Winner
Manufacturer: HKS
Fitment: Mazda Miata (MX-5) (ND) 2015-2018
Supercharger type: Centrifugal
Value for money:

?????

Purchase link: HKS GT2 Supercharger Pro Kit
HKS has brought its tuning expertise to the ND Miata market with its GT2 supercharger pro kit. This extremely high-quality Japanese bolt on kit includes everything you need (other than engine management and tuning) to inject some serious power into your 2l Miata.
This supercharger delivers a potent but safe power hike of 50 wheel horsepower for your ND. You can also order the optional 80mm pulley to deliver an additional power bump of 13 wheel horsepower at risk of slightly more engine wear.
HKS has a fantastic reputation in the tuner world for producing high-quality products that deliver excellent results. They tend to be on the pricey side, but you know you are getting some of the best kit available.
We are confident to recommend HKS kits. Although it may be one of the most expensive on the market, you will be buying over-engineered and safe performance for your Miata. Highly recommended.
If none of these kits have tickled your fancy, then make sure you head over to our comprehensive Miata Supercharger Kit guide for plenty more options.
---
Best Miata Turbo Kits
What if you're looking for the crazy power delivery that only a turbocharger can provide? We've got you covered.
Be warned; this will turn your sensible daily driver into a weapon that'll leave you grinning from ear to ear every time you turn the key in the ignition!
Miata's are one of the most common cars for carrying out DIY turbo modifications, and there's a vast wealth of information spread out across the internet for building a DIY turbo kit, whether you're looking for enormous power or building on a budget.
However, we've noticed that there are very few guides that put the off-the-shelf turbo kits side by side to help you pick the perfect choice for your needs.
Sure, a DIY kit may save you a few bucks, but if you haven't got several spare weeks, or you're not an expert when it comes to fabrication and technical knowledge, we'd personally recommend paying the extra bucks for a tried-and-tested method.
Not only this, but you can ensure that if you get stuck, the support from these companies will be second-to-none, rather than posting up on an owners club in the hope that someone may have a solution to your custom-based issue.
So, let's take a look at the best off-the-shelf turbo kits that are available for each Miata generation:
Drifted Miata NA/NB Turbo Kit Winner
Manufacturer: Flyin' Miata
Fitment: Mazda Miata NA 90-97, NB 99-05
Turbo configuration: Single turbo
Value for money:

?????
Previously known as the 'Voodoo II', and one of the first-ever kits to the Miata market. Flyin' Miata has been refining their kit endlessly since to provide the ultimate option for NA/NB owners over the years.
This setup provides everything you're going to need in a convenient, perfected package. Think of this as the ultimate NA/NB 'bolt-on and drive away kit', supplying everything you're going to need to have your boosted Miata up-and-running.
Any searches online will bring up heaps of delighted customers that have been running this kit for thousands of miles with perfect reliability.
One of the main additional benefits of this kit is that it's the only NA/NB option that is CARB legal. This means it's emissions legal in ANY state in the US. Pretty neat, huh?!
In our opinion, there's simply no better choice for those of you looking for a quick, easy, and perfected off-the-shelf kit for your NA/NB Miata.
Stage 1 Features
Emissions legal everywhere in the US! CARB EO D-601-3. This is the only truly CARB legal forced induction option available for the 1.6 and 1.8 NA/NB!
Turbo manifold and outlet with Inconel hardware
GT2560R turbocharger
Intercooler w/ hardware
2.5″ turbo downpipe
Piping, clamps and intake kit
Recirculated bypass valve kit
'The Voodoo Box'
Misc. parts for Stage 1 turbo kit ( includes EO sticker)
Turbo oil supply kit and MSM blocks
Optional gauge pods
Optional boost gauge
Optional drill and tap for 3/8 NPT (oil pan drain)
Silicone water supply lines
High temperature rubber oil drain
Turbo heat shield for NA and NB chassis
Drifted Miata NC Turbo Kit Winner
Despite the NC being an excellent potential base for a product, there's not a wide range of variety on the market when it comes to aftermarket turbo kits.
Fab9 Tuning is one of the companies that opted to fill the gap in the market, and they've done so in style.
This kit comes with an exceptional reputation from many delighted owners and should certainly be a consideration for any NC owners considering opting for a turbo setup.
Features
Full Stainless Construction
Sch10 Thick Wall 304 Stainless
0.500" CNC'd Flange 1/2″ Stainless Flange
Manual boost controller included on production models
BorgWarner EFR Turbocharger - Internally Gated
Fully Back Purged Tig Welded Fabrication
High Flow Full 4-1 Merge Collector
AC + PS Compatible Design
Bar and plate, offset turbulator intercooler to support 515hp (crank)
Full Stainless Braided AN line package for the Oil/Coolant - None of those silly rubber hoses and worm clamps!
Output ranges from 250whp to 460whp with the included turbocharger 500+ with the 7163 option.
No modification required to fit the manifold/downpipe.
Drifted Miata ND Turbo Kit Winner
Manufacturer: BBR
Fitment: Mazda Miata ND 2016+
Turbo configuration: Twin-scroll turbo
Value for money:

?????

Purchase link: Buy your BBR turbo kit here
UK-based BBR has earned itself one of the most exceptional reputations in the tuning industry. Flyin' Miata has teamed up with them to provide this incredible turn-key LHD kit for the US market.
In true Flyin' Miata style, they've once again managed to make this kit CARB-legal in all 50 US states. This is undoubtedly strong selling point for those of you that require it!
BBR has provided a re-flash for the stock ECU along with the package. If you don't own or know anyone with the Ecutek tuning interface, then you'll need that to load the tune onto the computer.
We do NOT recommend running a turbo kit without correct management under any circumstances!
Features (Based on Stage 1 Kit)
BBR bespoke twin scroll hybrid TSX30-71R turbocharger including jet turbine specification fixings
BBR bespoke cast iron twin scroll exhaust manifold
BBR stainless steel downpipe with catalytic converter
BBR high-flow lightweight front mounted aluminium intercooler with factory look black intake pipes
BBR high-flow custom silicone turbo pipes in factory look black finish with stainless steel hose clamps and unique black coating
BBR lightweight aluminium battery tray in factory black finish
BBR harness extension to allow the use of the stock battery
BBR Recirculating piston type dump valve in factory black finish
BBR / Bosch MAP / Temperature sensor
BBR high efficiency carbon fibre turbocharger heat shield
BBR high flow K&N Typhoon induction kit
BBR stainless steel oil and water lines
BBR Starchip EcuTek RaceRom calibration software
If we've not found the perfect turbo kit for your needs, then make sure you head to our Miata Turbo Kit guide for plenty more offerings.
---
Best Miata Wheels
There are many advantages to replacing the wheels on your Mazda Miata. Although looks are important, they aren't the only thing to consider, depending on what your intentions are with your Miata build.
Most rims on the market provide significant weight reductions over the stock wheels, some more so than others, and maintaining or even shedding weight from the already-light chassis offers the perfect solution when it comes to getting the most out of your Miata.
The OEM NA/NB Mazda Miata typical wheel weight ranges between 10-15lbs per corner.
For the NC/ND models, that goes up to nearer 20lbs.
Alongside the acceleration advantages from the potential weight saving, having a wider track will also improve the car's handling, which means it'll become quicker in both a straight line and the twisties.
Once you've got the acceleration and handling improved, you can refine the handling even further by opting for wide wheels, which will allow for more grip and traction on the road.
However, if you happen to go too wide on your tire width on a stock Miata, you'll likely gain weight and potentially slow down your acceleration times, and we certainly don't want that!
For drifting or racing, you're going to want lightweight rims.
However, if you're cruising the streets without performance in mind, weight might not be a huge concern, in which case you can opt for some of the super-wide options out there along with a fender kit.
We've not only chosen some of our favorite rims, but we're featuring what owners have opted for as their ultimate Miata choice.
Drifted Miata Wheel Winner
Whether you own an NA, NB, NC, or ND, Enkei has provided a wide range of fitments to ensure they fit every Miata family variation.
In our mind, there's no question that the RPF1's are the finest all-rounder available to Miata owners.
They might not be the cheapest, but we feel affordable and undoubtedly worth the money.
They're not only lightweight but also incredibly robust and will withstand far more stress than most of the budget alternatives out there when it comes to hitting up the track, or the street, in style.
Drifted Miata Wheel Runner-Up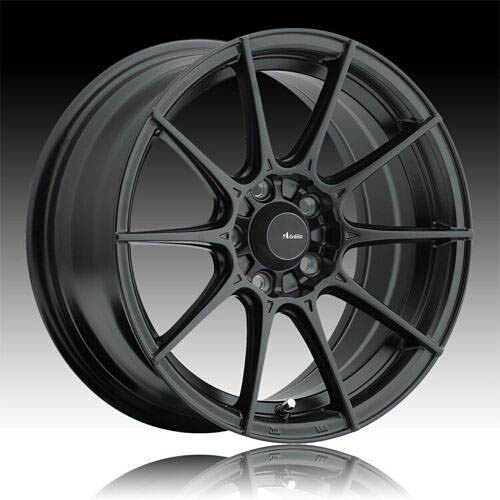 The Advanti Storm S1 rim has been continually growing in popularity, and it's easy to see why.
Available at a fraction of the cost of the Enkei RPF1, these impressive wheels have implemented Flow Forming Technology to provide similar weight at a fraction of the price.
There's a wide range to choose from to find the perfect fit for your Miata.
Drifted Miata Wheel Budget Choice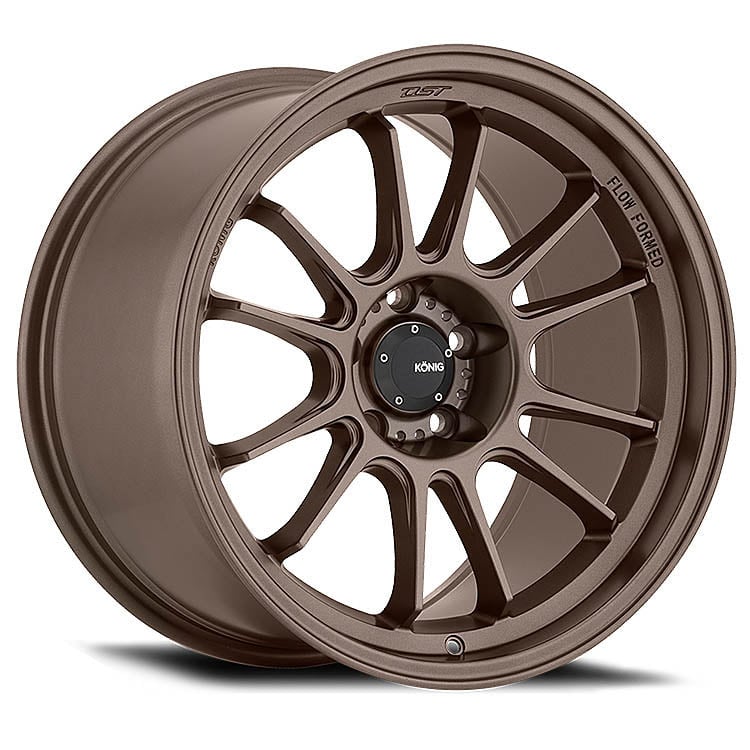 Providing exceptional value for money to the market, the Konig Hypergra wheels have well and truly earned their spot as our guide's budget choice.
Don't make the mistake of thinking that budget means cheap, nasty, and heavy, as the Hypergrams wheels are the complete opposite.
Once again, integrating the exceptional Flow Forming Technology, these lightweight rims are superior in the weight department to some of the premium offerings out there, and you'll get Konig's usual quality to match.
A fantastic choice for the money, and it's easy to see why it's such a popular wheel choice within the Miata community.
If you're not convinced by our favorites, understand entirely – looks are in the eye of the beholder, after all! We've got plenty more to choose from in our Miata Wheel guide.
---
Conclusion
We hope we've provided you with the perfect choices when it comes to choosing the best upgrades for your Miata, whatever your needs and budget may be.
We've spent countless days combining our extensive Miata knowledge alongside the opinions of our fans, Miata enthusiasts, forums, and social media channels online to bring you what we feel are the ultimate picks.
However, if our favorites do not entirely convince you, or they don't tick the right boxes for your needs, then we highly recommend heading to our Miata Tuning Guides to find the perfect solution.
There we have it! This colossal Miata tuning guide should provide you with the perfect products to begin constructing the ultimate Miata.
Have we missed any mods that you'd like to see in this guide? Feel free to drop us a line, and we'll be more than happy to compare the best products for you to take your pick.
Looking to make the most out of your Miata? You'll find our engine swap guide helpful.
Thank you for reading our Mazda Miata Mods guide.
If you enjoyed this article, please share it with the buttons at the bottom of your screen. If you've found this information useful, then please take a moment to share it with other Miata tuning enthusiasts. We appreciate your support.
---
Photography credits
We thank the following entities for the use of their photography in this article: