Ultimate SR20DET Turbo Guide
We review the best SR20DET turbo kits available to help you decide which turbo is the best fit for your SR20. This is the ultimate SR20DET turbo guide.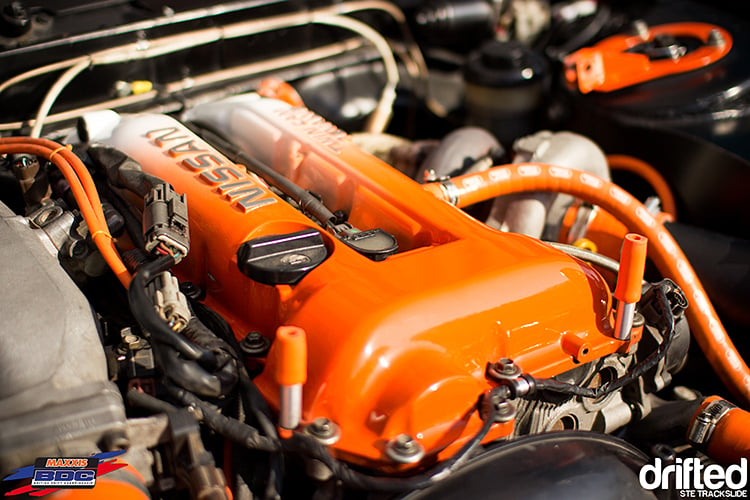 ---
In a hurry? Here is our SR20DET turbo summary
| Budget Choice | Drifted Choice | Big Power Choice |
| --- | --- | --- |
| | | |
| ISR Performance RS3871 Turbo | Garrett GT2871R Turbo | Garrett GTX3071R Turbo |
| 🔥🔥🔥🔥 | 🔥🔥🔥🔥🔥 | 🔥🔥🔥🔥🔥 |
| Buy Now | Buy Now | Buy Now |
Nissan's SR20 engine is undoubtedly one of the best four-cylinder engines ever made, and we think it could quite possibly be our favorite. From the humble stock engine, right the way through to the outrageously modified 2,000+ HP drag cars. It's not just the drift scene that trusts this fantastically tuneable engine to continue raising the bar in the present day.
You may well be thinking, "But I was told that SR20's are hideously unreliable?" The problem is, that in the drifting scene, in particular, people are often keen to squeeze as much power out of an engine without thinking about adequate supporting mods or sufficient maintenance. If you're bouncing your car off the limiter on a terrible tuning map all day with a huge turbo, then the chances are it's not going to be too delighted.
Those that have tuned their SR properly with the correct supporting mods for the power whilst keeping up the correct maintenance intervals will likely be rewarded with a reliable engine which will keep on performing.
We all know just how highly regarded the SR20 is in the drifting communities around the world, but check out this awesome compilation video to hear some of the craziest SR's on the planet pushing the boundaries of what you thought was possible in all forms of motorsport:
SR20's have served their place in the bays of many different cars over the years, even from the showroom. From naturally aspirated front-wheel-drive grocery getters, right he way through to the SR20DET which found its home under the Silvia hood which we know and love.
With some naturally aspirated SR20DE's leaving the factory with under 200hp, it's then capable of achieving around double the power at 400hp on the stock bottom end, provided the correct supporting modifications have been carried out.
If you're wondering how high it can go with a huge amount of upgrades, we weren't exaggerating when we said that there were 2,000hp drag cars, and with Mazworx representing the Silvia family with their surprising engine choice for world record hunting, it proves what these engines are capable of with the right setup, even if they are a little 'enhanced' from the OEM specifications!
Check out this video of their absolutely ridiculous S15 throwing down 6-second runs, here:
When it comes to the OEM T28 turbo which was found in the last SR20DET's to roll out of the factory in the S15, that's capable of hitting around 280-300hp at 1.3 bar. You will, of course require the additional breathing and cooling modifications to ensure reliability.
If you're looking to go beyond this, or would rather achieve these numbers without having to push the turbo to its absolute limits, you're going to want to upgrade to one of the many aftermarket turbo options available on the market.
As we mentioned, we wouldn't plan to go above 400hp on the stock engine before you have to consider forging, which is always a great idea if you have the cash to splash. To even get to 400hp, you're going to have a number of bolt-on modifications to consider, including; A boost controller, intake, exhaust, injectors, front mount intercooler, uprated fuel pump, AFM, clutch and a piggyback or standalone ECU with mapping.
These parts add up quickly, and we always recommend to consider which setup you'll likely to be happy with long-term to save having to buy parts twice and aim towards that.
For an SR20, the .64 a/r turbos are preferred due to their low-end power, which offers a faster spool and makes them far more ideal for drifting. If you're after more high-end power with a slower spool that'll suddenly throw you into your seat and light up the rear wheels when you hit boost, you'll want to consider going down the .86 a/r route. This is obviously a little trickier when it comes to drifting as it's preferred to have easily accessible boost when you need it.
If you're still reading, you must have a rough idea of which route you're planning to go down. Whether you want to replace your tired OEM turbo, upgrade to a low-spooling drift setup, or run a laggier high-powered monster setup, we've got you covered in our SR20 turbo guide.
---
Let's take a look at our SR20DET turbo selection
To read more about any of these products simply click on the turbo kit name or photo.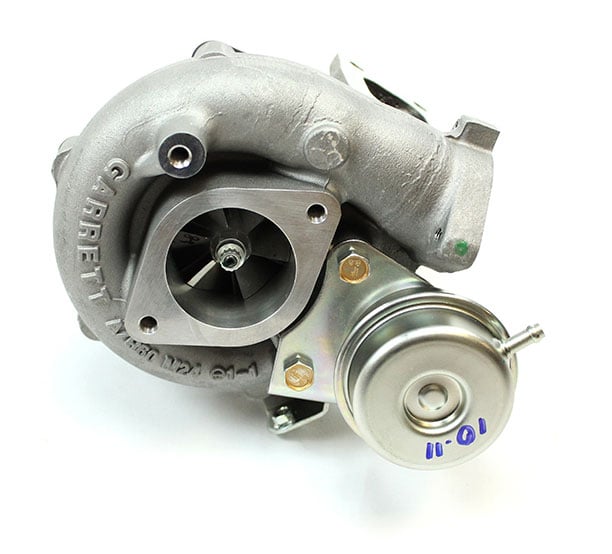 Manufacturer: Garrett
Fitment: Nissan SR20
Turbo configuration: Single turbo
Value for money:

?????
Our comment: We kick off our list with one of the highest regarded companies in the turbocharger world – Garrett. Their GT2871R has stood the test of time and is frequently classed as the perfect turbo to compliment your everyday SR20 for those that don't want to mess about with the engine internals.
Realistically (besides the obvious cooling/exhaust mods), an AFM, injectors, uprated fuel pump and remap will be all that you'll need to see some fantastic power out of this. If you're looking at the 350-400hp range, this is the ultimate choice for you. Expect to hit full boost at under 4,000rpm and for it to pull hard the whole way to the redline.
If you're after a tried and tested method for your SR20 that'll offer the best price and power to lag ratio combination, look no further than the GT2871R.
Not yet purchased your manifold? Enjuku Racing offers a great GT2871R package which is well worth checking out for the price.
Manufacturer description: "This GT2871R uses Garrett GT technology. Dual Ball Bearing GT2871R turbo assembly with T25 style turbine inlet and S15 front compressor housing. Comes with internal wastegate pre-assembled and is a direct bolt on replacement for S14/S15 T28 turbochargers."
"This turbo will produce 375 horsepower to the wheels in an SR20DET equipped with the right supporting modifications. Full boost can be achieved as low as 3800 rpm with the .64 a/r T25 style exhaust housing."
---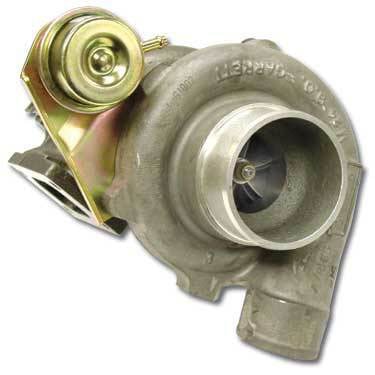 Our comment: The amusingly named 'Disco Potato' has been another extremely popular SR20 choice over the years.
For those of you that are looking for a simple setup, this will run fine without the need for an AFM, injectors, fuel pump or remap like the GT2871R. Some basic cooling and exhaust mods should see this run a respectable 330hp and will only be slightly laggier than the stock SR20 turbos.
A great solution if you're looking to keep life simple without huge power and minimal lag. For those of you looking for a low maintenance drift setup, the responsiveness and power of this setup makes it one of the best options.
Manufacturer description: "The Garrett GT28RS Disco Potato Turbo Charger is easily the most famous turbocharger released by the manufacturer. With a T25 .64 AR back-housing, the Disco Potato (GT28RS) has been seen on a variety of small displacement vehicles, making good horsepower levels up to 330 whp. This amazing turbo is designed with power band in mind."
"The GT28RS has been used on Dave Colemans' sport compact car Nissan Silvia, Garrett's own project Sentra, and numerous Mazda Miatas. With its high flowing NS111 turbine wheel and highly efficient 60mm compressor wheel, the Disco Potato is the choice of many turbo enthusiasts."
---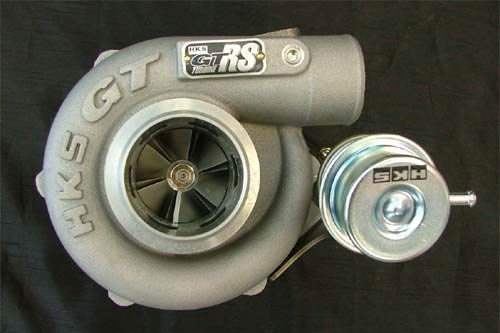 Our comment: HKS certainly needs no introduction, and the Japanese powerhouse brings their first of two turbochargers to our guide.
Despite being a popular upgrade, which unsurprisingly has a lot of positive feedback, the HKS GT-RS turbo is essentially a re-branded GT2781R (apparently made by Garrett themselves), featuring a different compressor wheel which allows it to run slightly more efficiently.
As much as it's a great turbo, unless you're keen to maintain the JDM aspect of your car, we would personally choose to go with the GT2781R at less than half the price.
Manufacturer description: "Give your Nissan SR20DET more bite with a turbo upgrade kit from HKS. Designed to replace your stock turbo, the new, larger HKS GT Sport Turbos are designed and sized to promote maximum power and response for maximum airflow throughout the RPM band."
---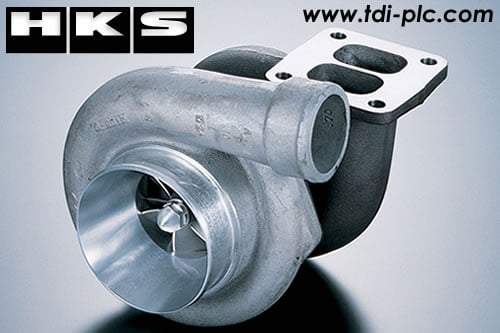 Our comment: As with the HKS GT-RS, it's a very similar story with regards to it being produced by Garrett, for the GT-SS, it's essentially the same as the GT28RS (Disco Potato) turbo.
With the price difference not as drastic, the GT-SS could well be worth considering for those of you that are looking to go for maximum power of around 330hp. The HKS GT-SS is another fantastic turbo for lower powered drifting and some owners have achieved 1 bar of boost at 2.5k revs on the stock manifold.
Manufacturer description: "HKS GT Ball-Bearing Sport Turbo Upgrades are bolt-on turbo upgrade kits for factory turbo-charged vehicles. These kits consist of new, larger HKS GT turbos designed to bolt directly on to the stock manifold(s). HKS GT Sport Turbos are designed and sized to promote maximum power and response for maximum airflow throughout the RPM band. From the HKS precision cast turbine and compressor housings to the specially designed blades, each turbo is crafted to provide high levels of performance and quality."
---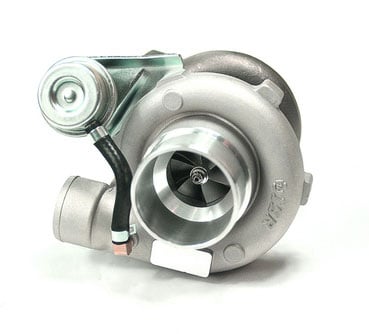 Our comment: ISR Performance go up against some of the biggest names in the tuning industry with their extremely cheap RS3871 option.
Formerly (rather awkwardly) known as ISIS, ISR have actually been around for some time now, and this kit has been tried and tested with some great responses. Sure, your buddy might refer to it as a 'Chinese' turbo and tell you not to touch it with a bargepole, but we prefer to look at real-world tests instead.
This kit is once again based on the much-loved GT2871R, but runs a journal bearing instead of a ball bearing. Sure, it's not quite as impressive as the GT2871R, but for just a fraction of the price, it's a great alternative for those of you on a budget.
We've heard of several owners happily pushing their GT3871 to its limits for several thousand miles with no issues at all. If you're looking to maximize the performance and frequently push your SR20 as hard as possible, we'd recommend saving up for the GT2871R, but the RS3871 certainly has its own place in the market.
Manufacturer description: "Many sports cars have factory-installed turbo options. Although, even when the manufacturer's turbo drive is in place, it's no guarantee that a performance car enthusiast will be pleased with the results."
"Whether you have a Nissan 240SX that lacks turbo capability or you want to upgrade your car's current turbo capacity, ISR's Performance RS3871 Turbo for Nissan SR20DET is perfect for the job."
---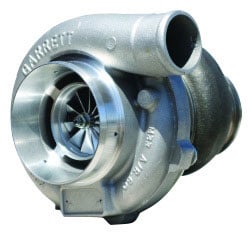 Our comment: Garrett return to our list with the first of the big power 'GTX' setups for those of you looking to take things one step further with your SR20. We personally wouldn't want to run over 400hp on stock internals, but with the right tuning, the GTX3071R can realistically achieve around 500hp.
Some owners have ran this at 400hp on stock internals but have advised that it will have increased lag over some of the alternative options, so we would personally be running the GT2871R for up to 400hp. If you're looking to exceed that, then this could well be a potential answer and will undoubtedly pull like a train to the redline.
Manufacturer description: "GTX3071R dual ball bearing turbo with ultra high flow compressor wheel and featuring Garrett 11-Blade technology. 550+HP potential flow."
---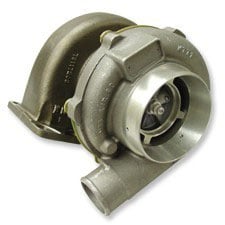 Our comment: The second option in the GTX lineup is the GTX3076R. This is a great turbo for those looking for even bigger power gains than the GTX3071R, but it does come with more lag. However, once it does come on, expect the sudden surge of power to throw you back in your seat!
If you're looking for a high-speed, big power track setup, the 3076R is going to be a great choice, but we wouldn't personally want to run this on a lower powered SR.
Manufacturer description: "A Garrett GT3076R turbocharger gives your SR20 the horsepower it needs to own the road. This system forces air into your car's combustion chamber for a more efficient and more powerful stroke. Whether you're burning up the street or the track, it's a must-have performance component. Give your car the turbo it deserves."
---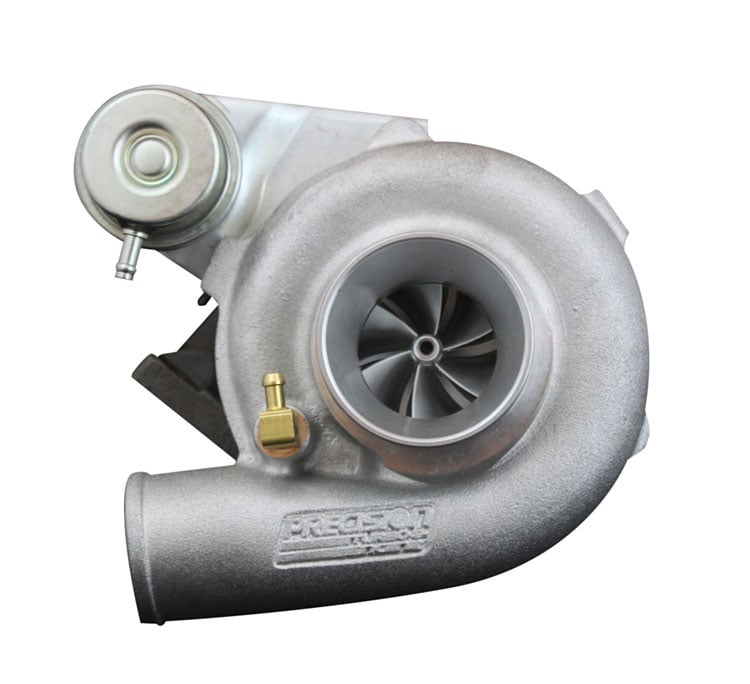 Our comment: The Precision Turbo 5128 is Precision's equivalent to the Garrett GT2871R. Given that so many turbos are based on the GT2871R, it's a testament to just how impressive it is.
Precision Turbo's have a good reputation, and if there is any reason you'd prefer not to go with the Garrett then this is an ideal alternative. Fits with the stock manifold, but will ideally need the same upgrades as the GT2871R. This turbo provides a great, consistent power delivery.
Manufacturer description: "If you need more power, upgrade your turbocharger to Precision Turbo today. Designed to replace your stock Nissan SR20DET turbocharger, the 5128 is race engineered for performance and durability. Don't get left behind!"
---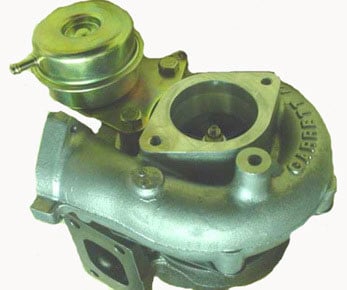 Our comment: There's no doubt that the T28 is a highly responsive and capable turbo. This is the final version of the SR20DET turbos that Nissan released on the S15 and the best performer.
We've shown you the positives from the alternatives, but if your OEM turbo has an issue, you may well want to stick to keeping your SR20 how Nissan intended from the factory.
This is obviously a fantastic turbo, but we feel you'd get enjoy an uprated turbo with a comparable level of reliability for a little more money and a whole lot more enjoyment!
Manufacturer description: "Whether you need a replacement for your damaged stock Nissan S15 SR20DET OEM turbo or you're upgrading your Nissan S13/S14 to a turbocharger with more power, this is the system for you. Designed specifically to give your SR20DET the flow it needs for real horsepower gains."
---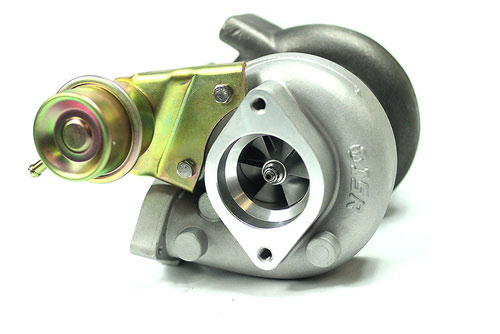 Our comment: Decided that you'd rather stick with how Nissan intended, but don't have the money to fork out $999.99 for the OEM turbo? ISR have you covered.
With a substantial price difference, you're probably wondering what the catch is? Well, the main downside is that you are likely to notice some slight lag compared to the OEM T28.
ISR (formerly ISIS) do have some negative reviews out there, but as stated previously, they seem to have earned themselves a much better reputation in recent years. Many owners have happily run this set-up long term with no issues.
We would personally try and save a little more cash to get a more exciting alternative. However, with that being said, you're not going to get a better brand new option for under $400!
Manufacturer description: "Did your T25 turbo give up the ghost? T28 on its last legs? Then get your motor back where it needs to be with a replacement turbo from ISR Performance. Designed to replace broken and damaged turbo systems, it's the best value for your money."
---
Our winner
Our winner is the Garrett GT2871R.
If you've read the whole guide, we're sure that his result didn't come as a surprise. As an all-rounder we really don't think anything can compete with the GT2871R. When mated with the SR20 for daily use and drifting, it's the perfect combination. To pick our winner, we looked at a number of criteria; quality, popularity, lag, power and price point.
Based on these criteria we have chosen the Garrett GT2871R to be our winner.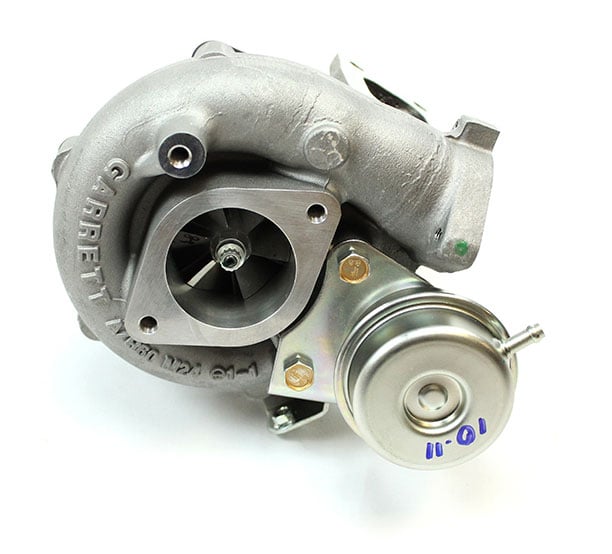 At under $1,200, this turbo is an insane bang-for-your-buck solution. With just a few mods, this will allow your SR20 to produce up to 400hp with minimal lag and a power delivery from around 4,000rpm to the redline that'll keep you grinning from ear-to-ear.
Of course, we do understand that not everyone wants to keep their SR20 at under 400hp, and if you're willing to carry out the work required, the Garrett GT3071R or Garrett GT3076R may well be what you're after, depending on how much lag you can deal with.
There's no doubt that Garrett has dominated our list, however, if you're looking for a budget setup then we highly recommend you take a look at the ISR Performance RS3871R. At less than $600, this GT2871R replica is a fantastic kit at a fraction of the price of its competitors.
Thank you for reading our SR20DET turbo kit guide
If you enjoyed this article then please share it with the sharing buttons at the side and the bottom of your screen.