Infiniti G35 Vs Nissan 350z – What's Best?
The G35 and 350Z are both fantastic sports cars, but which is the best platform for your needs? We put them head-to-head in our guide.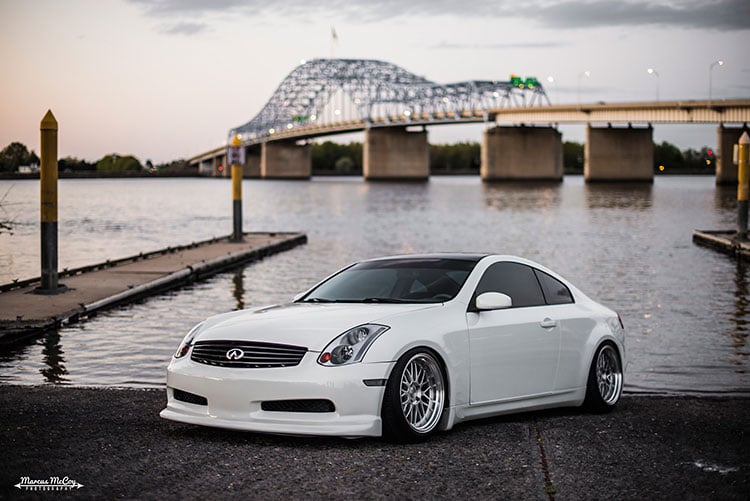 ---
Introduction
Since you've found your way here, we're guessing that you've already realized that the Infiniti G35 and the Nissan 350Z are incredibly similar cars.
Despite both based on Nissan's FM platform, one was targeted at the luxury car market, while the other stuck with what Nissan already knew best.
Having earned themselves an impressive reputation in the sports-car scene throughout its history, when the 350Z hit the market, it immediately soared with popularity, with driving enthusiasts keen to get their hands on the two-seater coupé.
Around the same time, their newcomer to the scene, the Infiniti G35, was met with a slightly more confusing reaction.
After Nissan provided us with some of the craziest JDM hero cars over the years, such as the Skyline GT-R, the Inifiniti range was their attempt to compete alongside some of the more popular mass-market competitors.
With the likes of the stand-out Japanese and German manufacturers such as Lexus, Audi, and BMW in their sight, Infiniti enabled Nissan to target at the luxury market without the brand-snobbery that could clash with potential buyers.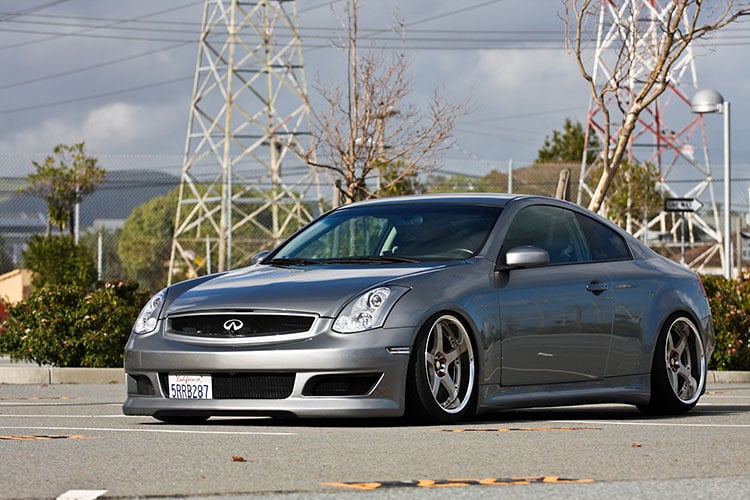 Infiniti's main appeal was that they were able to offer luxury at an affordable price for the mass market, and the G35 was the perfect opportunity to prove this.
With their main competitors being the likes of the BMW 3-series, it was important that the G35 not only looked good but could also put up a decent fight in the twisties.
Having the FM platform on hand provided the perfect opportunity, and Nissan took the opportunity to create both the luxury G35 and also the more driving enthusiast-oriented 350Z based on this.
Over recent years their prices have begun to fall, and they're now more affordable than ever, partly thanks to the introduction of the G37 and the 370Z.
The falling prices have presented the perfect opportunity to grab yourself a bargain, and in the process, tuning enthusiasts have often opted for the G35, which could be down to having less appeal in the drifting community.
There's no doubt that the 350Z has become one of the most popular cars for tuning, and given that the G35 is near-identical, yet can often be found for cheaper, it can pose a serious question over which model you should choose.
Thankfully, many have also opted for the G-series, and it's now becoming more popular than ever.
Let's face it; there's nothing more exciting than seeing the least likely car being thrown down sideways at the track, and there's certainly no shortage of Z-cars at any event.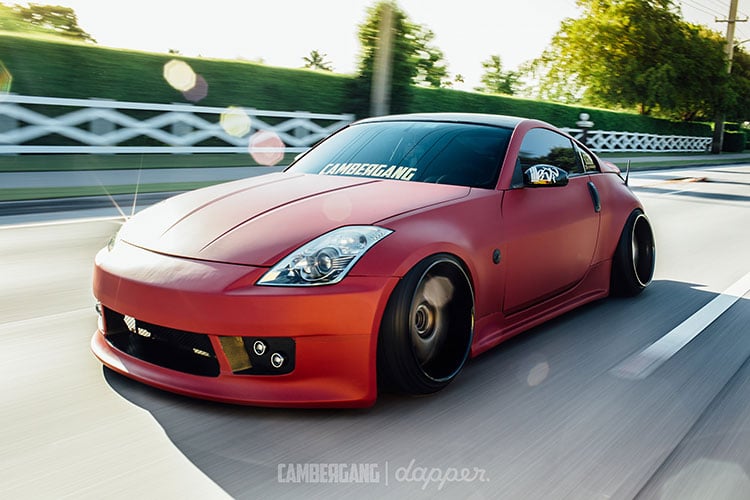 With the likes of the s-chassis prices soaring higher than ever, their increasing rarity isn't going to stop the price rise anytime soon.
For this reason, the G35 and the 350Z present the perfect reasonably-priced alternative, whether you're looking for a drift car, a track car, or just a daily driver that'll be capable of putting a cheesy grin on your face.
With the savings you've made from your purchase, you'll be able to invest wisely in the enormous range of aftermarket tuning upgrades that are available.
Whether you choose the G35 or the 350Z, this could well be the perfect time to grab yourself one of the ultimate bargains in reasonably-priced motoring.
With their sleek and stylish bodies combined with the reliable powerplant that's oozing with tuning potential alongside the well-refined FM chassis,' and modern interiors – you'll struggle to find a better all-rounder for the price.
Now, let's compare these epic cars and the insane amounts of potential that they have to offer head-to-head to help you find the perfect solution.
---
Which is best – G35 or 350Z?
Ask this question on an owners club for either car, and we do not doubt that their owners will tell you that theirs is the right choice.
Loyalty has become a strong point among both sets of owners, and we're not complaining, since this is always a promising sign when you're considering becoming a buyer.
There are going to be plenty of considerations for you to think about, and we'll break them down individually to keep things as simple as possible.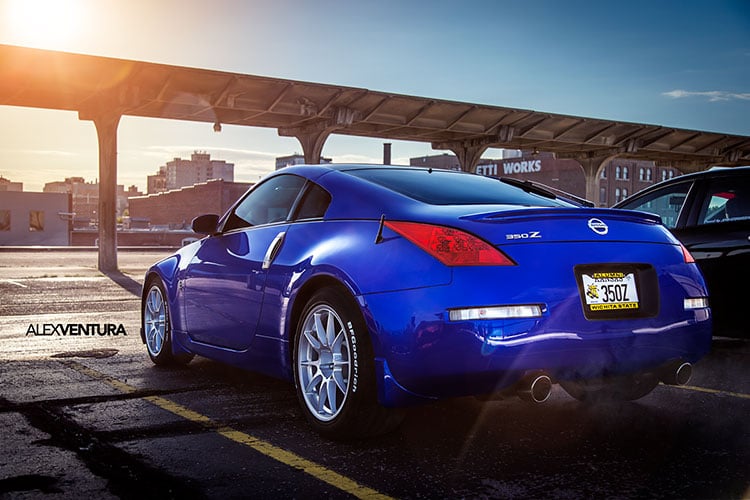 If you're planning to keep things stock, then you'll need to think about what you use your car for most frequently.
However, for those of you that are considering tuning the car and perhaps stripping out the entire interior, it becomes a whole different game.
For example, with Infiniti's luxury element of the G35 removed from the equation, it could present a cheaper opportunity to build the chassis from the ground up - with more money for mods!
On the other hand, in stock form, the 350Z is likely to offer the better package for someone wanting some fun, assuming you don't need rear seats, and boot space isn't a requirement.
But, before we get ahead of ourselves, let's take a more in-depth look at the differences.
Performance
With the two cars both based on the same platform with the same engine choices, it's impossible not to become curious about their performance differences.
It's worth noting that neither car in stock form is going to be too impressive in a straight line, depending on the vehicle(s) you've owned or driven previously.
They certainly won't cause much of an upset in the traffic-light Grand Prix against some of their rivals.
However, both the VQ35DE and VQ35HR variants certainly no slouch, and you can always count your blessings that Nissan's initial plans to include the KA24DE never came to fruition.
But, fear not, as there is a tremendous amount of tuning potential to be unleashed from these engines, which we'll explore later in this guide.
If you're keen to get the more desirable, higher-powered VQ35HR engine, then you'll need to set your sights on either the late-spec 350Z or the late-spec Sedan G35.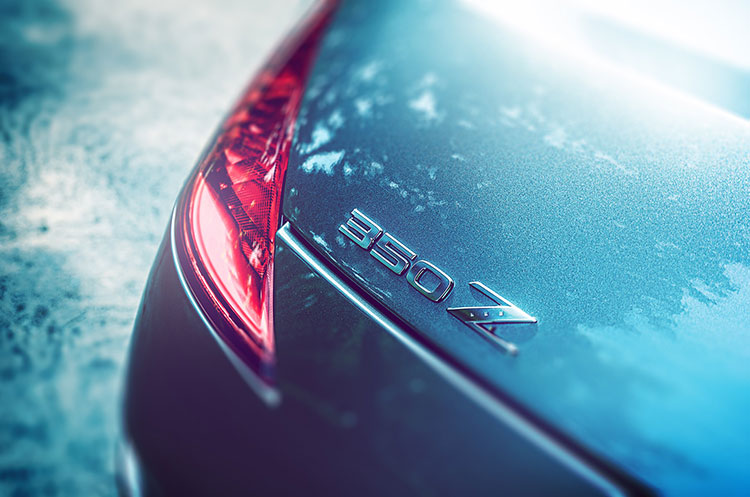 Unfortunately, Nissan/Infiniti opted to never include the updated HR engine in the G35 coupe's, but don't let that put you off; the VQ35DE is still an excellent engine, and the coupe is still well worth considering.
To begin with, the G35 came with 260 horsepower, but thanks to the later HR engine, it was pushing out 306 hp during its final years of production.
Initially, the 350Z featured 287 hp and then went on to match the G35's upper limit of 306 hp with the HR upgrade.
Therefore, if you're looking for a late model, you can expect to achieve 306 hp from both the G35 or 350Z, but the main difference is in the earlier years.
When it comes to straight-line performance, it varies depending on the engine, but the typical averages that we've found are around six-seconds for the 350Z, with the G35 arriving at the mid-six range.
Both cars left the factory with identical manual and automatic gearbox variations, but only the G35 featured an AWD alternative, which utilized the ATTESA AWD system from the GT-R – the G35x.
When it comes to brakes, the G35 coupe had a Brembo upgrade available.
For the 350Z, this was only an available option on 'Enthusiast' models, and for the sedan, there was no factory optional upgrade available.
That doesn't mean you're not able to upgrade the brakes yourself on either model, though, so we wouldn't class it as a deal-breaker.
Handling
When it comes to handling, both of these cars are capable, but as you've probably suspected, our personal opinion is that the 350Z that takes the edge over its counterpart in stock form.
However, the G35 does have some positives to consider.
Given its additional weight and wider wheelbase, the G35 generally feels more secure and stable at high speeds.
Thanks to its softer suspension setup, it's also the friendlier option for cruising, without feeling as though you're crashing over the bumps, and you'll also have less road noise.
But, if you're like us, and you prefer that planted, road-hugging feeling with sharp, precise handling, where you can feel every element within the tarmac, then the 350Z is going to be the better choice.
With its stiffer suspension setup, it sits lower to the ground and enables you to feel every movement that the car is making, which is ever-improved with the addition of coilovers, which we'd highly recommend.
Handling and ride comfort are two of the main elements that set these cars apart. Both are extremely capable, but it's the 350Z that'll provide the raw driving feels that enthusiasts crave.
However, with coilovers, the G35 is capable of being completely transformed. For that reason, we wouldn't class the handling as a total deal-breaker. It is still the same chassis, after all.
Also, if weight is the issue, this can be quickly decreased by removing some of the G35's comforts and luxuries, if need be.
Design
Although this comes down to personal preference and often divides (somewhat heated) opinions among enthusiasts, our unbiased view is that they're both excellent looking cars in their own right.
The G35 has hints of the 350Z styling, but there's no question that it's quite a bit larger, and also heavier. However, it does have the added benefit of rear seats alongside the sedan's optional rear doors and a trunk.
The 350Z, on the other hand, screams race car a little more, with its wide-fenders, lowered stance, and tighter proportions.
There's no question that Nissan intended for the 350Z to be the far more aggressive sibling.
In stock form, the 350Z certainly stands out more, with the luxurious styling of the standard G35 understandably appealing to the grown-up gentleman rather than the 350Z's weekend racer appeal.
With the G35, you've got the option of sedan or coupe variants, while the 350Z features coupe and roadster (convertible) models, so, if you're looking for top-down fun, there's only one choice here.
The G35 does, however, feature a sunroof with both variants, although it's not quite the same as throwing it down sideways with the roof down.
Unlike the G35, the 350Z never left the factory with a sunroof.
If you're a family guy or you frequently carry multiple passengers, the G35 sedan presents an excellent opportunity.
However, if you're enjoying the simpler life, and a trunk is irrelevant on a day-to-day basis, then the 350Z or G35 coupe is likely to suit you best, and they're both still excellent daily drivers.
For those of you that prefer the stance of the 350Z, but the shape of the G35, this can be easily rectified with either lowering springs or coilovers, which we'll explore shortly.
Interior & Entertainment
Given that they're appealing to significantly different markets, it should come as no surprise that the interior is one of the main differences here.
The 350Z is unsurprisingly more sports-car oriented, with tight, hugging seats, plenty of gauges, and minimal on the luxurious features front.
When it comes to the G35, on the other hand, it's once again the gentleman's equivalent with larger, comfier seats, designed with luxury cruising in mind. It's also focused less on gauges, but with increased luxuries and comforts in exchange.
That's not the only difference either, where the 350Z is a simple, two-seater sports car, the G35 offers a 2+2 layout so that you can get some (smaller) passengers in the back.
When it comes to legroom, you're going to find the G35 to be a snug fit if you have taller people in both the front and the back.
Chances are, your back-seat passengers probably won't approve of your choice after a few hours of being crammed in, at which point you might be thinking you wish you'd left them at home and got a 350Z instead!
In all honesty, if you're much over six-foot, then you're likely to find the interior of the Z a little 'squashed,' but our 350Z aftermarket seats guide will eliminate the potential issues here.
Thanks to the additional space in the G35, there's a little more space when it comes to driver legroom, so this could earn another tick in the G35 box if you're tall and don't plan on installing aftermarket seats.
Given that the G35 is more comfort-oriented, it won't come as much as a surprise that it'll be better suited for longer journeys and tedious daily commutes.
On the other hand, if your daily commute involves carving up the canyons, then in stock form, the 350Z is going to be the clear winner.
When it comes to trunk space, the 350Z has unfortunately been made even less practical by the huge strut bar passing through the middle, which could have an impact on some potential owners' decisions.
Price
The final consideration is the price, which can often be the deciding factor.
When both cars were new, the 350Z was more expensive than the G35, and that's still reflected in today's market.
Given the 350Z's niche appeal, many enthusiasts feel that it's one of the last 'true' sports cars ever built, with even the 370Z opting for more modern technology since.
Although there are few differences between the two cars, the G35 isn't quite so popular, and this is often reflected in the price.
The savings present the perfect opportunity for those of you who aren't sure which car to go with to save some cash to spend on mods, to turn your G35 into a potential 350Z slayer!
---
Reliability & Common Issues
There's no secret that some of these cars are approaching twenty years old now, so you can expect to find some niggles.
In the grand scheme of things, however, these are both impressively reliable cars with minimal issues, provided they're not bounced off the limiter for most of their life without any oil changes!
If you're looking to buy a 350Z or a G35, then we'd always recommend doing a thorough inspection or taking someone with you to help out.
The typical scenarios apply, and it's always best to try and view a car in cooler temperatures on a cold engine, as they can often hide issues once warmed up.
When it comes to bodywork, dry weather is always ideal, as rain or surface water can hide some potential paint issues which will rear their ugly head when it's dried off on the journey home.
Stock for stock, we would typically expect most G35's to have had a more comfortable life than the equivalent 350Z's, so it may be best to proceed with a little more caution when viewing a Z-car.
Although it can be more convenient to buy a pre-built drift car, it is worth considering that it's likely to have had a pretty tough life, unless you know that it was well-maintained by the owner.
If you're looking at a G or a Z with a rev-up engine, make sure you check the oil level as these are typically the thirstiest engines, and significant damage can occur if it's left to drop too low.
We always recommend carrying out a compression test, and on a healthy engine, we'd expect to see around 14PSI at idle.
Some HR engines have also had low oil pressure issues, which could potentially indicate an internal gasket failure, which is a rather extensive job and can take up to nine hours to replace.
If there's a ticking sound when revving, this could be down to one of two worn fuel dampeners. These aren't expensive, and you can easily find new or used spares, but it could potentially help to knock a little off the price.
Thankfully, both the G35 and the 350Z use timing chains rather than belts, which Nissan expects to last the lifetime of the engine, so you won't need to worry about that.
We've witnessed plenty of these engines cross the 300,000-mile mark with minimal maintenance, so despite some minor niggles, you can expect fantastic reliability.
Transmission
The later VQ35HR models feature the superior CD009 gearbox, which is often a popular upgrade for various Nissan's such as the s-chassis, so they often fetch quite a premium these days.
Manual gearboxes in both cars are known for being stiffer than some of the more modern alternatives, but we recommend putting the gearbox through its paces when you go for a test drive, as we would expect any niggles to surface at this point.
Clutch
Typically we would expect the clutches in these cars to last around 40,000 miles, depending on the style of driving they've experienced.
Thankfully, the clutches are reasonably priced, but if it's been slipping for some time, then you may also need to consider replacing the flywheel too.
One of the common clutch issues is slave failure, particularly on later-model HR cars, which requires removal of the transmission to replace.
If the car has a spongy clutch pedal, it's likely to either need a fluid change or a new master cylinder.
Suspension
Since the 350Z is lower and stiffer, they usually go through a bit more stress, and they're well-known for getting through bushes, particularly in the lower control arms. However, this can also occur on the G35.
If you're hearing knocking over bumps, then it's likely to be a bush issue.
Bushes are inexpensive, and we'd recommend upgrading to poly bushes when the time comes, especially for track or drift use.
Solid bushes can also be a consideration for track cars, but these are horrible for road use.
Worn drop links from the rear anti-roll bar can often cause rattles if you hear a sound at the back, but these are cheap and easy to fix.
On your test drive, try to go (carefully) over some speed bumps, and test the brakes. Doing so will give you a good indication of whether anything will need replacing in the brake or suspension region, which can knock a few bucks off the price.
If the suspension itself is past its best, then we highly recommend opting for coilovers.
In fact, scrap that; we'd opt for coilovers regardless!
Bodywork
With these cars not getting any younger, it's becoming increasingly common to expect to have some bodywork niggles.
Nissan/Infiniti did an excellent job with rustproofing, but it's still worth checking for rust in the typical places.
There's nothing worse than having rust eating your way into your new purchase.
Common rust areas are typically at the bottom of the doors and around the wheel arches. It's also worth checking in the wheel wells and the engine bay.
Stone chips can often be expected on the front of the car, and can often lead to rusting, so it's worth keeping an eye out for, but we wouldn't worry too much.
Interior
One of the downsides of the interiors on these cars is that they're notorious for having badly-painted interior trim, more so on the 350Z.
Many owners have reported that the paint scratches off under everyday use, and the dash knobs can often become sticky with age.
You have the option to paint, or wrap, the trim, and the knobs are easy enough to replace if either bothers you. We wouldn't be too worried here.
It's worth checking that the electric windows work, as this can be an inconvenience to have to repair and aren't the cheapest part when it comes to replacing.
Bolster wear is typical on the seats, particularly in the more rigid 350Z ones, but standard or aftermarket upgrades convenient to source if necessary.
Overall, the issues are incredibly minor, but there are a few things to consider before you put pen to paper.
---
G35 vs 350Z Upgrades & Tuning
Both the G35 and the 350Z are two of the most popular cars when it comes to the tuning scene, so we've written a vast range of tuning guides to help you build the ultimate G-series or Z-car.
Given their similarities, they're both extremely modification-friendly, but there are some minor variations between the two to keep an eye on.
Nissan 350Z Tuning Guides
Infiniti G35 Tuning Guides
---
Conclusion
Both the G35 and the 350Z are capable of ticking many boxes depending on your specific needs.
They both have strengths and weaknesses, and there are several significant points to consider before you make the decision on which to buy.
If you plan to purchase either car to keep it in stock form, then the answer is likely to be a little more clear-cut.
The G35 offers a smoother, more comfortable ride, a 2+2 seat layout, a potential four-door offering, and trunk space.
On the other hand, the 350Z provides the typical planted feeling that you'd expect from a two-seater sports car layout with minimal luxuries, no rear seats, and hardly any trunk space.
If these facts don't make the 350Z sound too appealing to you, then you're likely to be better suited with the G35.
Where the G35 is the sensible option for everyday driving, particularly for long journeys, Nissan designed the 350Z with fun, spirited driving in mind – and it's undoubtedly achieved its goal.
If you're a young and single without a care in the world that doesn't have any plans to carry back-seat passengers shortly, then the 350Z is likely to present the best opportunity.
With that said, the G35 can still hold its own in the twisties, and the aftermarket tuning potential makes it a fantastic opportunity to build a sleeper and cause an upset (turbo kit with a stock body, anyone?)
Simply put, it all boils down to what you're after in a car.
If either pops up at a bargain price and you're looking to modify it for drifting, then most of the differences are irrelevant.
For example, if you're looking to strip out your G35 interior for weight-saving purposes, then it's going to look and sound like a race car regardless.
If you're still not decided after reading this guide, then there's only one thing left for it, to get yourself behind the wheel of both cars and see which one you feel best suits your personal needs.
We hope that we've covered everything you could want to know when it comes to G35's vs 350Z's in this guide.
Thank you for reading our G35 vs 350Z guide.
If you enjoyed this article, then please share it with the buttons at the side and bottom of your screen. If you've found this information useful, then please take a moment to share it with other Nissan, G-series, and Z-car enthusiasts. We appreciate your support.
---
Photography credits
We thank the following entities for the use of their photography in this article: