Ultimate Honda K24 Guide – Everything You Need To Know
In this guide, we're taking an in-depth look at everything you could ever need to know about Honda's impressive K24 engine.
Here, you can click on a particular section within this article, otherwise, scroll down as we cover everything you need to know about Honda's K24 engine.
---
Introduction
In the car community, Honda gets ridiculed a lot for being the "ricer" brand. Yet, we can't ignore the impact its cars have had in the automotive landscape. Raise your hands if you remember the very first scene from The Fast And The Furious.
Since the Honda fanboys came out in force and criticized the lack of Honda-related content at Drifted, we've opted for creating some in-depth guides to keep them happy.
Let's face it. There's nothing more challenging to deal with than an angry Honda fanboy. (Just kidding!)
For those of you that are wondering why we've decided to check out the Honda K24 engine, it's because Honda's legendary K-series engines are immensely underrated. That's right, we said it.
While you're huffing and puffing about FWD rice-boxes, we highly recommend that you head over to our previous guide for the K24's younger brother, the Honda K20.
*WARNING* The K20 guide contains RX7 FD's with Honda powerplants! Too late? Whoops.
Part of the beauty of Honda's K-series is the convenience when it comes to swapping it into some of the least likely chassis imaginable.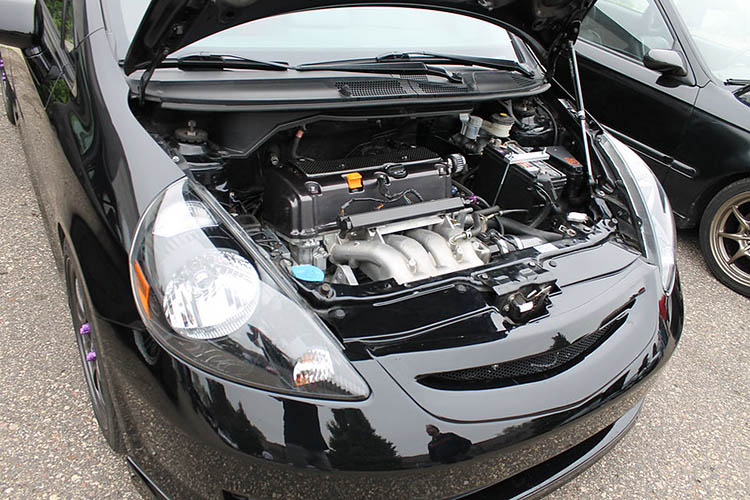 We'd forgive you for purely thinking along the lines of cheap, FWD cars when it comes to the K-series.
However, you may well be surprised to hear that it's not actually that challenging to swap the K24 into just about any chassis, even when it comes to some of the rarer mid-engined cars.
V8 swaps have become increasingly common throughout motorsport, mostly thanks to their (mainly) reasonable price tags alongside convenience and ease of sourcing when it comes to parts and engines.
It also, of course, falls to their impressive reliability, power potential, and ability to handle forced induction efficiently.
But, what if we told you that the Honda K24 also ticks all of these boxes?
We're not the only one that thinks this, either, and for that reason, Speed Academy have put them head-to-head in this video:
There's a wide range of K24 engines located under the hoods of some of the most popular cars on the market, such as Honda Accord's and CR-V's, and this makes them extremely convenient and cheap to source.
They're also impressive when it comes to off-the-shelf upgrades and aftermarket support.
So, if you're looking for extremely high power potential, a K-series swap could well begin to make a lot of sense.
As the popularity of LS swaps increases, the K-series could emerge as the superior purchase over time, with so many drifters opting for the typical V8 route.
With an ever-increasing off-the-shelf aftermarket mounting and wiring options available for the K-series, it's undoubtedly emerging as an underdog in the engine-swap world.
So, whether you're looking for a cheap and reliable daily driver swap, or a fully boosted race setup that'll be able to help you smash ¼ mile records, the K24 certainly needs to be a contender to consider.
Make sure you keep your eyes peeled later on in this guide, as we'll unveil some of the unlikely K24 swaps that we've come across.
Honda's K24 series has birthed several of the immensely popular K-series engines over the years, and there have been more updates and variations than most enthusiasts realize.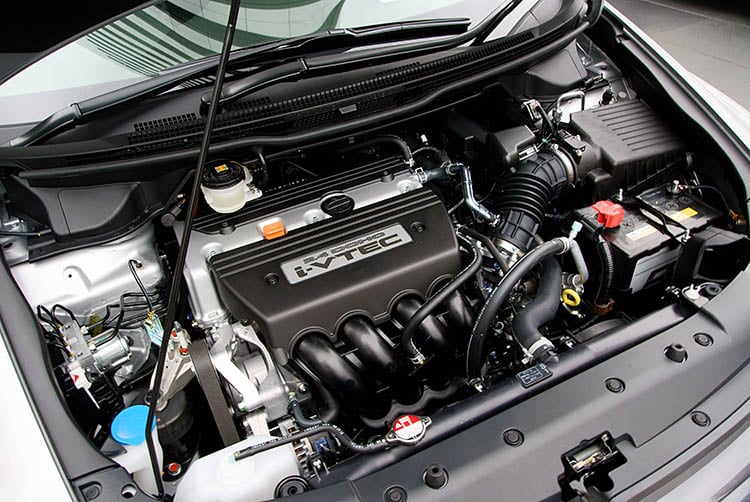 After its initial launch in 2001, the 2.4-liter powerplant debuted in the Honda CR-V with the original K24A1 variation.
Production continues to the present day with the K24Y and K24Z variants, but they're probably not what you're looking for, as we'll explain later.
The K24's design was remarkably similar to its predecessor, the 2-liter K20.
Still, it featured some additional bonuses alongside the more significant displacement, such as an enlarged bore and stroke, friction-reducing technology, and electronically controlled ignition timing.
We'll venture a little deeper into what changed between the many variations of the engine later in our guide.
You can either use the navigation at the top of the article to go to a specific section or continue scrolling down if you're interested to know everything there is to know about Honda's potent K24 engine.
---
Which Cars Have the Honda K24 Engine?
There have been many changes made to the K24 engine over its lifetime, and we highly recommend reading on if you're considering which variations are going to be best for your needs, particularly if you're looking to tap into their tuning potential.
Here is a list of cars that are powered by some form of the ever-popular Honda K24 engine series.
K24A1
2002-2009 Honda CR-V
K24A2
2002-08 Honda Accord Type-S (Japan)
2003-08 Honda Odyssey Absolute
2004-08 Acura TSX
K24A3
2003-07 Honda Accord (Japan/Europe)
2003-07 Honda Accord Euro (Australia/New Zealand)
K24A4
2003-05 Honda Accord (U.S.)
2003-08 Honda Odyssey
2003-06 Honda Element
K24A8
2006-07 Honda Accord (U.S.)
2007-11 Honda Element
2008-14 Honda Odyssey (Japan)
K24W (Earth Dreams)
2013-17 Honda Accord (U.S.)
2015-19 Honda CR-V (U.S.)
K24W4
2013-present Honda Accord (Thailand/Malaysia)
2014-present Honda Odyssey (Australia)
K24V5
2017-present Honda CR-V (Thailand)
K24V7
2016-present Acura ILX
K24W7
2015-20 Acura TLX
K24Y1
2012-16 Honda CR-V (Thailand)
K24Y2
2012-15 Honda Crosstour
K24Z1
2007-09 Honda CR-V (RE3, RE4)
K24Z2
2008-12 Honda Accord LX/LX-P (U.S.)
2016-present Proton Perdana
K24Z3
2008-12 Honda Accord LX-S/EX/EX-L (U.S.)
2009-14 Acura TSX
2008-15 Honda Accord (CP2, CS1)
K24Z4
2008-12 Honda CR-V (RE7)
K24Z5
2010-15 Honda Spirior
K24Z6
2010-11 Honda CR-V (U.S.)
2012-14 Honda CR-V (U.S.)
K24Z7
2012-15 Honda Civic Si
2013-15 Acura ILX
---
Honda K24 Engine Specifications
Since there are so many engines within the K24 family, we'll give you a quick rundown of their specifications. This will help you choose the best K-Series engine for your specific needs – be it for a drift car, a show car, or an autocross champ.
In addition, we're going to break down the main positives and negatives of their commonly-found engines too. So, let's get started!
K24A1
The K24A1 was the first engine that Honda released within the K24 range, which featured in the 2002-09 Honda CR-V's, and came with 160 hp and 162 lb/ft torque.
The A1 was where it all began, and it was a very similar engine to the B-series engine, with impressive low-end torque production.
Although it features impressive performance, it has a compression ratio of 9.6:1. The K24 features more durable connecting rods and superior counter-weighted crankshafts over its predecessor, the 2.0-liter K20.
When combined with the more significant displacement and with the addition of a composite two-stage intake manifold, this allowed for superior power and torque.
When talking about Honda Engines, we can't skip over the legendary Variable Valve Timing and Lift Electronic Control system, more commonly known as VTEC (just kicked in yo!). Check out the video below to learn more about this system.

Sadly for K24A1 owners, it has no VTEC mechanism on the exhaust cam, and mostly relies on twelve valves before 2,200rpm, with the other four coming into action beyond.
The K24A1 has become one of the most popular choices for engine swaps and conversions.
Thanks to similarities between the A1 and A2, you can straight-swap the A2's oil pump, which you're not able to do on other K-series engines.
The K24A1 has one of the best cylinder heads, which is similar to the lucrative Type-S head, and takes kindly to being ported, which allows for an impressive amount of airflow.
Alternatively, if you're looking for an easy swap, then the Type-S head itself is also an option.
If you're looking for the best out-of-the-box solution from the K24, then let us introduce you to the K24A2.
K24A2
The K24A2 typically earns the title of the most impressive K24 engine out of the factory, but it's also gained a pretty high price tag because of this, which makes other variations more tempting if you're not shy when it comes to tuning.
Featured in the Acura TSX, alongside the Honda Oddessey and the JDM Accord Type-S, the K24A2 was capable of achieving between 197-205hp and between 164-171 lb/ft torque.
This engine was known as the K24A3 in the European and Australian markets.
For the A2, Honda opted for a significantly updated bottom-end, and the compression ratio rose to 10.5:1.
Unlike the K24A1, this time, they opted for the i-VTEC system on both the intake and the exhaust camshafts. They also applied lightweight pistons, dual balance shafts, a forged crankshaft, and re-inforced connecting rods, along with improved cams.
For the 2006-onwards Acura TSX, the K24A2 got an improved air intake duct, from 70mm to 80mm, an upgraded throttle body, from 60mm to 64mm, along with enhanced intake valves, a new intake camshaft, and an exhaust upgrade.
The outcome of this was the best performance that was achieved from the K24A2, pushing out 205 hp at 7,000 rpm and 164 lb/ft torque.
Although the power figures grew from 197-205 hp with the new improvements, torque took a slight hit, going from 171-164 lb/ft.
K24A3
The K24A3 is the same engine as the K24A2, produced for the European and Australian markets. The Honda Accord and Accord Euro models made from 2003 to 2007 carried this 2.4-liter four-cylinder inside the engine bay.
Unlike the K24A2, the K24A3 didn't receive an upgrade in its later model years, so power remained at the initial figures of 197 hp and 171 lb/ft, with a 7,200 rpm redline.
K24A4
The K24A4 block is often the most common choice for those of you that plan on swapping out the pistons since they can often be sourced for a reasonable price thanks to their popularity.
The K24A4 was based on the A1, rather than the A2, and featured a compression ratio of 9.7:1. It provided 160 hp and 161 lb/ft torque. You can find this engine in everything from the Odyssey to the Civic Si.
Several revisions included an RAA single-stage intake manifold and revised intake and exhaust ports inside the cylinder head, which most enthusiasts agree don't flow as well as the A1.
The primary purpose of the K24A4 production was to meet strict emissions standards. Since the power barely differs between the two, we'd say that Honda did a pretty decent job.
K24A8
The K24A8 was a slight upgrade from the K24A6, which they refined to meet an updated environmental regulation. Debuting in 2006, the K24A8 powered the Honda Elemand, Accord, and Odessey. The improved fuel efficiency of this version made it especially attractive for these family vehicles.
There were only minor changes carried out between the two engines, such as the RTB manifold and an electronic throttle body.
Power figures increased slightly with this minor revision, allowing for 166 hp and 161 lb/ft torque.
K24Z1
Launched in 2007 for the Honda CR-V, the K24Z1 officially replaced the K24A1. The K24Z-family's primary aim was to meet the ever-growing emissions standards, while still trying to build on the success of the K24A.
It continues the 9.7:1 compression, and provides 166 hp and 161 lb/ft torque, with a redline of 6,500 rpm.
For this version, the oil filter is relocated, and internal changes include a forged-steel crankshaft and an internal balancer unit.
They continued to use the later 1-stage RTB intake manifold alongside an electronic drive-by-wire throttle body.
A new, denser catalytic converter has also been introduced to comply with the increasingly harsh emissions standards.
Despite its focus on emissions, the K24Z-family still provides an excellent platform tuning and engine swaps and doesn't vary much from its predecessors.
K24Z2
The K24Z2 officially replaced the K24A8 on the production line and conformed to the highest emission standards.
Featuring a 10.5:1 compression ratio, revised fuel injectors, an integrated exhaust manifold, and an R40 intake manifold, this enabled power figures of 177 hp and 161 lb/ft torque.
K24Z3/K24Z7
The K24 once again received a significant overhaul when it came to the K24Z3 engine, which arrived with the substantially heavier second-generation Acura TSX.
While the K24Z3 for the Honda Accord had a 10.7:1 compression ratio, which produced less power and torque, it was effectively a K24Z3 with a high-flow exhaust system, capable of 190 hp and 162 lb/ft torque.
On the other hand, the 2009-14 Acura TSX K24Z3 had an improved engine with 31mm exhaust valves and a modified i-VTEC system, also providing a compression ratio of 11.0:1 and an increase to 201 hp and 172 lb/ft torque.
For the CP2 and CS1 Honda Accord models, however, it also featured the TSX's superior engine, which was also the same as the K24Z7.
Included with the K24Z3 are chain-driven dual balance shafts, i-VTEC on intake and exhaust camshafts, lightweight pistons, uprated rods, and computer-programmed fuel injection (PGM-FI).
K24Z4/K24Z5/K24Z6
In another minor revision, Honda once again had to update the K24Z1 to conform to revised emissions standards, which meant they once again had to use a 9.7:1 compression, this time with 161 hp and 161 lb/ft torque.
The K24Z5 and K24Z6 are similar to the K24Z2, but with minor adjustments. The K24Z5 was only available in China, and the K24Z6 was later offered on Honda CR-V models sold in the United States.
---
Honda K24 Tuning
According to us here at Drifted.com, "affordable" and "performance" are two words that perfectly describe the Honda K24 engine.
There is a wide variety of options when it comes to tuning the K24 engine, and some incredible power figures are waiting to achieve if you're willing to put the time and money into unleashing its potential.
Not only that but, you'll probably need to include some blood, sweat, and tears, and plenty of swearing, too!
We already know that the K24A2 is capable of achieving 205 hp and 164 ft/lb torque out of the factory with the Acura TSX, but what if we want to aim higher?
The general recommendation to get the best basic setup with the K24 is to buy any K24A cylinder block, along with a K20A2, K20A Euro R, or KA20A Type R head.
Be warned that this only applies to the K24A series engines. The K24Z cannot be used due to the pistons making contact with the K20's cylinder head.
Although it may seem odd to use K20 parts, they feature superior valve springs and camshafts to the K24. If you opt for this route, you'll also want to consider replacing the K24's water pump with the K20's.
With race bearings, high-compression pistons, rods, studs, an uprated flywheel, fuel injectors, an ECU upgrade, and a K20A2 oil pump, you're likely to get about 260 horsepower.
If that's not enough, and you want to go to 300hp without looking at the forced induction route, you can do additional internal porting, along with valves, cams, an uprated throttle body, a CAI, and uprated manifolds along with a full exhaust system.
If you're willing to go down the forced induction route, then power figures start at around 400hp and are capable of rising to some pretty incredible power figures, if you have the cash to throw at it.
Are you considering building a 500-horsepower K24 engine? This video will show you how it can be done. (Okay, perfectionists, it's more of a K27, but you get the idea.)
If you do have the cash going spare, then there are always K24 crate engines out there to consider.
Companies such as 4 Piston Racing, offer highly-tuned turn-key K24 crate engines, with their K340 offering 340hp at 9,000 rpm, right the way through to their full drag setup, which is capable of an insane 8.94-second quarter-mile.
Sounds perfect, right? Sure, just be prepared to pay the price! 4 Piston Racing will happily sell you one of these for a hair over $11,000.
The great thing about the K24 engines is the wide variety of modifications on offer. No matter whether you're looking for some off-the-shelf power upgrades, or a full race engine build.
They're certainly capable of producing incredible power figures with extremely high levels of reliability when built and maintained correctly. It's a Honda after all!
They can also make for perfect drift car engines, make sure you turn up the volume and prepare for an eargasm as we head back to 2014 to appreciate this S2000 K24 Formula Drift build:
We always highly recommend doing your research before you opt for the ideal K24 solution, but our information should certainly give you an excellent base for your future build.
---
Honda K24 Engine Swaps
Okay, so, this is where things get fun. We've all seen the Civic EG K24 swaps, and yeah, it's convenient and all, but let's face it, everyone and their dog has done that by now.
We've seen some pretty wild K24 swaps over the years, from Honda NSXs to bespoke Noble M400s. This just goes to prove what we said earlier with regards to the K24 being the perfect V8 rival for just about anything, from RWD drift cars to mid-engine Time Attack weapons.
A simple Google search will reveal just how many simple K20/K24 swaps there are out there on the market, and there are several off-the-shelf packages for the Mazda Miata and Nissan 240SX owners out there.
For those of you that are considering it for your 240SX or Miata, the most common transmission for the swap would be the BMW ZF manual gearbox, which is thankfully both easily sourced and reasonably priced.
Other common K24 conversions are the likes of the Civic, but also the Toyota MR2, various Lotus's, and also the Honda S2000.
Let's start our crazy swap list with this ridiculous Subaru BRZ! BRZ + K24 + Gigantic turbo = This 700 hp insanity:
Since we mentioned mid-engined cars, how about another turbo-powered K24, this time in an MR2?
If MR2's aren't your thing, then you can surely appreciate a Supercharged 700hp, 800kg Lotus Exige turbo K24 destroying the competition at a Hillclimb event?
Or, what about the perfect sleeper? This Indonesian dude has the perfect recipe with his Honda Brio!
Finally, it doesn't get much more awesome than this. This wheelie-popping K24-powered Toyota Tacoma destroys the competition at a drag event to collect $5,000.
---
Honda K24 Forced Induction
If you are planning to feed your K24 with some sweet, performance-inducing forced induction, there are plenty of choices on the market.
There's certainly no shortage of turbocharged K24's out there, but there's also a decent amount of supercharged ones, too.
Thankfully, the K24 is one of the most convenient engines when it comes to forced induction, and can end up being one of the cheapest and most convenient engines to modify.
With the stock internals being capable of handling up to 4-500hp, you can see why so many people opt for the K24 when it comes to engine swaps.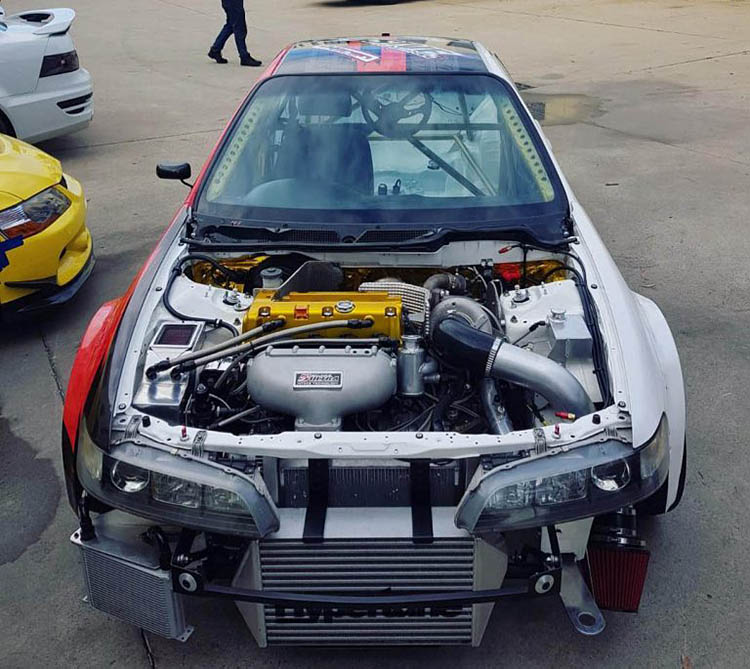 With that said, forced induction does, of course, put a lot of strain on any engine, especially older ones that have perhaps not been fantastically well-cared-for.
For that reason, we'd always do a thorough tear-down to ensure you have a solid base before going through the effort of forced induction.
We'd also consider going with uprated internals to save the inevitable tears once you've started bouncing off the limiter later on.
Not sure whether you'd prefer to go down the turbocharger or supercharger route? We've answered all of the questions that are rattling around in your brain in our Turbocharger Vs Supercharger - What's Best? article.
---
Honda K24 Reliability & Common Issues
The K-series is a true testament to Honda's reliability, and a well-maintained stock engine is likely to last you hundreds of thousands of miles with minimal maintenance.
But, here at Drifted, the chances of you opting for the stock route are slim, and for a lot of you, the well-maintained aspect could well be lacking a little, too. (We're not pointing any fingers!)
Although the engine is extremely robust and durable, it does have some minor niggles, as just about every engine we've ever taken a look at would.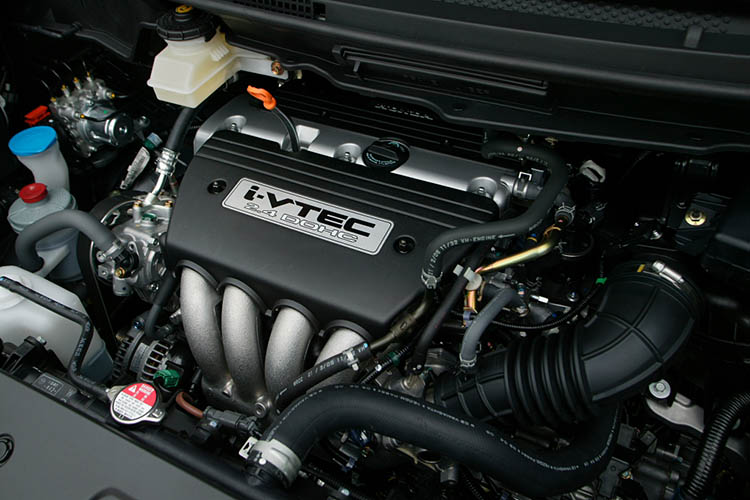 One of the main components to fail can be the timing chain sensor, but there are solutions out there to minimize the risk. In addition, the tensioners on the timing chain are known to go bad too. If this happens, you are looking at a repair bill in the neighborhood of $700 to $1200. A small price for JDM supremacy I would say! *wink*
There are occasionally issues with leaking oil seals and excessive wear on the exhaust camshaft.
Rough engine noises can often be attributed to the incorrect use of engine oil or lack of maintenance. Lack of upkeep has also been the leading cause of rattling timing chains.
Over time, this can deteriorate the VTC gear, which would likely need replacing, especially if it's coming from the right side of the engine.
These are mostly minor niggles, and almost always come down to improper maintenance.
So, keep on top of your servicing and don't go crazy with modifying *cough* then the lifespan is expected to be at least 2-300,000 miles.
---
Conclusion
Honda's K-series engines are certainly one of the very best value-for-money choices out there right now.
We've compared them to V8's several times in this guide, but in some ways, we find them even more tempting.
V8's have often had a tough life, they're suffering from ever-increasing inflation due to their popularity in the motorsport world, and many of them are certainly showing signs of age. Oh, and did we mention the fuel costs?
We're not saying that every K24 out there has had an easy life, but we'd bet that Grandma hasn't been doing quite so many burnouts in her Accord.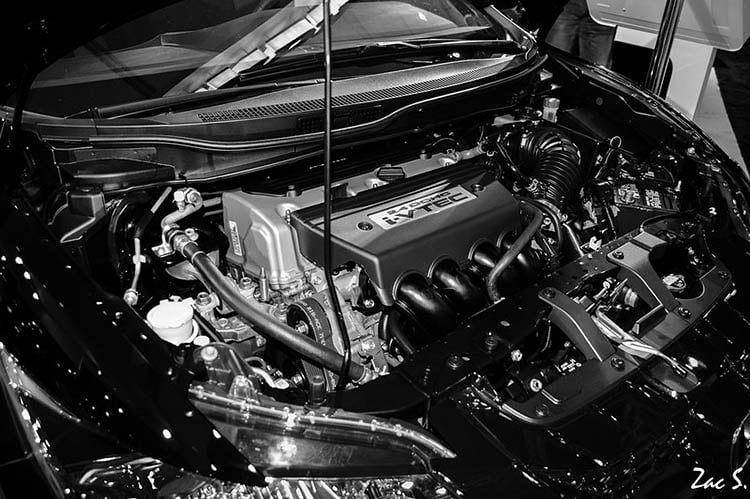 If you're looking for the best K24 engine right out of the box, then you'll want to take a look at the K24A2.
However, given the convenience of upgrades, modifications, and matching parts between the various K-series engines, we certainly wouldn't stress too much about making sure we got our hands the A2.
Given how kindly they also take to forced induction, they certainly have to be a consideration for those of you that are going down that route.
With the BMW gearbox conversion, it's also an extremely convenient swap when it comes to RWD cars, and even more so for mid-engine cars. This 1000-horsepower K-swapped NSX is a perfect example of this.

Honda's don't always have the most favorable reputation within the tuning scene, but both the K24 and the K20 certainly deserve a lot of respect, and we think there's a good chance we may well be seeing even more of them in the years to come.
If that's the case - we're not complaining!
We hope that we've covered everything you could want to know about the fantastic Honda K24 engine in this guide.
If you're not entirely sold on the Honda K24 just yet, then make sure you also head over to our Honda K20 guide to help you decide. You should also check out our B16 and D16 guides.
If you're also interested in the other engines that Honda has to offer, make sure you check out our comprehensive Honda B-Series guide.
Thank you for reading our Honda K24 guide.
If you enjoyed this article, then please share it with the buttons at the side and bottom of your screen. If you've found this information useful, then please take a moment to share it with other Honda, or engine swap enthusiasts. We really appreciate your support.
---
Photography credits
We thank the following entities for the use of their photography in this article: