RB26DETT Vs 2JZGTE – Which Is Better?
RB26 vs 2JZ. Godzilla vs Mothra. We compare specs, power, sound and tuning potential to show which engine is mightier.
---
In a hurry? Watch our RB26 Vs 2JZ summary video
RB26 Vs 2JZ engine specifications
Let's take a look at the history and specifications of these two mighty engines.
RB26DETT engine specifications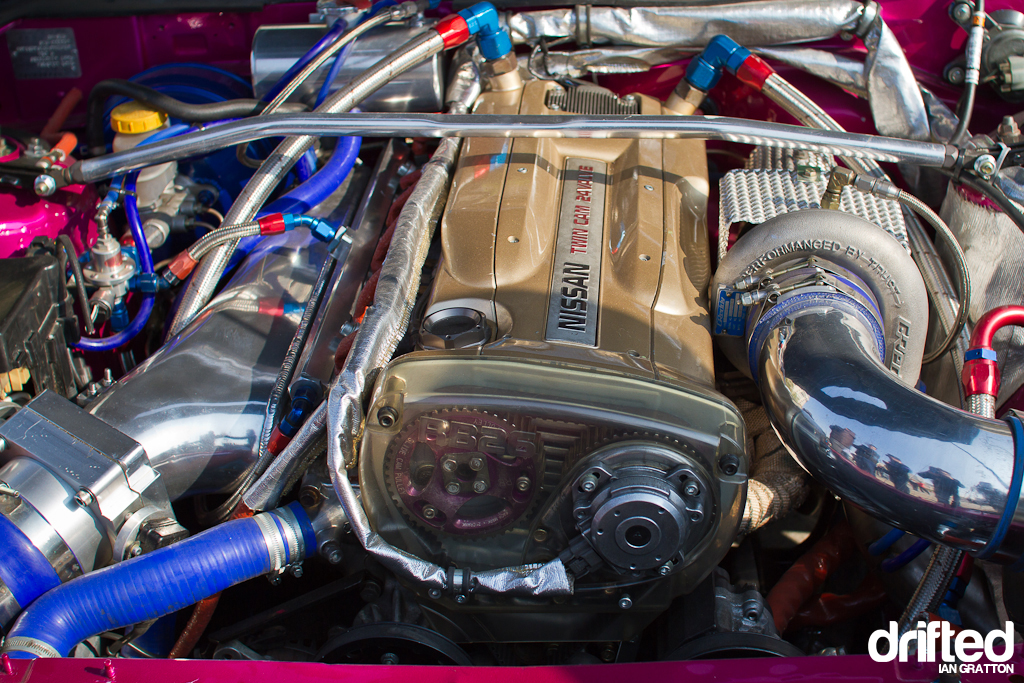 The RB26DETT is a 2.6 litre, inline six cylinder, twin-turbocharged engine based on Nissan's RB family.
This engine first saw duty in the 1989 (R32) Nissan Skyline GT-R and had a long and successful career powering the R33 and R34 GT-R variants for over thirteen years.
The RB26DETT is a robustly designed engine with a cast iron engine block and an aluminium cylinder head. The cylinder head features 24 valves and employs dual overhead camshafts.
The intake of the RB26DETT is rather interesting as it employs a variation of paired individual throttle bodies.
The twin-turbocharged setup employs two Garrett M24 (T2 flange) turbochargers with internal waste-gates set to 10 PSI. When the first generation of the RB26DETT was released Nissan quoted 276 HP @ 6800 rpm and 260 lb ft @ 4400 rpm.
Later revisions increased the engine power and torque output while lowering the peak rpm to achieve these.
211 kw = 282 bhp at the wheels – (thanks to rbmotoring.com for the graph).
It was a widely known secret once owner's had started putting their new Skylines on the dyno that these power figures were conservative. Regular dyno runs of stock cars exceed 270 bhp at the wheels, this would put the flywheel power figure closer to the 320 bhp mark.
Very cheeky Nissan ?.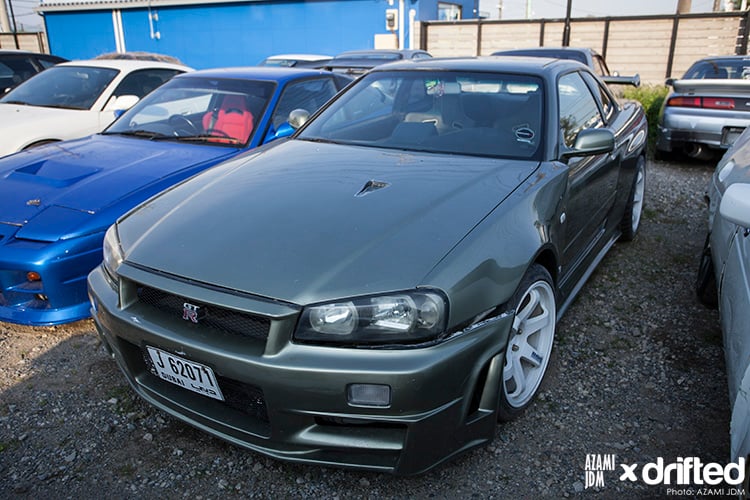 Special versions of the RB26DETT were produced including the 'N1' variant that was built by Nismo (Nissan's motorsports division) to reliably compete in Group A and Group N motorsport.
This engine received many modifications to improve reliability and robustness and it is said to be capable of 800 PS+ with supporting modifications in place.
The RB26DETT has been a favourite of JDM engine tuners for a long time with 500 PS being easily attainable with the right supporting mods while some extreme examples have produced in excess of 1,700 PS.
Manufacturer: Nissan
Version: Nissan Skyline GT-R R34 (1999-2002)
Displacement: 2598cc (rounded to 2.6 liters)
Configuration: DOHC (Dual Over Head Cams), 24 Valves, ITB
Power: 280ps @ 6,800 rpm
Torque: 289 lb ft @ 4,400 rpm
Turbo: Garrett M24 x 2 (Parallel)
Stock boost: 10 PSI
Cars that housed the RB26DETT: Nissan Skyline GT-R BNR32, Nissan Skyline GT-R BCNR33, Nissan Skyline GT-R BNR34, Nissan Skyline Autech GTS-4 ENR33 GTS-4
2JZ-GTE engine specifications
The 2JZ-GTE was launched in 1991, powering the Toyota Aristo V (JZS147) before finding it's home in the JZA80 model Toyota Supra.The 2JZ-GTE was first designed as Toyota's response to Nissan's wildly successful RB26DETT engine.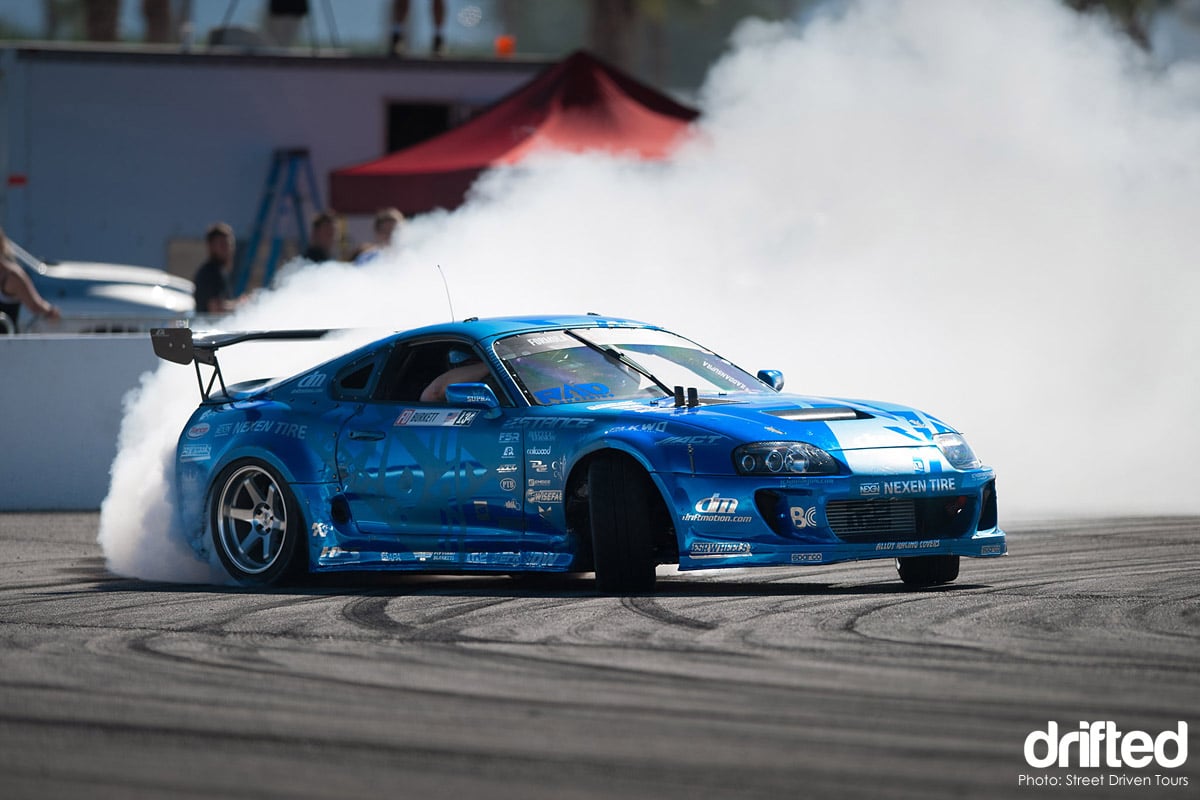 The 2JZ-GTE carried many of the strengths of the 1JZ and built upon them with a larger displacement and more advanced Hitachi sequential turbo chargers. The 2JZ retains the 86mm bore that the 1JZ has, but its stroke is increased from 71.5mm to 86mm.
The 2JZ-GTE was immortalized in popular culture through the Fast & The Furious movie franchise.
The late Paul Walker's character built and drove his 2JZ-GTE powered Toyota Supra "10 second car" in many memorable scenes.
Manufacturer: Toyota
Version: Toyota Supra JZA80 (1993-2002)
Displacement: 2997cc (rounded to 3.0 liters)
Configuration: DOHC (Dual Over Head Cams), 24 Valves
Power: 280ps @ 5,600 rpm
Torque: 320 lb ft @ 4,000 rpm
Turbo: CT20 Turbine x 2 (Sequential)
Stock boost: 11 PSI
Cars that housed the 2JZ-GTE: Toyota Aristo 3.0V JZS147 (Japan-only), Toyota Aristo V300 JZS161 (Japan-only), Toyota Supra RZ/Turbo JZA80
Scores & conclusion
RB26DETT:

x

x

x

x

2JZ-GTE:

x

x

x

x

x
Supra Vs GTR.. a juicy match up.. let's dive in! Both the RB26DETT and the 2JZ-GTE are halo engines for JDM car enthusiasts, one look at each specification sheet reveals why; near 300 PS and healthy torque figures in stock tune, cast iron bottom ends and light weight, 24 valve cylinder heads.
Well engineered mechanical design means lots of tuning potential in each engine. Both are large, inline six cylinders with similar dimensions and weight.
The increased displacement of the 2JZ-GTE yields the same output but it achieves it's peak power at 1,200 rpm lower then the RB26. The 2JZ also nets 31 lb ft torque more at 400 rpm lower then the RB.
This hands the advantage to the 2JZ.
---
RB26 Vs 2JZ Exhaust sound clips
Crank up your speakers and enjoy these sound clip compilations of our engines.
RB26DETT tuned exhaust sounds
---
2JZ-GTE tuned exhaust sound
Scores & conclusion
RB26DETT:

x

x

x

x

x

2JZ-GTE:

x

x

x

x

x
Nissan's RB26DETT and Toyota's 2JZ-GTE are both fantastic sounding engines. Turbocharged straight six configuration is always going to sound amazing and neither of these engines disapoint.
The RB26DETT sounds slightly more 'gruff'. Both sound great. It's a draw!
A fan who has been lucky enough to own tuned examples of cars with both of these engines was kind enough to send in the following feedback:
"We read just now your nice article about the age old debate about Rb26 vs 2jz. I can say your details are good, but, as one of the lucky lads that had experienced both, you got the sound rating between them wrong. 😀 2jz while it sounds nice, at best it just sounds like an engine with huge turbos. The RB26 on the other hand, sounds very deep, since it's a high revving engine compared to the toyota, and with those ITB's, the sound delivery is very very nice. Nicer than a 2jz indeed."
Thanks 2R ?
---
RB26 Vs 2JZ Dyno tuning clips
Both of these engines are tuner favourites, so let's watch some clips of tuned examples on the dyno.
RB26DETT dyno tuning
"Brad's HKS T51R single turbo 2.8L stroked RB26 powered Nissan R33 GT-R Skyline on the dyno. The car has previously made over 650kW to all 4-wheels but in RWD mode this time out the GT-R was struggling to put it's massive power down to the rollers…"
2JZ-GTE dyno tuning
"This insanely loud 1600HP (on spray) Titan Motorsports Toyota Supra appeared at Fair Lakes Cars & Coffee this morning. The car runs 1400HP off the bottle. If this doesn't make you love Supra's, I don't know what will."
Scores & conclusion
RB26DETT:

x

x

x

x

2JZ-GTE:

x

x

x

x

x
There are plenty of examples around the internet of RB26's and 2JZ's pushing out well over 1500 PS.
They are clearly both very robust and tuneable engines. With that said the increased displacement of the 2JZ lends itself to a faster spool and slightly higher power potential.
For most of us we are not going to achieve these crazy levels however you would feel the faster spool up at lower power levels. With this in mind the 2JZ-GTE wins for tuning potential.
---
RB26 Vs 2JZ Drifting clips
So what do drifters think of these two engines? Let's jump on board with the drivers as they put our two engines under some (sideways) pressure.
RB26DETT drifting clips
Team Falken Nissan S14 with RB26DETT swap running 600bhp @ 1.7bar.
"Last Saturday I recorded this Nissan Silvia S14 drifting on track during an evening of free practices organized by the Italian Drift No Profit organization.
The original SR20 engine has been swapped with a Nissan RB26 DETT engine which is a 2.6-litre inline-6 twin turbocharged.".
2JZ-GTE drifting clips
This clip shows an 800ps + Nissan S13 chassis ripping up a drift course in Serbia.
Gatebil has a reputation for incredible car builds and fantastic drifting, this clip shows a selection of 2JZ powered cars burning rubber on the famous track.
Scores & conclusion
RB26DETT:

x

x

x

x

x

2JZ-GTE:

x

x

x

x

x
Running either of these engines at under 500 PS in your drift car seems to be a safe bet. Both engines will need different modifications to perform reliably over this threshold and parts cost will need to come into play.
There are rumors that the RB family suffer some degree of oil starvation when pushing on, however i'm not sure if that affects the RB26. There are plenty of examples of RB26's happily smoking tyres in drift cars.
Either way you would be very happy to have an RB26DETT or a 2JZ-GTE nestled in your drift car's engine bay. Draw.
---
RB26DETT Vs 2JZ-GTE conclusion
So it's time to count our stars and see which engine is the winner.
The RB26DETT has earned 18 stars. The 2JZ-GTE has earned 20 stars. The 2JZ-GTE is the winner!
Let's talk seriously for a moment; both of these engines are at the top end of JDM tuning, they can both easily and reliably make great power.
RB26's and 2JZ's are superb powerplant choices for your tuner car and offer huge potential whether it be for street, drift or drag.
The 2JZ has won this test with a very slight margin because it's additional displacement enables faster spooling and slightly higher tuning potential.
But there really isn't much in it! Kudos to Nissan and Toyota for gifting us enthusiasts with such great engines.
Congratulations 2JZ! After smashing your older brother you've now scalped the mighty RB26! Truly you are the king of the JDM tuner engines.. or are you..
RB26DETT:

x

x 18
2JZ-GTE:

x

x 20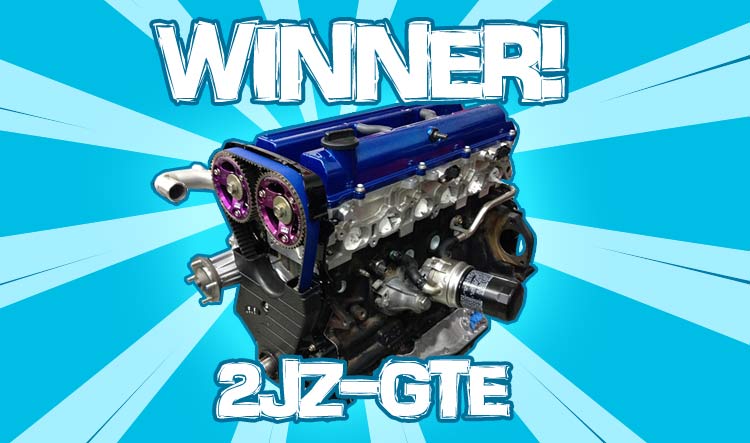 Want an instant hit of drifting action? Try our free to play drifting games.
---
RB26 Bonus content
Check out this 26 minute rebuild video of an RB26DETT.
Thank you for reading our RB26DETT Vs 2JZ-GTE Head to Head battle. If you have something to say why not drop a comment below? If you enjoyed this article why not check out our RB20DET Vs SR20DET Head To Head Battle?
Skylife4ever.com have a great step by step article on how to rebuild a Skyline GTR RB26DETT. Go take a look.
Updated 12th February, 2019: Revised opening text, added better images and added new summary video.
All read up on the RB26? Why not deep dive on the engine's successor, the mighty VR38DETT?