Ultimate Forza Horizon 5 Trucks
If you want to win every off-road event in Forza Horizon 5, you want the perfect ride. So here are the best Forza Horizon 5 trucks.
Introduction
Getting a "healthy" or good Carlist in a racing game is always necessary.
First, you need enough options to fill any event throughout the journey.
Developers should know that their game needs tons of sportscars for street racing or rally vehicles for offroad races.
Some developers sometimes use "copycats" to fill all the necessary slots when the license requirements aren't there.
For example, we get a sportscar similar to a Toyota Supra RZ but with chassis alterations for off-road capability.
Secondly, nowadays, many options in the gaming market require multiple environments.
When developers keep the player stuck inside a big city, things could get stale quickly. Hence, large maps use roads without pavement and unique ways to experience a racing event in the wild.
If you combine both recommendations with the various stunts across the map, you'll soon discover why offroaders are now welcome to this genre.
Thanks to every truck's versatility and unique looks, many players might like to try how they work inside any challenging part of the racing video game.
Forza Horizon 5 Trucks vs. Sportscars
Besides their measurements, trucks (or big cars) have unique things that change how you play in racing events.
From the start, you'll notice the lack of Speed as you move around the street or within off-road races.
As a result, you might feel everything moving at a slow pace. Getting from 8th place to first will take more effort since you have less room to maneuver.
Although tedious, you'll have more room to plan an ideal strategy to outtake your opponents.
Moving between biomes and road types won't affect any truck as you're battling with other players. Therefore, some developers take this advantage and turn racing events into a different experience.
You might start the race on the pavement and finish the lap between rivers and big trees.
Overall, when a racing game allows you to use trucks and sports cars, you'll soon discover that you have unique ways to experience all the events.
Speaking about off-road vehicles, you should also check the Best Rally Car in Forza Horizon 5.

---
How To Get Trucks In Forza Horizon 5
Now that you have a clear idea about the impact of any truck in a racing game, we shall discuss the different ways to acquire these vehicles in FH5.
Thanks to the various options that Forza Horizon 5 gives you, you have multiple ways to increase your garage collection.
Furthermore, since we are visiting Mexico this time, the developers at Playground Games ensured that they made enough room for off-road events.
From the start, as you begin the adventure, you'll see many pathways that lead into old ruins and immense rainforests.
Let's explore your options when buying trucks in Forza Horizon 5.
Looking Inside the Autoshow
Almost all of the vehicles inside Forza Horizon 5 appear on the Autoshow.
In other words, this is the "common" shop where all the players can visit and see the catalog anytime.
Furthermore, the price of each item (or car) will remain the same, no matter your account's level.
You'll get access to the Autoshow after you complete the introductory event.
Afterward, the Autowhow appears within any outpost or when you're resting outside the virtual houses.
Everything inside the shop requires the in-game currency (CR) to complete an exchange.
You'll get this virtual cash after completing any racing event or as a Wheelspin reward.
Searching the Auction House
One way to acquire the rarest cars in Forza Horizon 5 is through the Auction House. Inside this menu, the whole community can put their vehicles up for sale.
The seller sets the first amount of CR, but the person with the highest bid gets the item after the offer ends.
All the prices of many vehicles tend to change as the game continuously evolves. For example, you might see a high price on your favorite new cars, such as a Ferrari, Bentley, or McLaren, but the price could go higher/lower when it becomes easier/challenging to obtain the vehicle.
Indeed, the rarest cars are way too expensive in every game from the Forza Horizon franchise. As a result, you might need millions of CR if you want to catch the best of the best through the Auction House.
You might want to check the Forza Horizon 5 Money Glitch to keep the fun going.
Through Lucky Wheelspins
Inside the game, you earn standard Wheelspins or Super Wheelspins after you complete specific tasks.
For example, you'll get a free spin after acquiring a new account level.
Through these Wheelspins, you'll have different rewards to increase your collection.
You'll get CR, avatar clothes, or vehicles between the available bonuses. You'll see all the items in the Wheelspin, which tend to change on each spin.
Even if this is the least demanding path to get trucks, getting a Wheelspin with this type of vehicle could take a long while and a lower chance of earning it. Still, always try your luck when you get the chance.
Getting Your Festival Playlist Rewards
You'll see more activities on your screen when you reach the "end-game" of Forza Horizon 5.
The seasonal Festival Playlist is a set of tasks that appear in a period.
Therefore, if you stop playing FH5 for a week, you might lose some of the best rewards in the game.
At the same time, you'll always have something new to do when you load the game in a new gaming session.
In the Festival Playlist, you'll get vehicles when completing some of the most challenging tasks or using the "FP" inside the Forzathon Shop.
Spending Real Money for the DLC
One of the easiest ways to start your car collection is by buying multiple DLCs from the Microsoft Store (or through Steam).
We recommend that you at least get the DLCs called Wellcome Pack or the VIP Membership.
With those two options, you'll get powerful vehicles, player houses, and many other bonuses.
Even if you already have some time in Forza Horizon 5, they can alleviate the troubles you'll see as you reach the problematic racing events.
You might get the whole pack and earn as many options as possible if you feel generous.
For example, the Hot Wheels DLC will give you more ways to play the game and great cars.
Check more info about the Forza Horizon 5 DLC inside this article.
---
Top 7 Best Forza Horizon 5 Trucks
Here are some of the best options in Forza Horizon 5. Many of the options appear with significant effects and incredible detail.
As a result, if you're a truck enthusiast, you'll soon see why FH5 is one of the best driving games on the market.
Try every suggestion and keep that truck that follows your gameplay style.
Due to the flexibility of every vehicle, you'll get the option to use these options for many activities.
Additionally, Forza Horizon seems to look for an "arcade-ish" approach.
Hence, you can sometimes modify a truck and give it incredible speed limits and powerful Acceleration.
Let's look at the best Forza Horizon 5 trucks without further ado.
Mercedes-Benz G63 AMG
When you think you have seen everything (car related) inside the Forza Horizon franchise, they surprise you again with this type of vehicle. The Mercedes-Benz G63 AMG is a powerful truck with six wheels at its disposal.
Moreover, all the wheels appear to move accordingly, and you can see how this vehicle crushes every obstacle as you drive through. Above all, this truck has an excellent 9.3 score in the Offroad attribute and a decent Launch (6.6).
You can get the Mercedes-Benz G63 AMG from the Autoshow for 525K CR, the Auction House, Wheelspins, or the Seasonal Events/Forzathon Shop.
Also, the Fastest Drag Car in Forza Horizon 5 might give more alternatives.
---
Ford Brocky Ultra4 Bronco RTR
This all-wheel drive monster is one of the best-looking vehicles that drive everywhere without any issues. The Ford Brocky has those "Monster Truck" vibes, and you might even get the temptation to crush every random car on your screen.
Also, this beast has a perfect score in the Offroad section (10) and a good number in Acceleration (6.1). Without any upgrades, you have the potential to win multiple off-road racing events as you crush your enemies with ease.
You'll find the Ford Brocky in the Autoshow with a 500K CR value. It can also appear randomly in the Action House or inside a Seasonal event.
---
Toyota Land Cruiser Arctic Trucks AT37
Indeed, one with stunning visuals that seems to be one of the hardest to get in Forza Horizon 5. The Toyota AT37 will surely increase the value of your garage and even give you some places on the podium.
Even though it starts as a Class D with a 404 overall score, you'll soon discover that it has 9.5 in the Offroad stat. After that, the next good mark appears on Speed with 4.1.
Getting the Toyota AT37 is tricky as it is considered one of the rarest cars in Forza Horizon 5. You can only get it through a Seasonal Event (Festival Playlist or Forzathon Shop). In other words, you'll need to wait on those special occasions.
---
RJ Anderson Polaris RZR-Rockstar Energy Pro 2 Truck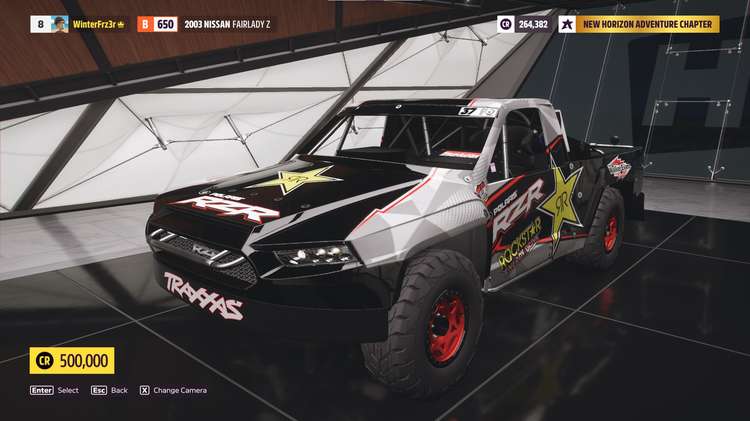 The RJ Pro 2 Truck gives that first impression when owning uncharted land without any issues. Furthermore, that racer build gives you a hint that it is a good contender for many off-road racing events.
Above all, this vehicle appears as a Class A with a 776 overall score, which is not bad. Furthermore, you get a 9.9 Offroad and 5.9 Speed within RJ Pro 2 Truck attributes.
You can buy this truck in the Autoshow for 500K CR, the Auction House, Wheelspins, or within a Seasonal event. Even though it is a little pricey when you're starting the journey, it will patiently wait for you on any of these options.
---
Jeep Trailcat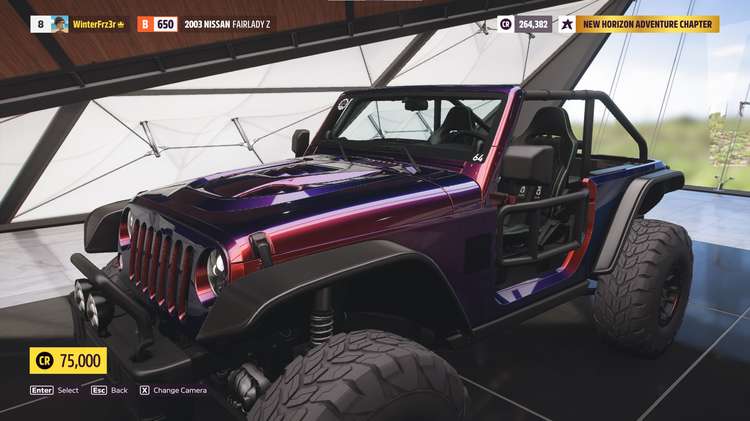 The Jeep Trailcat is a familiar face from the Jungle Expedition, which can be yours later on. This vehicle certainly comes with the potential to master any challenging terrain.
This Jeep has a perfect score (ten) Offroad and 6.2 in Speed. Remember that you can modify and improve this car even more and might want to invest a little more in increasing the handling attribute.
You can get the Jeep Trailcat after completing the Accolade challenge named "Born to Win." This task requires winning in all cross-country races. If you don't like doing that extra work, you can buy it from Autoshow for 75K CR, Wheelspins, or through the Auction House.
---
Mercedes-Benz Unimog U5023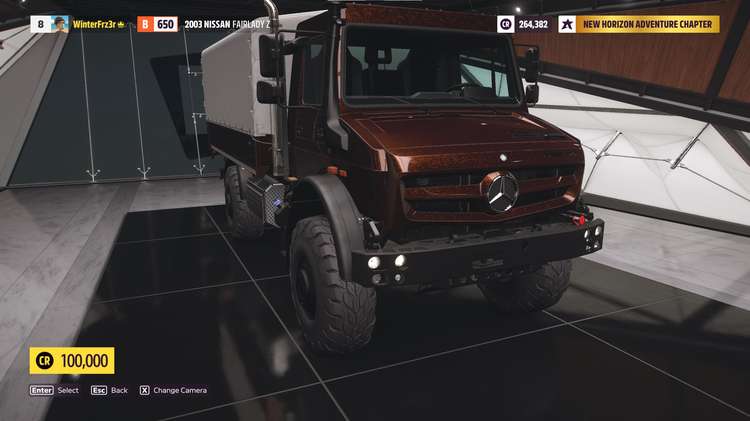 If you want something that seems to play differently from the rest, you should try the M-B Unimog. With this vehicle, you can roleplay as a delivery guy, moving cargo from one coast of New Mexico to the other.
The M-B Unimog appears as a Class D truck with an overall score of 103. Furthermore, the highest score is 8.7 Offroad, and everything else isn't that impressive.
As you can already tell, you could invest a lot of CR to increase the attributes a little more, but you might want to save them for a better option.
You can buy this truck for 100K CR in the Autoshow, Wheelspins, Auction House, or through Seasonal events.
---
Forza Horizon 5 Trucks FAQ
Here are some of the most common questions about the best trucks in Forza Horizon 5.
Does Forza Horizon 5 Have Diesel Trucks?
Currently, you have a limited number of vehicles with this engine type. Still, you can have an engine swap and transform a car into Diesel (6.7L V8T Diesel).
What is the Best Off-road Truck in Forza Horizon 5?
One of the best vehicles in this category is the RJ Anderson Polaris RZR-Rockstar Energy Pro 2 Truck with decent Speed and Acceleration.
Does Forza Horizon 4 have Trucks?
Yes. Almost all of the trucks in this article appear in Forza Horizon 4. Like FH5, you can spend some CR to upgrade and improve their attributes.
Can You Make a Monster Truck in Forza Horizon 5?
Yes. The Ford Brocky Ultra4 Bronco RTR looks like a Monster Truck, and you can add better paint and decorations to increase the appeal.