Stanced Drift Cars – Why, and How?
Stance, camber, Onikyan – love it, or hate it, it certainly triggers strong opinions. In this article, we are exploring stance within the drifting world.
---
Introduction
We believe that style is essential when building an exceptional looking drift car, and stance enables the ability to provide the perfect execution for the ultimate looks.
Sure, we're never gonna deny that having a bashed-to-oblivion missile beater with questionable fitment is about as much excitement as you can get from behind the wheel.
We're not talking about your Grandma's old Veedub with rusted out paintwork sticker bombed in 'Hellaflush' stickers on air suspension here, either. If that's your thing, then the rest of the internet has got you covered.
Although stance can sometimes refer to achieving the most outrageously controversial fitment imaginable, before trailering your car to a show, that's not really what we're after either.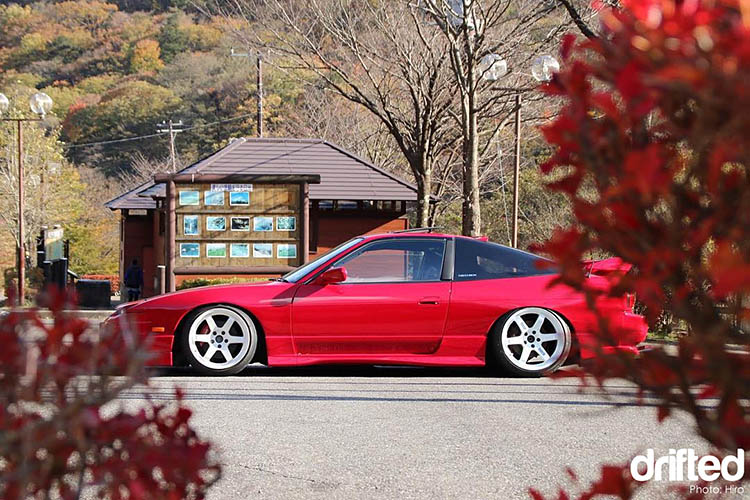 Within the drift scene, we believe that stance has earned its place with the 'low style' community, where style is pretty much everything, with the ability to consistently drift your car, forming the icing on the cake.
A stance setup can often go against everything that a 'racecar' typically stands for, destroying the performance, making it borderline undrivable, and drifting near-on impossible.
However, there's a fine line between an utterly useless stance setup and building a stanced car that's capable of getting thrown down sideways, while leaving every spectator in awe in the process.
For this reason, we've decided that it's time to burn some bridges that exist between the stance and drift communities by exploring some of our favorite stanced drift builds from across the globe.
We'll also look at some of our favorite JDM stance scenes and dive into what makes them unique compared to your mediocre local stance meets, where every 'Euro style' car begins to look the same after a short while.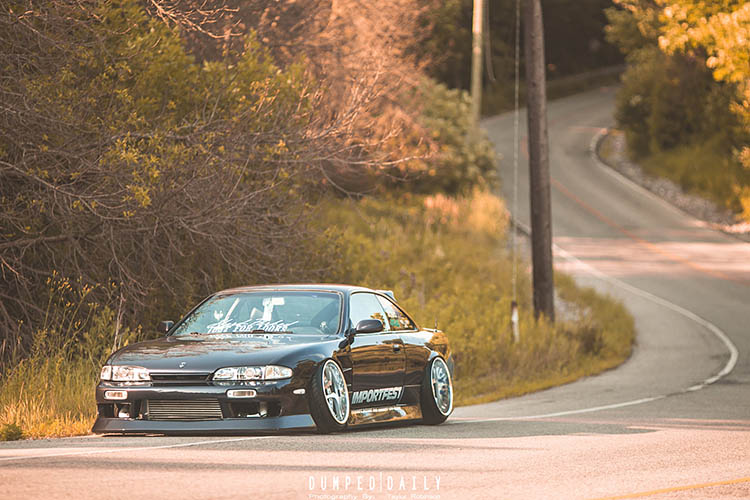 I can't deny that the typical stance scene tends to make each car look like the next, merely swapping out the rims on a stock body and lowering a couple more millimeters more than the next dude.
However, the incredible aftermarket scene in the drift world provides so much more potential to design your ultimate stance car that it provides endless opportunities to make it unique.
With just about any customization you can imagine for your drift car sitting on the shelf waiting to improve the looks, it represents the perfect opportunity to achieve the perfect stance.
Combine that with a vast range of styling options; whether you prefer running super-low on OEM kits or opt for aftermarket fiberglass body with huge overfenders, there's something out there for everyone.
Essentially, if you're digging this kinda thing, then the chances are this article is likely to appeal to you:
Have we got your attention now? Awesome.
It's time to dive into the controversial stance culture, as we pay testament to some of our favorite drifted stance cars, scenes, events, and meets from around the world.
And, best of all, you won't have to tolerate a single Volkswagen or Civic in the process! (Sorry, Civic owners, we love you really!)
---
Stanced Drift Cars - Why, and How?
Why? Well, we've said it before, and we'll repeat - style is essential.
Many enthusiasts will have different reasoning for their 'why' when it comes to stanced cars.
Although the most common answer will be because it looks pretty damn cool, it also boils down to 'why not?!'
We love that the tuning scene provides enthusiasts the opportunity to build their dream creation precisely as they'd envisioned.
With the likes of coilovers and suspension arms becoming increasingly common and more reasonable over the years, building a reasonably-priced stance car is more affordable than ever.
Many people who witness an impressively stanced car for the first time will be equally confused as they are amazed, as a properly stanced car will often defy logic, and as your parents will likely say, it 'looks broken'.
Although let's face it, it probably will be once you hit up the track and the fiberglass confetti starts flying!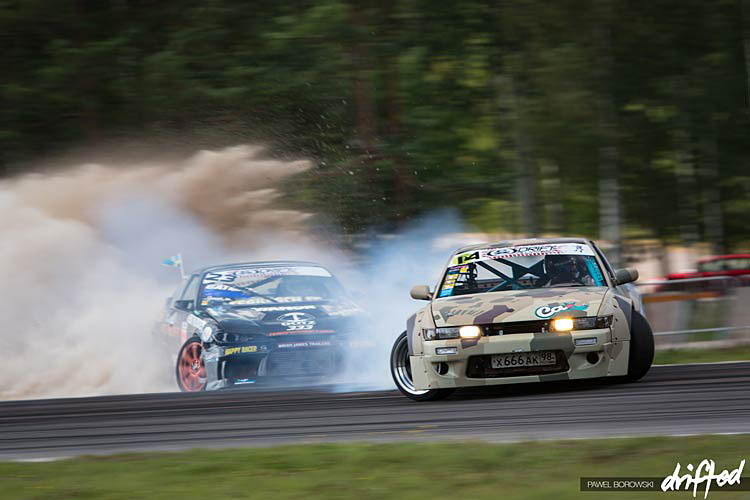 The stance world is undeniably a love/hate affair, and it's undoubtedly become one of the most controversial subjects in the tuning world over the years.
Stance for us, at least, is about finding a winning compromise between that 'slammed look' that provides the shock factor as you cruise down the street, while maintaining the ability to capture every spectators' attention when you throw it down at the track.
Although you're likely to sacrifice some handling potential in the process, we feel that a perfect combination between style and performance provides the ultimate execution.
If stance becomes the main focus, rendering your car completely dysfunctional, then for us, it probably crosses the line, but for as long as it's still capable of consistently holding a drift, we're down to party.
A bonus 'why' when it comes to stance fitment (before it gets to the extremes) is that tucking your wheels perfectly to the fender-line is likely to pass testing/shaken/MOT in your local region.
Often, if your wheel sticks out beyond the fender, it's likely to be an instant failure; dialing in some negative camber will allow you to tuck the wheel in perfectly, providing a win-win situation.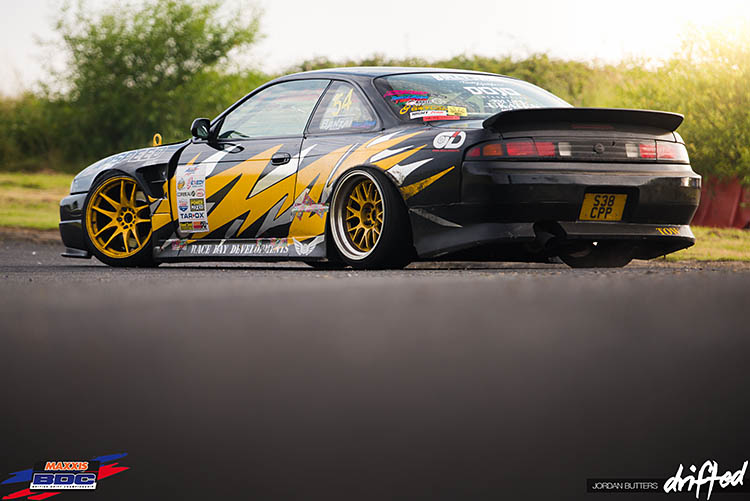 When it comes to 'how', there are various methods to achieve the perfect stance.
You may be able to get away with merely installing a set of coilovers or perhaps even lowering springs on your ride alongside the correct wheel fitment.
Other times, you may also need to consider additional suspension upgrades, such as aftermarket camber and toe arms combined with fender rolling.
However, if you're planning to go full-retard, you may well need to prepare for some rather painful cutting and fabrication work to achieve the perfect fitment.
Stance typically involves negative camber combined with perfect fitment.
Negative camber is where the upper part of your wheel tilts towards the car, hopefully leaving them fitting flush with the fenders.
Although the 'typical' stance scene often features front-wheel-drive cars with ridiculous levels of negative camber, typically providing no benefits other than excessive tire wear, it's a different story when it comes to drifting.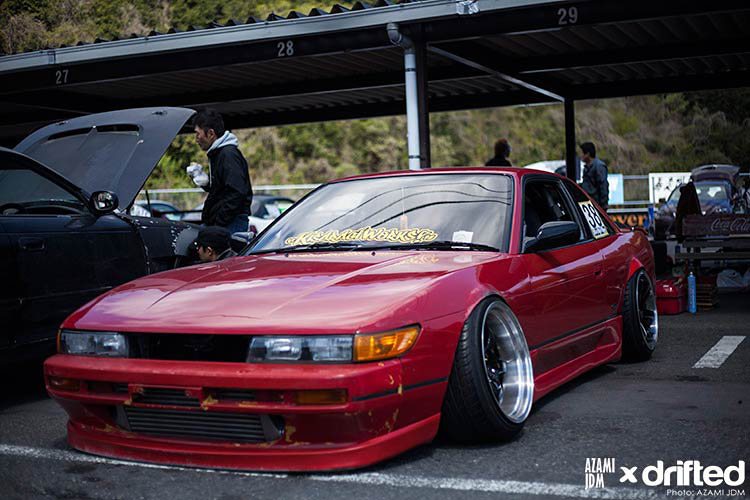 When drifting, the angle of the front wheel changes, and with front negative camber setups, you're able to provide additional traction in the corners.
Typically, you would expect to go for around 0 degrees of camber in the rear for maximum traction in a competition drift car setup.
However, with stanced cars, you're more likely to focus on finding the balance between providing sufficient grip and earning bonus style points in the process.
---
Stance Explained
Typically, there are two main steps when it comes to stance cars.
If the wheels are sticking a few inches out of the fender, Kyle Mohan-style, then we wouldn't class this as 'stanced'.
So, if you're going for a stanced look, here's what not to do! (Sorry, Kyle!)
Wheel & Tire Fitment
Fitment is what sets stance cars aside from the rest.
Negative camber alongside stretched tires is typically the chosen method to ensure the perfect fitment, as this allows it to tuck snugly into the fender.
Low offset, wide wheels, with reasonably stretched tires, are the best solution for a stanced car, preferably without spacers coming into the equation.
Ride Height
For optimal setup, you'll want to go as low as possible on the ride height before you begin severely sacrificing performance.
A good coilover kit will provide the perfect opportunity to slam your car and also assist with providing negative camber.
However, if you've got super-wide wheels or maybe a wide-angle kit such as Wisefab, you may need to go beyond the coilovers adjustment capabilities when it comes to providing negative camber.
If this is the case, you'll need to look at investing in aftermarket steering arms, or perhaps even custom fabrication.
Although many owners on a budget opt for lowering springs, they're unlikely to enable you to achieve a perfect stance setup due to their lack of adjustability.
If you're purely planning to lower your car a little, they may help improve the aesthetics, but for a fully adjustable setup, coilovers are the best solution.
Air suspension is the third option for achieving the perfect ride height, but we think that static is optimal for a drift setup.
Although air suspension can improve a stance car's practicality, it sacrifices performance, and you'll also have to lug around a tank in the trunk for air.
For the traditional stance scene, where the most intense driving they'll be doing is hard parking in the local car park, we can understand the appeal. For a full-blown drift setup, it's a no-no from us.
Once you've achieved the perfect fitment and ride height, here's our idea of how a stanced car with heaps of negative camber should look and drive - you've gotta love the VIP stance scene!
---
Onikyan (Demon Camber)
Also known as Oni Kyan, or Oni-Kyan, this translates to 'Demon Camber', and it's been taking the JDM stance scene by storm.
Onikyan is short for "Oni Kyanba", which is where stance reaches a whole new crazy level.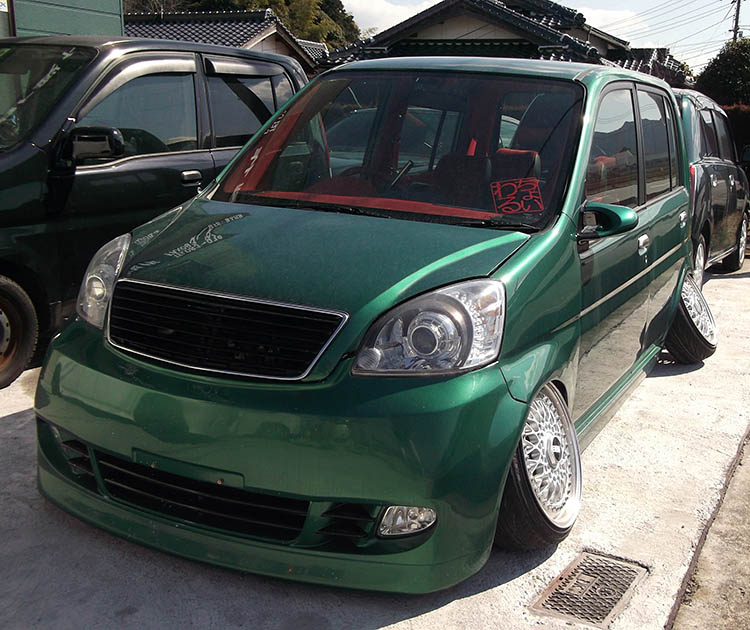 Onikyan has provided us with some of the outrageous stance builds we've ever witnessed, and you may well remember Kawashima's Toyota Celica that broke the internet a few years ago.
He stated: "As for the look, there are three main points of the way modified cars should look (in Japan), and that's Onikyan (cambered wheels), Tsuraichi (tires just barely inside the guards), and hippari (stretched tires). I wanted to make a car that took all of those things to the furthest point I've ever seen them done".
We're pretty sure he achieved his goal, as you can see here:
Although Onikyan is one step further than we'd ever want to witness with a drift build, it does go to show how creative the Japanese stance culture has become, and it's become increasingly trendy within the Kei car scene.
Japan is always famed for going to the extremes, with just about everything. And, although it's a little too extreme for our liking, there are some Onikyan cars that we'd love to see sitting sideways, such as this:
We dread to think how long the tires would last, though!
Onikyan burnout, anyone?
---
Stance Spotlight - Naoki Nakamura
We know what you may well be thinking. "Wait, why is Naoki being mentioned in a stanced article since his S15 now features an arch-gap you could fit a fist through?"
We've found Naoki's evolution fascinating to define the differences between a style setup and a competition setup.
Like most of our readers, we've worshipped Naoki Nakamura for many years, admiring his insanely aggressive driving style, and spending countless hours on YouTube appreciating his skills.
When he initially rose to fame, Naoki's PS13 defined what enthusiasts look for with a drift setup. Slammed to the ground with flush fitment, yet insanely capable when it came to knocking on doors at Meihan.
However, as time has progressed, that slammed style has seemingly become a thing of the past.
Do we blame him? Not entirely.
With drifting and the likes of suspension technology evolving leaps and bounds over the past decade, being competitive at the pinnacle of competitive drifting with 500 HP is no longer feasible.
Once a street drifter that would spend his evening on the touge with his buddies, Naoki soon rose to fame.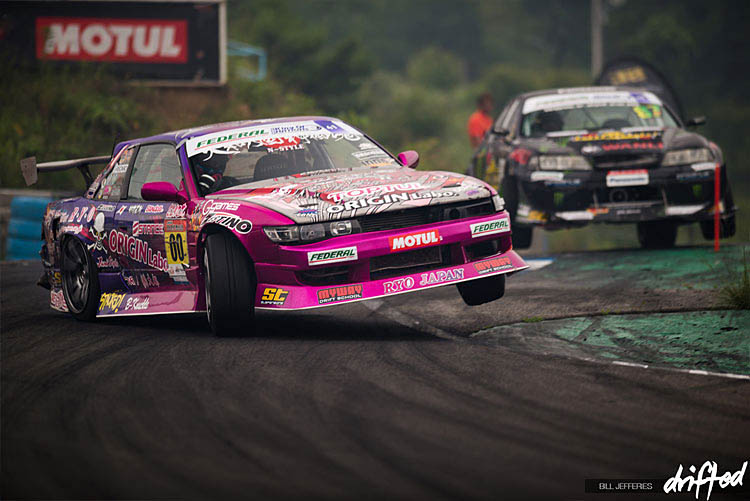 As he began destroying the competition in D1SL, he began earning an impressive reputation.
Just as he prepared to cause a significant upset by competing among the best in D1GP, disaster struck after an unfortunate meeting with the law, leaving him unable to compete in the D1 series without a license.
During this time, he evolved from the legendary PS13 he's best known for to a 1JZ S14, which barely saw the light of day, to his present-day 2JZ S15.
With 1,100 HP under the hood of the S15, Naoki has finally managed to build a car capable of keeping up with the big boys in D1GP as he finally returns to compete alongside the best.
However, the horsepower figures aren't the only thing that has changed with Naoki's cars along the way.
The ride heights have got considerably higher with each car, with the street-style stance becoming a somewhat distant memory in his competition cars.
As unfortunate as this is, it's not because Naoki's lost his taste along the way, as some upset keyboard warriors have assumed.
We keep repeating that style is essential, and we're sure Naoki agrees here.
However, there's no question that when it comes to building the ultimate grip setup to handle 1,100hp, stance probably falls a little on the priority list, unfortunately.
As we all know, Formula Drift cars have been getting higher, and suspension setups are getting softer each year, with bouncy wheelie-popping becoming the new norm.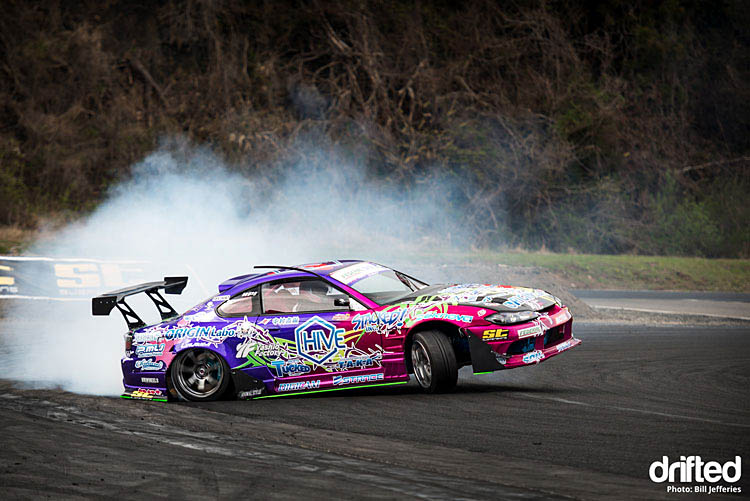 But FD wasn't the only series to realize this, and D1GP is transitioning to the same fate.
Although we're sure that Naoki is keen to keep the stance dream alive, it's clear that suspension travel is vital when it comes to having a high-powered, competitive drift setup.
It's may well be disheartening for stance enthusiasts, but with many benefits such as additional grip, more flex for snappier transitions, and far more control of weight transfer, stance has become sacrificed in favor of performance.
When you have to keep up with the likes of Daigo Saito's insane seemingly unlimited-budget builds, including his new GR Supra, we can understand why performance becomes the main focus.
Thankfully, not everyone has to compete against the likes of Daigo Saito, so we ask nicely – please don't go running modern-day Naoki-style fitment on your 200hp streetcar.
If you're looking for inspiration, by all means, use his legendary PS13 for motivation.
---
Stance Spotlight - A~Bo~Moon & Low Style Heroes
For those of you into drifting and stance, we do not doubt that you'll be familiar with Akinobu Satsukawa's four-door Nissan Skyline R32.
JDM legend Abo has become a key representative for the worldwide drifting stance scene and having shipped his R32 over to the US to have fun at the Low Style Heroes events in recent years, his popularity has soared.
Unlike Naoki, Abo continues to drift for fun, without doing so competitively, and we very much doubt we'll ever have to witness him raising his precious R32.
When drivers like Abo head over to the US to admire the best of what it has to offer, it in-turn inspires others to push their boundaries after witnessing what he's achieved from his Low Style four-door R32.
Featuring some epic cars, many laughs, smiles, and some incredible drifting, this is another must-watch video as the US shows what it has to offer when a JDM stance legend joins the party.
---
Stance Spotlight - Alex Law & Low Origin
You may remember that we featured Alex Law's S14A quite some time ago.
The British Drift Championship competitor has gone against the traditional ideology set in the UK by running his ridiculously low, static Silvia to and from the competition rounds.
We love that he drives it to the track like this, laden up with wheels, tires, and jacks, drives the ass off it, and then drives it home.
And it works. Not only does it drift (and serve Alex incredibly well in this regard), but the car garners an unbelievable amount of attention from media and fans alike.
If you're interested to see more of Alex's setup, make sure you check out this video, with some epic angles showing how (little) the car flexes and moves while being pushed to the limit.
Although this may not look as smooth as your typical buggy-style FD setup, Alex's driving style captures the true spirit of drifting as we know it, and this represents the perfect example of what we believe a stanced drift car should be.
Alex is now part of team Low Origin, who attended one of the most memorable events in drift stance-appreciation history – Next Level.
Next Level features a group of like-minded, stance-friendly drifters that meet up for annual hooning, as they collectively scrape their rides to Eastern Europe to meet in Poland for the ultimate stance event on the continent.
Think of this as Low Style Heroes, Europe Edition - it doesn't get much better than this.
The Low Origin guys met their match here, and even Hoonigan's very own Hert tagged along and got behind the wheel of the 'Eurostallion'.
Although COVID forced the cancellation of the planned 2020 event, we can't see what they have in store for 2021.
---
Stance Spotlight - Engineered To Slide
These guys certainly live up to their name, and rather than installing some coilovers and adjusting some wheels to fit, they've built an entire custom Toyota Hilux with one agenda - stanced drifting.
You may remember our Engineered to Slide feature, where we took an in-depth look at this incredible build.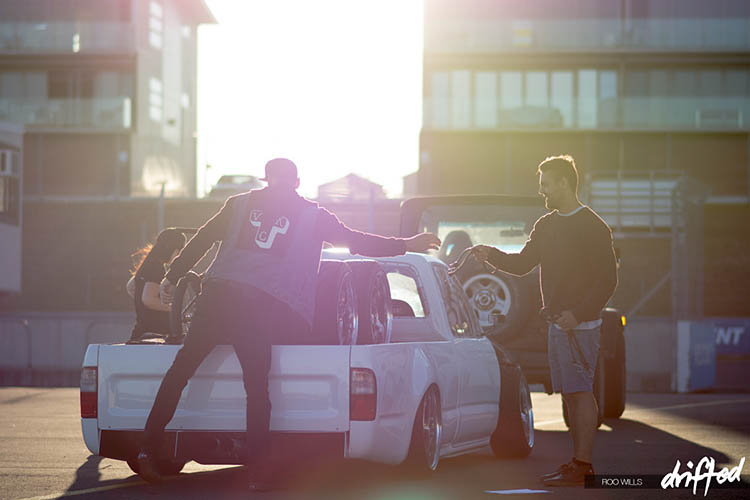 The one-of-a-kind Hilux is absolute stance perfection, so make sure you take some time to appreciate the work that's gone into their incredible build:
---
Conclusion
Let's be honest here, any respectably stanced drift car will get lowered to the point where performance is somewhat sacrificed, and daily driving is likely to be an outright pain in the butt.
We're not talking about those cars that are rolling on air-ride, or maybe even getting towed to your local hard-parking meet.
We're talking about hitting the streets, and then cruising to the track in style at the weekend.
Is it going to be worth the scrapes, destroyed bumpers, terrified looks from passers-by, and potential rejection from your would-be girlfriend's parents? We'd say so.
Those who firmly believe that stance and style are important when it comes to a drift car are willing to fine-tune every setting until they achieve the perfect balance between the perfect ride height while still retaining the ability to throw down some epic lines at the track.
Stance cars aren't about focusing entirely on function, but creativity and standing out from the crowd in style.
Originality and creativity are key here, and perfect fitment and ride height add the final pieces to the puzzle.
It's a commonly-known fact that stanced drift cars will sometimes get beat to hell, and that's one consequence that you'll likely have to accept.
Not only will the negative camber result in additional tire expenses, but you'll likely spend most of your time when you're not at the track repairing your fiberglass panels that got smashed to smithereens.
Is it worth it? Owners of some of the most impressive builds we've featured in this guide certainly wouldn't have it any other way.
Thankfully, the drifting stance scene is far from dead, and we're continually witnessing the incredible builds that keep on surfacing.
We cannot often speak positively about the current worldwide pandemic, but we do not doubt that some enthusiasts are out there, using their time wisely to bring some insane builds once the world returns to normal.
We fully accept that stance isn't for everyone. It's often more like Hella-impractical, rather than Hellaflush.
Is it worth the hassle, in our opinion? Hella-yes!
We hope that we've covered everything you could want to know about Stanced Drift Cars in this guide.
Thank you for reading our Stanced Cars guide.
If you enjoyed this article, then please share it with the buttons at the side and bottom of your screen. If you've found this information useful, then please take a moment to share it with other drifting and stance enthusiasts. We appreciate your support.
---
Photography credits
We thank the following entities for the use of their photography in this article:
---
Bonus Content
We couldn't stop finding insane content, and since you've probably noticed that we've already overloaded this with videos, we've put some of our favorite videos here for your viewing satisfaction.
It seems that the organizers of this meet perhaps didn't think things through too well when it came to choosing the parking lot for this meet.
Although some of the cars look insanely awesome, removing half your body panels and requiring a tow, which almost ends up going alarmingly wrong (lucky to keep your fingers there, my dude.)
If you're a stance fan, you've probably seen DORIDORE pop up in your social media feeds, where some of Japan's most incredible stance builds get together for an epic meet-up.
We love these vibes.
Here's how to leave a stance meet correctly – with full commitment and dedication!